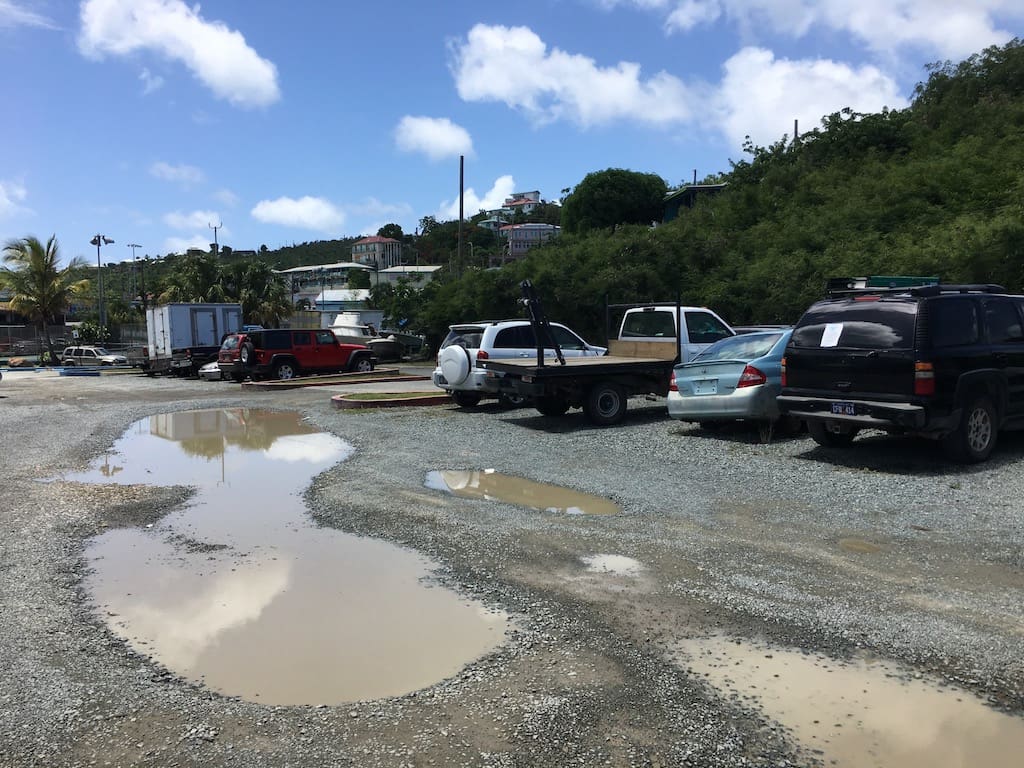 Legislation that would mandate the Enighed Pond Gravel Lot offer free parking was held in the Senate Committee on Government Operations, Consumer Affairs, Energy, Environment and Planning Friday after being contested by Port Authority Executive Director Carlton Dowe.
The bill, sponsored by Sen. Steven Payne Sr., came after public outcry during town hall meetings at which residents insisted the gravel lot should remain free to park vehicles. If the legislation passes in the future, it calls for 60 of the 200 available parking spaces in the lot to be free of charge for St. John residents.
But Dowe said the Port Authority "strongly opposes this bill as it will negatively impact essential marine revenue and it will be detrimental to the Authority's ability to meet its financial obligations."
Before VIPA cleared the gravel parking lot, Dowe said, it "was essentially a junk yard and unsafe to be used as a public parking facility." After removing dozens of abandoned vehicles, creating an additional 50 parking spaces, resurfacing the lot, and installing fencing, lighting, and security equipment, Dowe said the authority is out $400,000, an amount that needs to be recouped through parking fees.
The improvements made to the parking lot were completed in December 2019 and though Dowe said they were "done primarily for the benefit of the residents of St. John," the pricing of the daily parking has become a contentious public debate.
"Unfortunately, our investment in the lot was not appreciated by some of the lot's users," Dowe said.
The funds used to renovate the lot were taken from VIPA's Marine Revenue and Refunding Bonds Series and mandates that the authority must "maintain and collect user fees and dues at levels sufficient so that net revenues are equal to at least 125 percent of debt service on all bonds."
Dowe said this makes the Port Authority legally obligated to maximize the return of revenues, and should the legislation pass mandating 60 spaces be free of charge, it could put the agency at risk of defaulting on its bond obligations.
In an effort to establish pricing, authority officials met with the St. John Coastal Zone Management Commission and rates were agreed upon between the two entities.
Those rates are as follows:
31 min.-1 hour: $3.00
1-2 hours: $5.00
2-3 hours: $7.00
3-10 hours: $11.00
10-24 hours: $14.00
Lost Ticket: $15.00 (per day)
Monthly Parking: $165 (per month)
"We cannot and should not believe that services provided by the government for visitors and residents should not be paid for. It sends a wrong message to the people we serve," Dowe said.
Separately, Bill 33-0250, which speaks to capital improvement projects, was to be discussed during Friday's hearing but was removed from the agenda.
Sens. Alicia Barnes, Myron Jackson, Marvin Blyden, Allison DeGazon, Kenneth Gittens, Javan James Sr., and Athneil Thomas were present for the hearing.