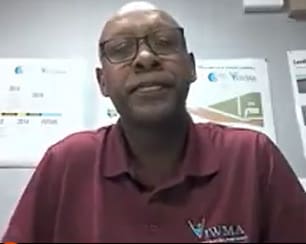 Two decades ago, the Waste Management Authority was created with the idea it would take in enough funds within five years to no longer need government cash infusions.
According to reports to the Public Services Commission Tuesday, WMA is a long way from that goal and may not even have it as a goal anymore.
WMA Executive Director Roger Merritt told the commission that expenditures at the authority annually reached about $50 million.
Tipping fees implemented at the beginning of January 2022 have brought in $1.4 million.
These figures prompted Commissioner Andrew Rutnik to say that self-sustainability for WMA did not appear to be a "remote possibility."
Merritt told the commission that tipping fees were just the first step and they were going to be raised gradually over time. He added that for complete sustainability, the authority would have to go back to the Legislature and seek fees for home services. Fees for garbage pickup at homes are prevalent on the continent but proposals to do so in the territory have provoked protests.
Luis Sylvester, assistant executive director at WMA, said he was there when the Legislature created WMA in 2004. He said WMA came back in a couple of years with proposed fees that would pay the authority's expenses and the community and the Legislature reacted so negatively the proposals were dropped.
No representatives from the WMA had been at the PSC meetings in April and May, prompting the commission to issue a subpoena demanding representatives attend Tuesday's meeting.
An agenda item was to discuss the authority's five-year plan. Merritt said the authority did not have one.
Commission Chairman David Hughes said, "You need goals, and you need a plan."
As for sustainability, Hughes said residents would be paying for home services one way or another through fees or government appropriations.
Merritt, in his presentation, talked about what the authority was doing. He said the complete replacement of the wastewater system was underway and the authority was working on getting funding to do the same in the St. Thomas-St. John District. He said many of the pipes were over 50 years old and their expected life spans were only 20 years.
He also said the territory wastewater treatment plants were being looked at to see if they needed to be replaced.
Lorna Nichols, WMA communication officer, in a conversation with the Source Wednesday, said the authority is trying to "fix everything." She said it was busy replacing iron pipe with PV pipe and had also stepped-up enforcement efforts concerning illegal dumping. She added that efforts are hamstrung because it is hard to hire qualified personnel.
When the tipping fees were implemented last year, Merritt said they would help to manage landfill expenses, but it won't help make the agency self-sustainable.
WMA attorney Trey Goldsmith offered that the assessments that WMA paid the PSC be based on its revenue, not on what it received from the government — a much larger amount.
Hughes said no.