A Juvenile Balloonfish, above  (close up), and below, in number seen off St. Croix in 1976, have been seen around St. John for the first time in a decade in dense schools.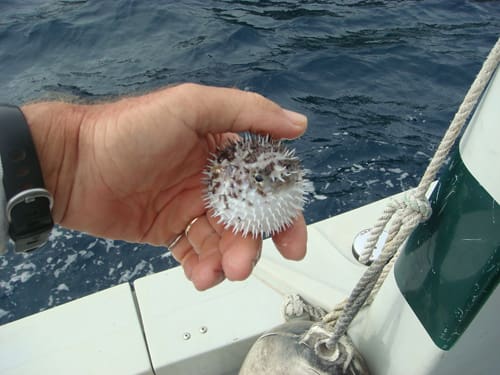 In a phenomena not seen in more than a decade, dense schools of juvenile Balloonfish, better known as Spiny Puffers, have been recently spotted in waters around St. John from the north shore to Hurricane Hole.
Swimmers and boaters first reported seeing large numbers of frigate birds gathering and circling over the waters off the island's north shore last month, explained U.S. Geological Survey marine biologist Caroline Rogers.
"The birds were diving on dense schools of juvenile Balloonfish (Diodon holocanthus), also known as Spiny Puffers," said Rogers. "Since August, people have seen these birds diving all around the island."
The Puffers' presence in local waters is popular, and fascinating, for several reasons. Besides their sheer numbers — hundreds were recently spotted in Hurricane Hole — the fish are tiny, measuring only about three to four inches. Scientists have no idea how these fish find each other in the open sea, or why they journey to shallow water during certain times, explained Rogers.
"These schools do not arrive every year, and there does not seem to be any pattern to when they will show up," Rogers said. "They came into St. Croix in 1976 and into St. John in 1993 and 2002. They were so abundant in 2002 that they were getting into the water intakes for boats."
This year, however, the fish seem to be staying close to St. John only, Rogers added.
"People from St. Thomas, St. Croix and the BVI have not reported seeing these this year," she said. "They seem to come only every nine or 10 years, but there is not really any pattern to it. We do know it is really something special."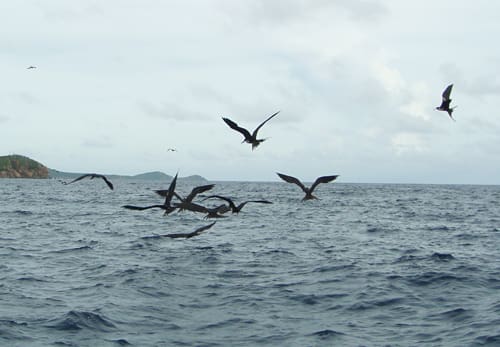 Frigate birds have been trying to make some meals of the Spiny Puffer fish congregating in local bays.
Since they are so small in size, scientists are also in the dark about how Spiny Puffer fish find each other in the vast ocean and venture to shallow water like the bays around St. John in such dense schools, Rogers explained.
"These comical fish, with iridescent blue-green specks in their eyes, long spines, and variable dark bands and blotches, somehow have managed to find each other out in the open ocean to travel to the inshore areas where they will settle on reefs, seagrass beds and in mangroves," she said. "By the time the fish arrive in these schools, they are around three to four inches long and over a year old. Scientists know close to nothing about all of this."
The Spiny Puffers, distinguishable with their bright eyes and many small spines, and their signature puffing to ward off danger, have been spotted in dense schools from Maho Bay to Coral Bay.
Residents have even reported seeing the fish on the roadway, apparently dropped by frigates, explained Rogers.
"It is hard to say how successful the frigates are in getting a meal," said the marine biologist. "The fish can inflate with air or water to become something similar to a puffed up sea urchin. This behavior leads to reports of juvenile puffers on land."
"Some have been found on the road, on roof tops, and in swimming pools, where frigates have dropped them," she said. 
Spiny Puffers have lately been spotted in the largest concentrations in the waters of Hurricane Hole, a part of the V.I. Coral Reef National Monument.
"Hurricane Hole, within VI Coral Reef National Monument, is known for its high biodiversity and its function as a nursery for many reef fish," said Rogers. "Fortunately, this unique area is under protection by the National Park Service. Now it is providing at least a temporary home for hundreds of these puffers."
As recently as last week, literally hundreds of Spiny Puffers were reported in the Borck, Princess and Otter Creek areas of Hurricane Hole, Rogers explained.
"They are seeking protection behind mangrove prop roots," she said. "We don't know how long they will stay in here; they mostly eat snails and crabs and should be able to find plenty to eat. However, we don't know how long they can escape being eaten by barracudas or snappers, or sharks."
Spiny Puffers are not the most skillful of swimmers and rely on their spines for protection, Rogers explained.
"They are not fast or particularly skillful swimmers and rely on their spines and ability to inflate to deter predators," said the USCG marine biologist.
Although some of the puffers will likely become frigate or shark meals, it is likely they will settle in seagrass beds and reefs in significant numbers as well, Rogers added.
"Many of the puffers could move to other areas from the mangroves," she said. "It is likely that a lot of them have already settled in seagrass beds and reefs in the Monument, the national park, and nearby bays."
Rogers urged residents to grab a snorkel and head out to Hurricane Hole to get their own look at these fish. Snorkelers are reminded to respect the protections in place in the VI Coral Reef National Monument, which include not touching reef or prop roots and not allowing any wake from dinghies or boats.
"Anyone in the Hurricane Hole area can snorkel and look at these little guys," said Rogers. "It's another example of just how important Hurricane Hole and the VI Coral Reef National Monument protections are."