Graduation season has come to the Virgin Islands for 2022. For educators, friends, and family, it's a time to celebrate the aspirations of the young as they move from high school, technical education, or continuing education and prepare for what comes next. But at the Virgin Islands Montessori School & Peter Gruber International Academy on St. Thomas, there's one special occasion that comes before the day to march in cap and gown.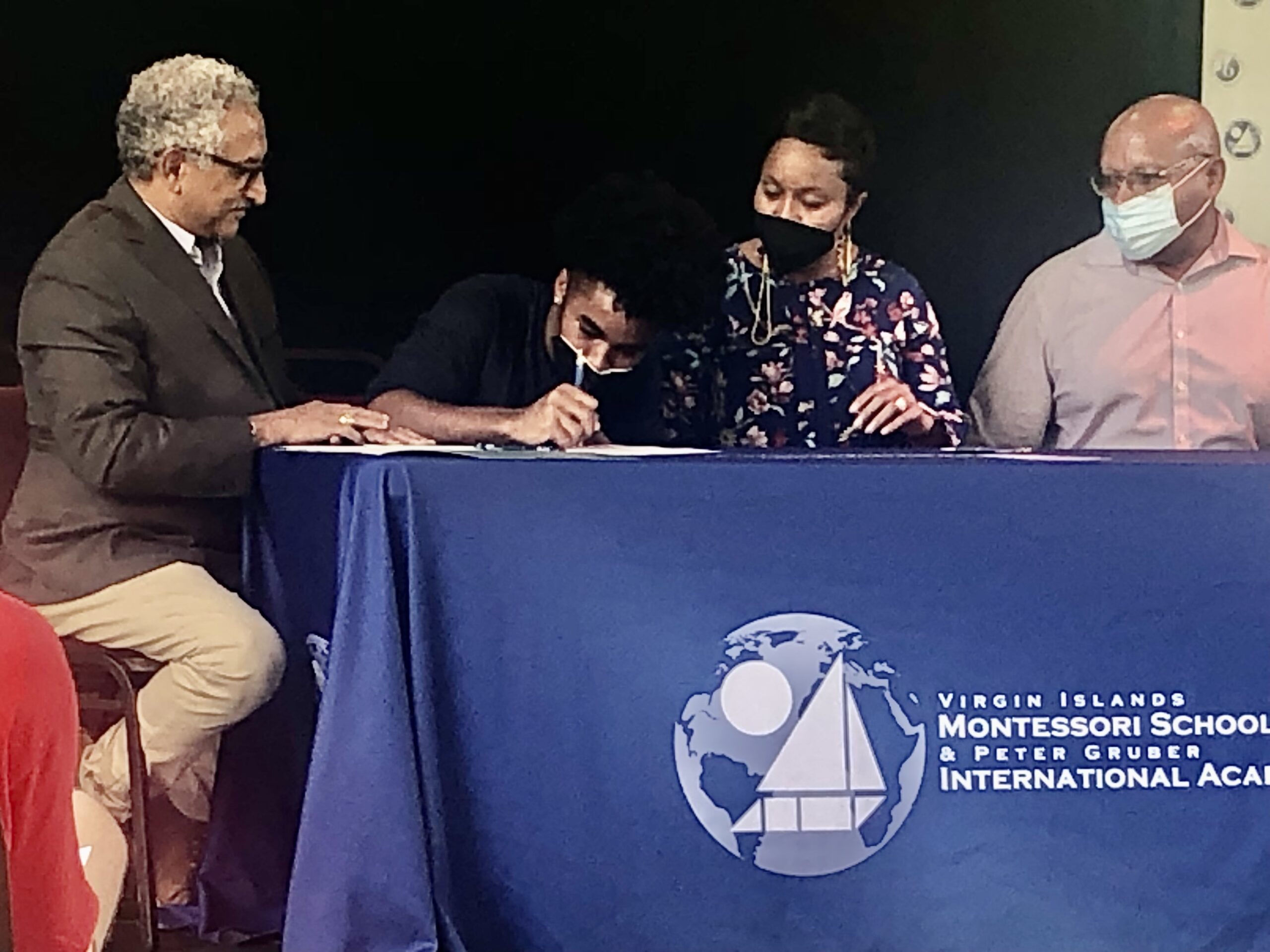 Signing Day sprang from an initiative by former First Lady Michelle Obama in 2015. It's a day set aside to celebrate the decisions made by high school seniors as they commit to colleges, technical schools at home and abroad, and military enlistment. Twenty-four seniors from VIMSIA stepped up to the stage in a school assembly on Monday afternoon to sign commitment papers for their chosen endeavors.
Prior to that, Signing Day was an event reserved for student-athletes when they signed up for major league sports or big-name college sports programs. One of the most notable recent events of that kind in the Virgin Islands took place in 2018 when Ivanna Eudora Kean High School Senior Aliyah Boston committed to play for the University of South Carolina women's basketball team.
On Monday, VIMSIA Head of School Michael Bornn took a seat at the signing table as Kara Ebe Cook, the school's college counselor, called each senior's name in turn. Parents sat nearby as their students added their names with a royal blue pen.
Twenty-five in all made their commitments. One student from the Class of 2022 was not able to attend on Monday. Two students committed to attend the University of the Virgin Islands, one opted for the Army, and one chose a higher education option in Canada.
A handful of students received special scholarship awards presented by the Water and Power Authority, Delta Sigma Theta Sorority, and the U.S. Army. Romaine Carter from the sorority stopped by to make a presentation, along with Tracie Wells from WAPA and Army Sgt. Contavious Miles.
But Cook said every student in the Class of 2022 received a financial award. "Virtually all of the students received some form of merit scholarship," the counselor said, funds that will offset the total cost of attending college or a university.
Schools the VIMSIA students signed up for had familiar names, including Spelman College, Howard University, Morgan State, Kent State, Penn State, Georgia State, and Pepperdine University.
A college counselor for a private school on St. Croix explained that while students choose the school or institution they want to move on to, they are guided to pick schools that match their academic strengths, their interests, or have qualities that promote the goal of graduating.
"It's the day they say I'm going to this college," said Nancy Thatcher from Good Hope Country Day School. Twenty-two St. Croix private high school students took part in a Signing Day ceremony there on April 29.
The guest speaker on Monday was VIMSIA alumna Kayla Rivers, a 2017 graduate who completed her studies at Seton Hall University and is currently working in the office of 34th Legislature President Donna Frett-Gregory.
Rivers assured the students that on her graduation day, she was afraid of not making the right choice. But she told them that was normal and that people as young as they were don't have to have life all figured out by the time they leave high school.
Graduation Day for the Virgin Islands Montessori School & Peter Gruber International Academy is scheduled to take place on Sunday, May 29, on the school campus starting at 1 p.m.