The following story is part of a series highlighting the experiences with systemic racism on the American mainland of Black men and women who grew up in predominantly Black communities in the Caribbean.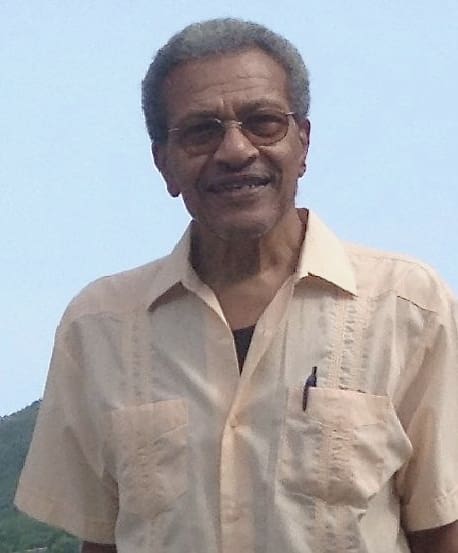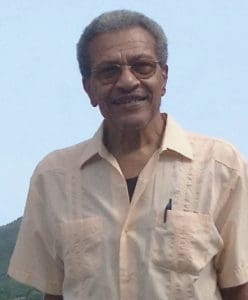 Roy Watlington was born on St. Thomas long enough ago to have lived through much of the modern-day Black struggle for equal citizenship in the states and the accompanying changes in the Virgin Islands, but not so long ago that his vision of the past and the way forward is clouded.
Watlington may be one of the few Virgin Islanders who are aware of the fatal killing of two local Black men by a police officer in the states – something that Virgin Islanders do not fear or face in the same way as Black people in the states.
It happened when Watlington arrived in Miami three months after 23-year-old Clement Lloyd and 24-year-old Allan Blanchard died at the hands of Miami police officer William Lozano, in January 1989.
Miami Officer Sentenced to 7 Years in Deaths of 2 Blacks 
The story, which Watlington does not believe was reported locally, goes like this according to an archived story from the Los Angeles Times:
"The night was Jan. 16, 1989, the Martin Luther King Jr. holiday. Miami was set to host the Super Bowl days later, an important event for a tourist city banking on the national spotlight.
Lloyd, 23, a car-wash manager, was speeding his high-powered Kawasaki Ninja motorcycle through the streets of Overtown [referred to as Colored Town during the Jim Crow era, according to Wikipedia]. His passenger: Allan Blanchard, 24, an unemployed construction worker who had just moved to Miami from the Virgin Islands.
Activating his car's lights and siren, a Miami patrolman tried pulling them over. Lloyd sped up Northwest Third Avenue toward Lozano, who just happened to be stopped on the side of the road taking a report from a citizen.
Lozano squeezed off one shot. The bullet struck Lloyd in the head. The motorcycle plowed into a Buick Regal, hurling Blanchard to the pavement. Both men died."
Lozano was initially convicted of manslaughter. But the conviction was overturned upon appeal.
It was during this time when the police first stopped his car to look him over.
The late '80s and early '90s in Miami were the scariest for Watlington – and not unreasonably. It was a time of racial unrest and upheaval there. But Watlington's history with the United States mainland started in 1954 when he was relocated to Flushing, New York, so his father could earn a college degree.
"That's when I learned we were considered poor," he remembers.
He says at home in the Virgin Islands, where Watlington was born and where his family tree extends back centuries, everybody was poor by U.S. standards. "But we were not desperate." "We didn't call what we were poor. … We weren't 'poor' poor; we all had a pair of shoes. Poor people didn't have shoes."
And he says those who did had something they called "rubbers." They were sneakers, only they were made out of some material that "smelled bad."
Landing in the United States, somewhat against his teenaged will, he was also faced with his first encounter with the concept of race and culture. He was asked what he was. "What do you mean," his reply, "I am a people."
He remembers growing up in a time and place where people thought of themselves as Virgin Islanders with American citizenship.
Watlington does not suggest that life in the U.S. Virgin Islands historically didn't have its own brand of oppression. The "occupation" of the Navy from the time of the Danish transfer in 1917 until 1931 was "not nice," he says, "but they didn't hang us." And given that the population was mostly Black, white people were more covert in their manipulations.
That's history. And one of the shortcomings that Watlington feels has led to the current state of hopelessness and senseless violence for some in the territory is, "We ourselves suppressed our history of rebellion," and even today know little of the Virgin Islanders who were intimately connected with the Civil Rights movement in the states.
While he does not consider himself one of those folks, he was there for it.
In the nearly three decades between his teen years in Flushing and his five years in Miami, Watlington discovered jazz and Malcolm X in New York City while attending Hunter College and later City College of New York.
"Malcolm was 'it,'" he says, "except for the male dominant part."
As a student in Manhattan, Watlington got the payoff for his time as a "poor" teen in Flushing. "New York City grew me up." It was an exciting time for Black power and music. He met Malcolm X and shook his hand. He still remembers it. "He said 'Hello little brother.'"
The jazz clubs of Harlem were even more thrilling than Malcolm X and the movement.
"I heard them all, Mingus, Coltrane, Miles. It was wonderful."
As for the powerful movement pushed along by Malcolm X and others, Watlington is clear, "I was in no way a leader. I was a witness."
But what he witnessed has implications for today's Black Lives Matter movement.
"Beware of provocateurs, infiltrators and egos," he cautions. Speaking of his years at CCNY, Watlington recalls watching peaceful protests turned violent by those who either wanted to "outdo you with violence," or who wanted to undermine the movement. He also watched some of the leaders go from sincere agents of change to preening egomaniacs that couldn't handle the spotlight, he says, adding, "New York in the early '60s was my last real contact with activism" until 10 years later when he joined the struggle for District of Columbia home rule and African Liberation.
Science took center stage and he landed in Seattle at Boeing Corp. in a building which at the time was the largest single-story structure in the world. He was one of four Black people employed by the aircraft company, and his job, he says was to "be Black." Watlington, who only stayed for a year, was there as a "token." His desk, which he said kept getting upgraded along with his pay and other material goodies, was centrally located so that he could be widely seen.
"They wanted me front and center."
He wanted to do real work, to use his training. Armed with a slide rule and a handbook of physics and chemistry, he soon realized that was not what he was there for.
"I was basically a parts clerk, with a salary of an industrial engineer. It was terrible, so I left."
Hired as a technical writer by Curtiss Wright Corp., another aeronautical company, Watlington found himself back on the east coast, in East Patterson, New Jersey, in the mid-'60s, with the draft breathing down his neck.
So, enamored at that time in his life of the chronology and technology of war, he decided to enlist.
He admits he later saw things very differently, but at the time, "I believed in soldiering."
Watlington has always been the picture of strength and health as a runner and track team hammer thrower. He was fluent in French and had a passable command of German, and dreamed of being a pilot, or maybe a translator.
But a vague suggestion at his physical that since he was Black he might be susceptible to sickle cell anemia dashed his dream of being a pilot, leaving him facing the nightmare of infantryman or platoon leader; the most likely to fall first in the jungles of Southeast Asia back then.
He backed away, waited, and drew a lucky card.
His draft board was in Astoria, Queens. "If they had enough people [volunteers] you didn't get called." Turned out Astoria had enough bodies and Watlington moved on down the road to further and higher education.
His path led to attendance at Fisk University in Nashville, Howard University in Washington, D.C., and later to Miami University – with a stopover in Houston, Texas, where he spent the summer of 1965 as a technical writer for NASA. In between and in the end, the road led home to the University of the Virgin Islands.
The reason he specifically mentions his times in the South in the context of today's civil unrest is his awareness of the differences between the '60s and '70s with police in the South and what he later experienced in Miami nearly 25 years later.
He says several times he drove across the South – a Black man in a black Corvair – without the level of concern he has when he drives in the states today and with no police harassment back then.
Decades later, driving from the lab at Rosenstiel School of Marine and Atmospheric Science on Virginia Key, past the upscale Key Biscayne community outside of Miami was much trickier – even as a greying 50-something-year-old man in a more conservative vehicle.
It happened several times after leaving the lab late to head home, that he would get stopped for no apparent reason. "You could never ask why, of course."
One of his scariest moments was when a female officer found it necessary to stand behind her door, gun in hand and ordered Watlington to "get out of the car."
"She turned out to be friendly after intimidating and scaring me."
"Five years and the same car later," he recalls being stopped while wearing a military type shirt with epaulets.
Again, stopped for no reason the officer observing the shirt asked, "You on the job – you packing?"
"No, I'm not a cop."
The only people the cops were used to seeing that time of night, Watlington says, were domestic workers making their ways back home from the fancy beach houses on Key Biscayne.
After patting him down, the officer wanted to figure out what Watlington was doing there. He kept chatting him up in a friendly manner.
"He kept me longer than I wanted, but you couldn't say, 'I gotta' go."
And because you couldn't say "I gotta" go, Watlington holds that, "You're reminded that you are not equal."
Watlington nevertheless is quick to credit affirmative action and what he refers to as "New York City's very generous higher educational system" for his great good fortune, along with being from the Virgin Islands.
"I would be nothing," he says, "without a free education," adding that being an islander who knew himself as "a people," as opposed to what was then called "a negro" also gave him an advantage.
"I feel way luckier coming from the Virgin Islands."
Other stories in the series:
Racism is Defined by Experience: Prologue
Racism is Defined by Experience: Chapter One
Racism is Defined by Experience: Chapter Two
Racism is Defined by Experience: Chapter Three