Did you know the deer you see around St. John actually got here by swimming over from St. Thomas; there are about 30 different species of crabs on the island, or that no one truly knows how long sea turtles in the Virgin Islands live?
These are just a few examples of the fascinating island trivia you can absorb during a casual conversation with Rafe Boulon, who was born and raised on St. John.
Boulon and his two sisters were grew up on Trunk Bay, which his grandfather had in 1927, who bought the repossessed property for a few thousand dollars – less than you can buy a square foot of land on St. John nowadays.
Home on Trunk Bay
Boulon's father, a native of Puerto Rico, sold about 100 acres of the Trunk Bay property to Laurance Rockefeller in 1956, retaining three acres where the family still resides today.
"My father sold it for less than you could buy a quarter acre now," said Boulon, anticipating the surprise that he knowingly will receive from any person he tells. "But you can't look back and cry about it, I still get to live there and I thank my grandfather every morning that I'm not next to a huge hotel, which was the alternative."
Growing up with one of the world's top ranked beaches as your front yard, the Caribbean palms and tropical forest as your back yard and the lush green hills as a mountainous backdrop bordering the bright blue sky, it is easy to see why Boulon, the current chief of resource management for the V.I. National Park and V.I. Coral Reef National Monument, hones a deep passion for the island and its resources.
"Having grown up in the ocean here, hiking and camping in the woods and on the beaches, I have always been attracted to and fascinated by the natural world around us," said Boulon, who earned his undergraduate degree in marine environmental science from the College of the Virgin Islands (now the University of the Virgin Islands).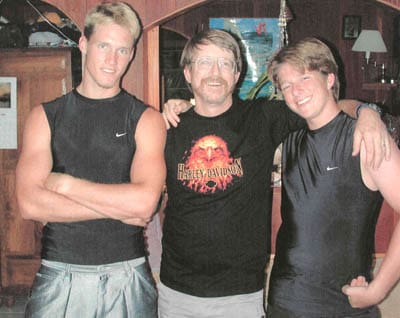 While Boulon was working toward his masters in biological oceanography from the University of Puerto Rico, he met Kimberly, his wife and the mother of their two grown sons, Devon, a 23-year-old national champion professional wind surfer and Revel, a 21-year-old engineer on a 108-foot private yacht in Guatemala.
"I proposed to her in St. Croix the night before a research mission inside of a 10-day underwater Hydrolab," said Boulon, who should thank his lucky starfish Kimberly said yes or it could have been a really long 10 days under water.
Prior to his role as the chief of resource management for the VINP and VICRNM, Boulon worked for the V.I. Department of Planning and Natural Resources (DPNR) for 18 years as chief of environmental education and endangered species.
Leatherback Recovery Project
During his career with DPNR's Division of Fish and Wildlife, one of the projects he is most proud of is his role in the Leatherback Recovery Project at Sandy Point on St. Croix.
"When we started the project in 1981, we had between 18 and 25 female turtles nesting every year on Sandy Point and most of the eggs were either lost to beach erosion or poaching," said Boulon.
"In 1982, we started using Earthwatch volunteers to patrol the beach all night, every night from the beginning of April to the end of July, which is the nesting season," he continued Boulon and his crew also relocated turtle nests threatened by beach erosion to safer areas and poaching dropped to zero with the Earthwatch volunteers on the beach every night. "As a result of these nest protection efforts, we are now seeing close to 200 female turtles nest each season," said Boulon proudly.
It was also during this project that marine specialists learned that it takes approximately 12 to 15 years for leather-backs to mature to a reproductive age, according to Boulon. "But we still have no idea how long they live," he said, explaining that no one has been able to hold a leatherback turtle in captivity because they are open ocean turtles that migrate great distances and cannot comprehend boundaries, often running into the sides of tanks or ponds and dying. "The turtle we know that has lived the longest was first seen on the beach in 1979 and tagged, the last time we saw her was in 2000 and she came up every two years to lay her eggs."
Travelling Turtles
Leatherback turtles in the Virgin Islands typically swim all the way around the North Atlantic Basin between breeding seasons, according to Boulon. Two turtles tagged in the Caribbean were tracked swimming to West Africa, Western Europe and in the waters in the very far North Atlantic – even finding mates in the open ocean and returning to this region to nest.
"One of the things that was interesting about working with the leatherbacks is that so much was unknown about them before and we were able to learn so much since the research," said Boulon. "Genetics work showed that we are looking at a regional sub-population of leatherbacks, which are genetically different from leatherback populations elsewhere like Guyana, Costa Rica, Florida and Trinidad."
The regional population of Leatherback turtles are shared with Puerto Rico, the British Virgin Islands and the U.S. Virgin Islands.
"While we are seeing an increase of leatherback populations in the Western Atlantic, in the Eastern and Western Pacific they are collapsing, all due to egg poaching, nest loss and capture in high seas fishing gear," said Boulon.
Male leatherback turtles can reach more than 2,000 pounds and the females are generally under 1,200 pounds. "Leatherbacks have been here for 180 million years while modern man has only been here for 50,000," said Boulon. "And in the last 100 years, man has pushed the leatherbacks almost to extinction."
There are four turtle species around the U.S. Virgin Islands – the leatherback, green, loggerhead and hawksbill turtles. The hawksbill is the main species that nests on St. John.
"Most of the smaller, hard-shelled turtles have been kept in captivity, but because of artificial factors such as diet and the lack of stress, there are no real accounts of how long they live, probably close to 100 years," said Boulon.
Virus Potential Turtle Threat
Recently, off of Culebra, several turtles have recently died from Fibropapilloma disease, and at least one has died in the Virgin Islands in the last decade, said Boulon, who originally detected the virus in the Virgin Islands about 15 to 18 years ago.
Fibropapilloma, a herpes-like virus that grows along the soft tissue areas, forming large wort like growths that can interfere with feeding and vision, primarily affects Green turtles, according to Boulon.
"If the virus spreads, it could affect all green turtles," said Boulon, who believes the virus is spread through contact and water. "My concern is that it could spread throughout our green turtle population and affect a significant number of turtles." "It's been my impression that for most turtles affected by the virus, it is not a terminal illness for them," said the VINP chief of resource management. Some turtles in Hawaii have overcome the disease, he added.
Recovering Resources
Aside from his extensive research on turtles, Boulon monitors the moorings in the park and the regulatory buoys that are used to protect coral reef, sea grasses and mangroves.
"Things are looking good – the sea grass beds are recovering, we are seeing an increase in density and the amount of these grasses that sea turtles feed on and juvenile fish and invertebrate live on," said Boulon.
The recent coral reef bleaching episode brought on by extremely high water temperatures in August and September is on the decline due to the cooler waters and heavy rain in October.
"We are starting to see corals resuming normal colors and recovering, and a big reason is the cooler sea water temperatures, especially during the first 10 days in October where we had almost 11 inches of rain," said Boulon, who has also religiously tracked the rain data at Trunk Bay for the past 22 years. His weather monitoring could be another inheritance from his family lineage – his greatgrandfather was a meteorologist in Puerto Rico in the early 1900s at the turn of the century.
Changes Over the Years
Growing up on St. John and being so tightly immersed in the island and its resources, Boulon has witnessed drastic differences in his life span.
"This is my home, there is no other place I'd rather be," said Boulon, adding he is shocked by the changes he sees around him.
"I see changes every day on St. John; the island has changed incredibly since I was a kid," said Boulon. "When I was born, there were about 750 people on the island and everybody was a family, helping and supporting each other."
Cars, electricity or phones were among the other current luxuries those of Boulon's generation and before seemed to happily do without.
With the island's current parking woes and frequent Cruz Bay traffic jams, it is hard to imagine that there were no cars on St. John until the early 50s – and even then, they were few and far between. "I remember as a young teenager walking from Trunk Bay to Cruz Bay in the middle of the day and never seeing a car – I didn't even have the chance to hitch hike," joked Boulon.
A population increase on St. John is not the only obvious change over the years, there used to be a much more abundant underwater life population than we are seeing today.
Changes Under the Surface
"We used to be able to grab lobsters right on the shoreline – lobsters were so abundant, people used to feed them to their pigs to fatten them up," said Boulon, amazed at the contrast when compared with today's market price of about $30 to $40 a pound. "There are way fewer fish than there used to be; we used to take a little dinghy off the beach and catch tons of fish, lobsters, everything."
Over-fishing, habitat changes, foreign nutrients in the bay caused by land-based pollution and loss of nursery habitat like mangrove – more than 50 percent of mangroves have been lost in the last century – are just a few of the factors that have led to the rapid decline of sea life.
"Unfortunately, now I view things differently then as a kid, I am looking through different, trained eyes," said Boulon. "In many ways, we spend a lot of our time documenting the declines of our natural world and it is very depressing," said Boulon. "Sometimes it feels like the natural world is being attacked from every angle, and I feel that that all we are doing is just slowing things down in the decline and that the outcome will be the same."
One thing is for sure, humans will have to make some major lifestyle changes to make a real difference. "But I've always loved what I do, and a large part of my job is trying to make sure all of these resources are still here for future generations," said Boulon.