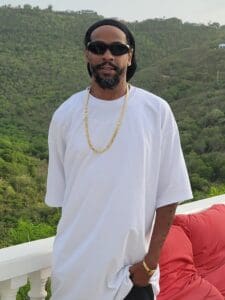 Randy A. Lockhart Sr., also known as "Fiyah," of Estate Whim died on July 15. He was 43 years old.
He was preceded in death by his grandparents: Henry and Elenora Armstrong and Raymond "Jim" Lockhart; aunt, Rhea Hodge Molet; uncle, Omar Armstrong; and cousin, Stacie Schjang.
He is survived by his mother, Morlene A. Lockhart; father, Raymond A. Lockhart Sr.; daughters: Sha'Kema Lockhart, Sha'Kayla Lockhart, Desiree Lockhart, Railah Lockhart, A'Daijah Miller and Erica Cherry; son, Randy A. Lockhart Jr.; grandson, Dreylyn Lockwood; grandparents: Gwendolyn and Alfredo Hodge, and Lydia Lockhart; significant other: Charleen Isaac; sister, Resa Lockhart-Perry; brother, Raymond A. Lockhart Jr.; stepsister, Deanna Allick; nieces: Latisha Lockhart, Sheniqua Lockhart, Tyré Lockhart, Shanice Lockhart, Raneisha Evans, Reana Perry, Renise Perry and Reniya Perry; and nephews: Raymond A. Lockhart III, Jahneil Schuster and Jahlani Lockhart.
He is also survived by aunts: Helen Armstrong-Schjang, Medeliene "Mede" Christian, Grace Armstrong, Raynell Smith, Rena Williams, Rhenita Hodge Hatcher, Rhonda Hodge Mason, Violet "Letty" Deville Hodge, Suni-Lin Lockhart, Juana Brown, Merilyn Lockhart, Luz Armstrong, Sabrina Hodge and Helen Spencer; uncles: Melvin "Melo" Armstrong Sr., Henry "Hank" Armstrong, Richard Lockhart and Richie Hodge; brother-in-law, Robert Perry; sister-in-law, Tisha McFarlane-Lockhart; godchildren: Kaleem Isles, Kimora Jarvis and Destiny Ford; cousins and other relatives: Dave, Henry ("Gene"), Mickey Schjang, Carlos Jr., Leah, Wayne Christian, Kareem, Simolia, Kadisha Jarvis, Renee Hewitt, Ricoya Williams, Kahreem, Rahsaan, Vanessa and Ronelle Smith.
Other cousins and relatives include Tanya, Tisha, Tricia, Termaine Lockhart, Yma "Su-Ling," Pia, Dean, Scabriel, Omar and Raymond Brown, George ("Bonga"), Alton, Sharon, Patrice, Neal, David, Leila and Ronnel Armstrong, Tony, Rodrick, Douglas, Osrick, Okeyma Armstrong, Desiree, Kimba, Felicia, Monique, Duane, Jnee Armstrong, Brandon, Bryan Hatcher, Aysha Ferguson, Ashton Mason, Rudi and Rica Molet, Antoine, Gregory Magras, Louise Scott and Yvanis Lockhart; special friends: Kaleem "Kalba" Iles, Shaheley Pennyfeather, Glen "Jungle" Phillips and Michael Ford; as well as other relative and special friends too numerous to mention.
There will be a viewing held at 8 a.m. followed by a funeral service at 9 a.m., Monday, Aug. 1, at St. Ann's Catholic Church. Interment will follow at Kingshill Cemetery.