When Rani Keohane jokes about her goal of global bikini domination, she's only partially kidding.
Since Keohane, a native of the small Washington State island Treasure Island, launched her hand-sewn Ranifly Bikini line about six months ago, she's gotten rave reviews and a growing fan base.
If the feedback from her recent fashion show at Paradiso, at which Keohane unveiled her self-built website www.raniflybikini.com, is any indication, the designer's success is sure to continue — watch out world.
Although Keohane has been sewing since she can remember, she was never formally educated in the art.
"I started sewing as soon as I could," said the designer. "I remember making bikinis for my dolls when I was five. My grandmother and my mother are both seamstresses, but no one ever sat me down and said 'this is how you do it.'"
'"I just started making stuff," she said.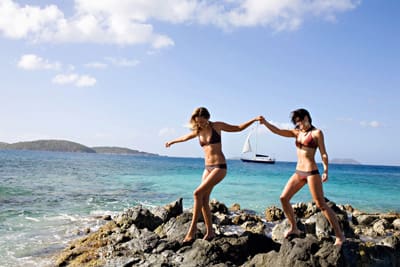 After leaving the soggy Pacific Northwest, Keohane spent time in Hawaii before making the move to the Virgin Islands about 13 years ago. Since calling the tropics home, she has worked on boats and spent most of her time in a bikini.
"I've been working on boats since I've been here," said Keohane. "I had to wear a bikini every day and sometimes they don't fit right. Either the straps cut into your neck or bottoms don't fit right."
"I had to find a suit that would be comfortable for all day use and I couldn't," she said. "So I started making them myself and people loved them. They were always asking me 'where did you get your suit.'"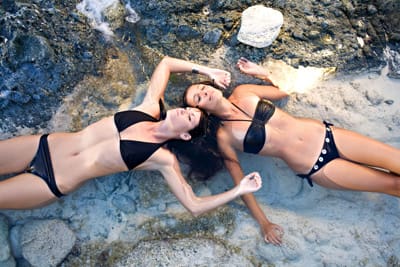 Seven years after making her first bikini — and fresh from a two-year stint running surfing charters in Indonesia with her boyfriend and "bikini Sherpa" Chris Clark — Keohane now has a full line of about 15 different styles of tops and bottoms.
"We circumnavigated Sumatra twice and ran surf charters," said Keohane. "We had been living Chris' dream and I said, 'now we're going to live mine.' I spent a lot of time learning how to make bikinis and I wanted to keep going with it."
Since honing her skills, Keohane has created an exquisite line of custom-quality bathing suits. Keohane's Ranifly Bikini line is sold in separates and is designed to mix and match, with many reversible and convertible pieces, so everyone can find just the bikini for their body type.
"Not everyone is the same size on top and bottom," said Keohane. "But everyone looks good in my suits. You just have to play around and find the fit that suits your body."
"There are so many options that everyone can find the right fit," she said.
To the sexy and unique styles, Keohane adds her flair for colors and fabrics — from basic black to bright sherbert hues — which really sets Ranifly Bikinis apart.
"I went to Brazil when I was 16 and I've been a bikini fanatic since then," said Keohane. "I have my eye out for fabrics constantly and I'll be designing my own fabrics soon."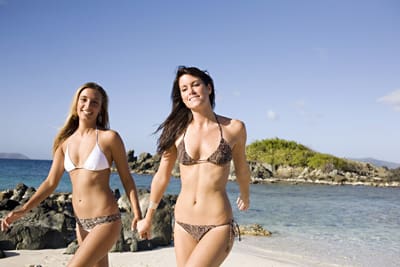 Keohane uses only the highest quality fabrics and hand sews the entire collection herself, ensuring durability. Designed by someone who spent endless days in a bikini, comfort is also a big factor in Keohane's line.
"The fabrics I use are extremely high quality and they're super durable," she said. "The most feedback I get is that people abuse their suits down here and they can't believe how long mine last. The other feedback I get is how comfortable the suits are — people put them on and they don't want to take them off."
If all that wasn't enough, Ranifly Bikinis also come in cute, reusable, waterproof bags.
While Keohane has the sewing talent and designer's eye — not to mention the passion to work endlessly on her dream— a lot of people helped get Ranifly Bikini off the ground, she explained.
"Greer Rivera was the photographer for most of my photo shoots and she's amazing," said the designer. "She really believed in me and made me believe that I could do this — I could launch a website on my own and do the whole line of bikinis and my first fashion show."
"I worked really hard on this and I had Greer believing in me and so many people giving me so much positive feedback," said Keohane. "When I finished and succeeded with the website and saw the end of the road — which is really just the beginning — I felt like it wasn't just me. What I accomplished is really the sum of all these people who believed in me."
It also helps that Keohane's friends who model her bikinis love getting paid in her handiwork, she added.
Even with her name and bikinis continuing to gain fame, Keohane still loves seeing people in her creations.
"To me seeing someone wear one of my bikinis is the most rewarding thing," she said. "I look at people in my suits and I'm like, 'wow you look excellent.' Especially after I've seen them in another suit that didn't look at all as good as mine."
This summer Keohane is heading north to live on a boat with her boyfriend in Southampton, NY. She'll continue designing bikinis — fans should check the website every two weeks for new pieces — and is adding a line of eclectic canvas beach bags to her repertoire.
Looking ahead, the world is literally Keohane's oyster.
"I'm looking at global bikini domination," she said. "But I'm taking baby steps now."
Ranifly Bikinis are available on St. John at Nest, on the second floor of The Marketplace, and Big Planet in Mongoose Junction. On the web, checkout www.raniflybikini.com.