Supermodel Natasha Barnard lounges on a beach in Brazil sporting a suit by Coral Bay's Ranifly Bikinis.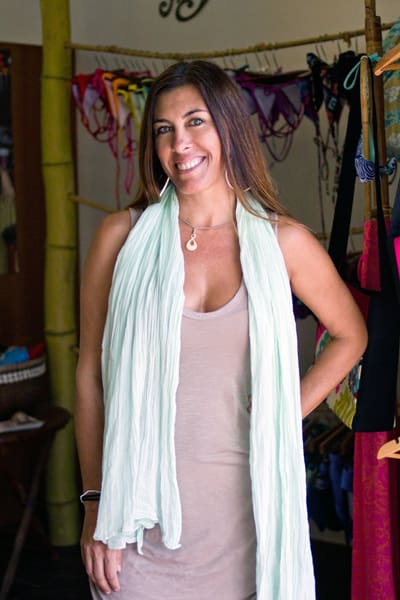 St. John bikini designer Rani Keohane
Watch out world, here comes Rani Keohane and she's bringing custom bikinis.
The Coral Bay-based bespoke bikini designer is riding a wave of publicity which is not about to end any time soon.
For the second year in a row, one of Keohane's  RaniFly Bikinis was included in Sports Illustrated's Swimsuit Issue coverage and her suits were recently chosen as one of five bikini brands recommended for "women who rip" by Grind TV.
On the 2014 SI Swimsuit Issue website, http://swimsuit/si/com, a graphic printed RaniFly tie-string bottom and triangle top bikini is worn by South African model Natasha Barnard as she's photographed lounging on a sandy beach in Brazil.
This is the second year in a row that one of Keohane's bikinis has been featured in SI Swimsuit Issue's online coverage. And, while many of the SI swimsuit photographers adhere to a "less is more" ethos, both of RaniFly Bikini's pictures actually show the bikinis. The coverage also includes a handy direct link from the SI website to www.RaniFlyBikini.com.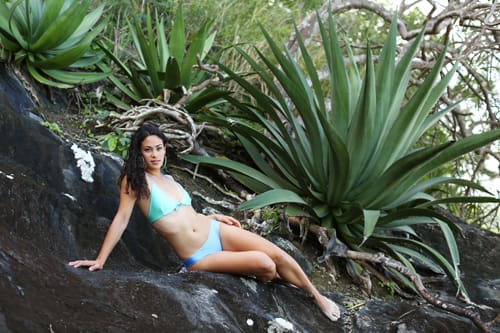 RaniFly Bikinis will sponsor St. John sailor Mimi Roller, above, a contender in the next Summer Olympic Games, along with Mimi's partner, who will sport the designer's swimsuits during the competition.
On the heels of the huge SI Swimsuit Issue inclusion, Keohane recently discovered that her suits were also featured by GrindTV.com, which boasted that RaniFly Bikinis were "so comfortable they can double as undergarments."
All this attention comes well-deserved to a hard working designer who ensures quality and durability in every single suit. All RaniFly bikinis are hand-made by Keohane in limited editions with sport-grade Lyrca.
The designer operates a retail store and workshop at the Cocoloba shopping complex in Coral Bay where, in addition to keeping her racks full, she also cranks out an incredible number of hand-stitched custom bikinis. Stop by the RaniFly Bikini shop, open Monday through Saturday from 10 a.m. to 6 p.m., and grab a suit off the rack or choose a print and design a custom RaniFly.
Keohane is continually getting in new fabric — she receives a new batch about once every three weeks — and always dreaming up different cuts to flatter all figures. She offers seven different X-back cuts, meaning women of all cup sizes can find a top that actually fits.
"I do bikinis big and small, one-pieces, everything," said Keohane. "I have suits for everyone from teenagers to people who are in their 70s. We're different from other lines of suits that are made only for one body type."
"The suits are really comfortable, functional and durable," she said. "I work really hard to ensure the quality and durability."
Also at the RaniFly Bikini shop, check out Keohane's line of graphic printed bags, each of which is one-of-a-kind, yoga pants, skirts and headbands all made, like the swim suits, from her sports-grade Lycra.
RaniFly's growing fleet of happy and loyal customers appreciate Keohane's attention to detail which translates into suits that fit and last.
"I originally started making suits 12 years ago with the Bikini Bus and I have people who still have those suits and still wear them," said Keohane, who launched RaniFly Bikinis about five years ago. "My customers are really loyal. They all say these are the most comfortable suits and they always come back for more."
Also amazing about RaniFly Bikinis are the prices. These bespoke suits would be right at home on the beaches of St. Tropez, but don't require a celebrity-sized bank account to afford. Off the rack suits run around $105 to $145 with custom suits about an additional $10 per piece, depending on the fabric. Keohane also offers local discounts.
The designer is gearing up to release T-shirts soon and is working on a new, resort-themed NautiFly line, due out next season. Keohane didn't share many details of her upcoming project except to explain it's been in the works for at least a year.
Keohane is also sponsoring Coral Bay sailor Mayumi "Mimi" Roller's bid to compete in the 2016 Summer Olympic Games in Brazil. Roller and her sailing partner Kayla McComb, who are working to sail a 49erFX for Team U.S.Virgin Islands, will be sporting RaniFly Bikini suits at their qualifying regattas and, hopefully, in Brazil in 2016.
Keohane — wearing her web designer hat — also found the time recently to add a "Custom" option to her website, with 25 different styles of tops and 20 different cuts of bottoms and tons of different prints from which to choose, so anyone who can't stop by her Coral Bay boutique can still enjoy their very own bespoke bathing suit.
For more information and to order suits, check out www.raniflybikini.com. To check out Keohane's feature in SI, go to http://swimsuit.si.com/swimsuit/models/natasha-barnard/photos/8 and to see the GrindTV.com feature on RaniFly Bikinis, go to http://www.grindtv.com/lifestyle/wanted/post/5-bikini-brands-for-women-who-rip/