Like Goldilocks looking for the right bed, a choosy female leatherback turtle looking to nest checked out several sites in a daytime visit to the Caneel Bay Resort before finally making a nest in a nighttime visit to Trunk Bay.
Caneel Bay Resort guests and V.I. National Park officials were surprised by the rare daytime treat on Wednesday afternoon, May 3, when the leatherback turtle attempted to lay her eggs on the resort's Hawksnest Bay beach.
"She came out of the water around 2 or 2:30 p.m.," said Christie Loomis, GIS specialist with the VINP natural resource management division. "She went through her egg-laying process even though there were a lot of people on the beach."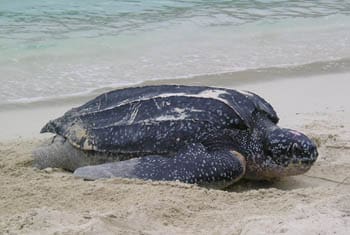 Rare Daytime Activity
Leatherback turtles, which have been an endangered species since 1970, usually seek out more secluded areas to lay their eggs at night, Loomis explained.
"Female leatherbacks usually lay their eggs at night in secluded areas," she said. "They don't normally come bopping up the beach while people are snorkeling. This was very unusual."
Although Trunk Bay reportedly got its name from the presence of the large trunk-size turtles, leatherback sightings on Love City beaches are rare events, Loomis added.
"Leatherback turtles are extremely rare here," she said. "They are known to nest on St. Croix, but we rarely see any here." The female leatherback, who was about five feet long and weighed in at around 800 or 900 pounds, was not happy with her first nesting spot, according to Loomis.
"She started digging holes for the eggs by using her back flippers which are very dexterous," she said. "She was scooping out the sand and kept running into roots from the trees along the beach. My guess is that she couldn't get a proper nest."
While leatherbacks are often known to return to the same spot they originally pick, this female decided to try out a different beach for her nest.
Perfect Spot on Trunk Bay
"We found a nest on Trunk Bay this morning, right by the life guard stand," Loomis said on Thursday, May 4. "We cordoned it all off and will monitor it often. It definitely looked like she didn't have any trouble nesting on Trunk."
Female leatherbacks, which don't reach maturity until they are between 30 and 50 years old, often return to the area near the first nest to lay more eggs, Loomis explained.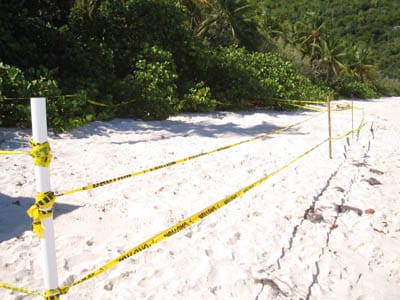 More Nests Possible on Trunk
"We'll monitor the beach regularly because leatherbacks will come up to the same beach every two weeks or so to lay more eggs," she said. "They can lay eggs up to five times in one year, but then they might not lay eggs again for one or two years." The gestation period for leatherbacks is 60 days, so the Love City sea turtles should hatch sometime in early July, Loomis said.
People should be careful to not disturb the nesting site, which is roughly 80-feet by 25-feet, and is marked off with yellow tape, cautioned Loomis.
Don't Disturb Turtles
"People should definitely not walk on that area—it could crush the eggs," she said. "No one should bother this site or try to dig the eggs up."
If anyone finds another sea turtle nesting area, they should leave the area alone taking care not to shine lights on the spot and contact the V.I. National Park, Loomis added.