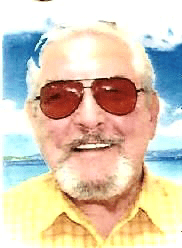 It is with heavy hearts that we announce the passing of our father, Raymond Joseph Stiehler, who died peacefully at home on March 24. He was 81 years old.
He is preceded in death by his wife, Leona Ann Stiehler.
He is survived by his daughters: Mary and Kathleen Stiehler: his sons: Mark and Gregory Stiehler; daughter-in-law, Mendy Stiehler; granddaughters: Melissa, Reanna and Hazel Stiehler, grandson, Ramius Stiehler; sisters: Loretta Braden and Susan Cichowski; and brother-in-law, Salvador Bryan.
His celebration of life will be held at 10 a.m., Friday, April 22, at Sts. Peter and Paul Cathedral. All are welcome.
Funeral arrangements are provided by Turnbull's Funeral Home and Crematorium.