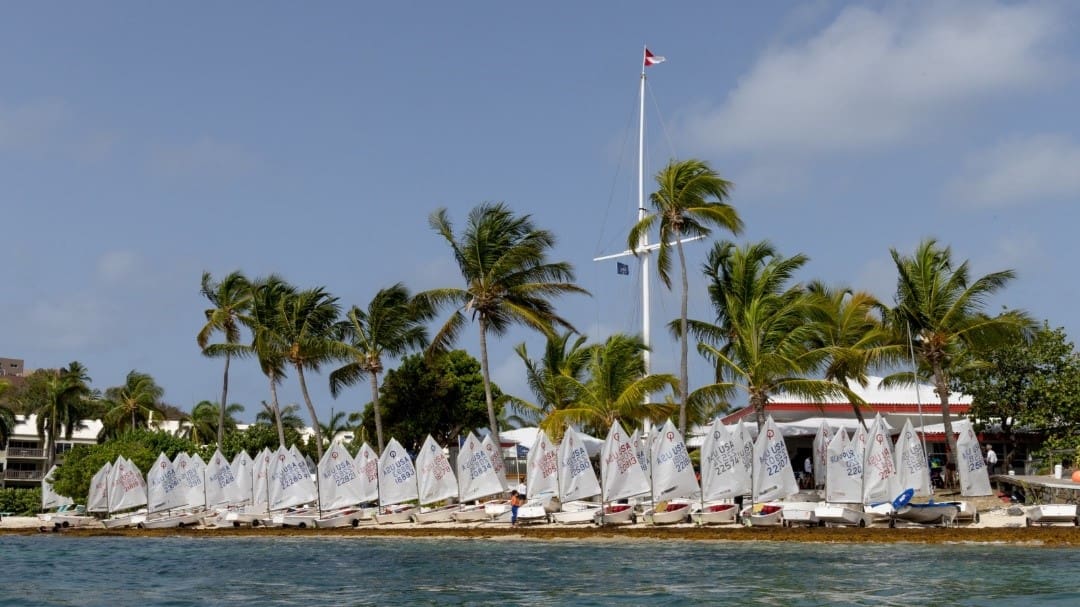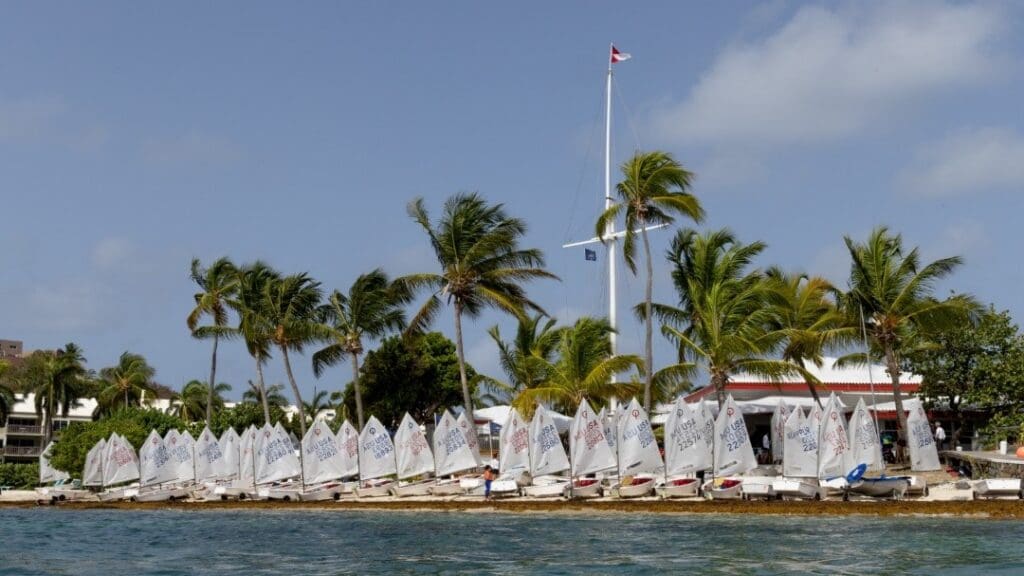 The 30th Anniversary of International Optimist Regatta's past entrants reads like a "Who's Who" of college all-Americans; national, continental, and world champions; America's Cup sailors and Olympians.
Register now for the International Optimist Regatta (IOR), the TOTE Clinic or TOTE Team Race. Early entry registration for the IOR is $300 through May 1; it will be $350 after this date. The fee includes an event T-shirt, registration 'goodie' bag, and all meals from Thursday dinner through Sunday's brunch.
This trio of events takes place from June 12 to June 18, at the St. Thomas Yacht Club (STYC), St. Thomas, U.S. Virgin Islands. More specifically, the TOTE Clinic happens from June 12-14, followed by the TOTE Team Race on June 15 and the IOR 0n June 16-18.
"Already, we have sailors registered representing the USVI, Puerto Rico and several states in the U.S.A.," said Emily Zimmerman, regatta director and STYC commodore. "Now celebrating our 30th anniversary, the IOR's combination of a clinic, team race, and regatta has proven successful, and it has become a sought-after event to prepare sailors for upcoming regional and international events. We are pleased to have sponsors, such as the K3 Company, support this event and will be awarding their high-quality dry bags as top prizes."
Among the 60-plus entries to date is Amelia Woodworth, from Fairfield, Conn., who finished 6th overall in the 2022 IOR. Since then, Woodworth has competed in two Optimist South American Championships in Brazil and Peru, and she has fleet raced in France and Argentina as well as team raced in Germany and Italy.
Three In One Event
The spectacular week of junior sailing kicks off with the TOTE Maritime Clinic, June 12-14. Some of the best Optimist coaches conduct on-the-water training sessions and instructive on-land debriefs for both Advanced (age-divided Red, White and Blue Fleets) and beginner (Green Fleet) sailors.
This year's coaches include Argentina's Gonzalo 'Bocha' Pollitzer, who has three Optimist World Champions to his credit; the USA's Esteban 'Pilo' Rocha, currently the advanced racing coach at the Lauderdale Yacht Club and a past World's team coach; the USA's Manny Resano, from the California Yacht Club, who has coached the U.S. team in many international events; and the USA's Mykel Alonso, the green fleet head coach at Coral Reef Yacht Club.
On June 15, over a dozen teams are expected for the TOTE Maritime Team Race. The entry fee for this one-day event is $160 per team of four sailors. Registration is available only on-site from 8 a.m. to 5 p.m. on June 14.
The IOR sets sail from June 16 to 18.
"The main focus of the clinic is starts, especially in a big fleet, and on understanding the geographical wind shifts and currents that we cover in the point-to-point 'Volvo' Race," said Agustin 'Argy' Resano, St. Thomas Yacht Club coach, and Clinic and Team Race organizer. "The clinic/regatta combo is the perfect training scenario, where you develop your skills and then put that knowledge into practice. The team racing event between the two just gives a full experience as it's a different sailing format where the sailors race in teams of four. In all, it's the perfect week. Plus, we get seven days of sailing guaranteed in open ocean waters, with 12 to 20 knots of wind, big waves and warm weather."
Trophies will be awarded to the top five finishers in the Red, Blue and White classes and the top three overall as well as the top-place female. Participation awards will be awarded to all Green fleet sailors. Additional awards include the Peter Ives' Perpetual Trophy (superb sailor/individual), the Chuck Fuller Sportsmanship Perpetual Trophy, and the perpetual Founders Trophy, awarded to the Top Female Sailor.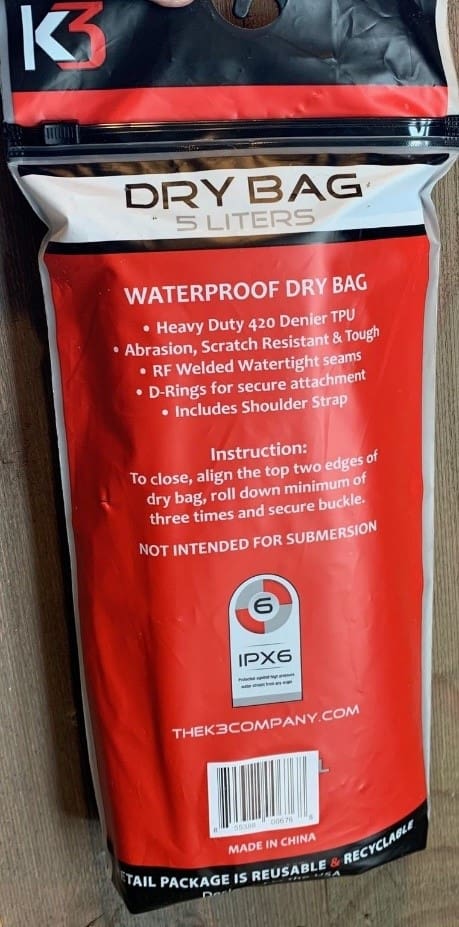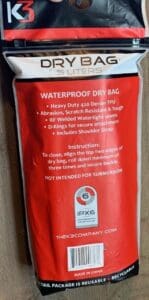 The K3 Company Sponsors Iconic Sailor Bags
The K3 Company, a global manufacturer of premium outdoor gear and accessories, will introduce its new 5-liter K3 TPU dry bags. Offered in an array of colors and sizes, IOR participants will be one of the first to experience and enjoy this bag. All entrants will receive a bag as a Skipper's Bag, while K3's Alpha 24-liter water-resistant backpacks and 40-liter Water Resistant Duffle Backpack will be awarded as prizes.
The IOR is sponsored by TOTE Maritime, the U.S. Virgin Islands Department of Tourism, and K3 Waterproof Gear.
Make Plans Now!
For charters, contact Simmons Boatworks at www.simmonsbw.com/collections/packages-transfers/products/winner-3d-star-optimist-charter   The charter package comes with a Winner-brand hull with airbags, blocks, 3-to-1 mainsheet and painter on a dolly with top cover. The deadline to reserve charter boats is May 13.
For coach boat charters, contact Zimmerman at internationaloptiregatta@gmail.com
Traveling to St. Thomas is easy. The following airlines fly directly from major U.S. cities: American (Boston, Miami, New York, San Juan), Delta (Atlanta, New York), JetBlue (Boston), Spirit (Fort Lauderdale) and United (Chicago, Newark, Washington Dulles). Airlines connecting St. Thomas to the Caribbean include Cape Air, LIAT and Seaborne Airlines.
Available accommodations on St. Thomas in the Cowpet Bay area where the regatta takes place include hotels, B&Bs, resorts, villas, condos, VRBO rentals and Airbnb's. For more information, visit www.visitusvi.com or www.usvihta.com
For more information, Email internationaloptiregatta@gmail.com or call (408) 314-7119. Or, for the Notice of Regatta (NOR) Registration Form, and other information, visit the St. Thomas Yacht Club website at www.stthomasyachtclub.org/sailing/regattas/international-optimist-regatta or Regatta Network www.regattanetwork.com/event/25798. Please also visit the International Optimist Regatta on social media! @internationaloptiregatta.