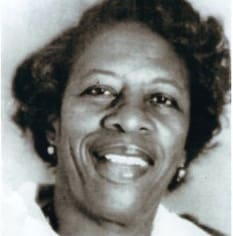 Before the main building at Charlotte Amalie High School was abandoned because of storm damage, students and visitors could stroll along the covered walkway facing the campus. In a glass case mounted on the wall along the walkway, there were pictures of students who graduated, grew up and led lives of distinction.
Among them are a university president, federal judge, athletes and a military leader. Many of them attended CAHS when it was under the leadership of former principal Ruth E. Thomas, 94, who died on Monday after a lengthy illness.
On Tuesday family, friends and associates paused to share their memories of an educator, social commentator and anchoring presence in an extensive family spanning the U.S. and British Virgin Islands.
One of the students who completed her public school education "in Ruth Thomas' school," took her turn as principal. Former principal Jeanette Smith-Barry said the day her predecessor died she was testifying at the Legislature about efforts to commemorate the high school's 100th year. Those efforts led her to capture a video interview with Thomas.
"This history committee I'm working on, we're trying to tell the story about the history of this school. I insisted we go to Ms. Thomas to find out what she remembered about events and persons during her time," Smith-Barry said.
Born on Nov. 19, 1926, an account of Thomas' early years is included in a book, "Legacies of Upstreet," by Ruth Moolenaar. Her name is listed in a 1940 census record. On her way to becoming a high school principal, Thomas taught English at CAHS.
Lifelong friend and former University of the Virgin Islands educator Dr. Marilyn Krigger described Thomas as a teacher with a heart. Students needing a pair of shoes or some other item for the school's high school Introductory Night could get what they needed, then pay their teacher back.
Those who had trouble paying back were invited to help with yard work around their teacher's house, after which the loan was often forgiven, Krigger said.
Thomas started working at Charlotte Amalie High School in 1969. By the time Thomas became principal, a young Smith-Barry was a high school senior. She recalled the new principal as a stern figure whose disapproving gaze was something to avoid.
All her classmates wanted to do was finish their studies and go, Smith-Barry said. Among them were Orville Kean and Gilbert Sprauve. Kean went on to become UVI president and Sprauve, a historian and UVI professor of linguistics.
"I know because all three of us were in the class of 1955," Krigger.
But when higher education led to a career track as a teacher herself, the former high school senior found herself back at CAHS, with Thomas – the principal – as her boss.
British Virgin Islands educator Letetia Penn-Rogers credits her grandmother for holding Thomas – a cousin – up as an example of what she expected from her grandchildren.
"I grew up in the BVI and Ms. Thomas was my grandmother's niece. When my grandmother would admonish us and encourage us to do our best in school, she would say, 'Look, I don't have any dummies in my family. My niece is principal of the biggest school on St. Thomas.'
"When you heard that story, that was an affirmation – 'I can,'" Penn-Rogers said.
Thomas shared the "I can" spirit with her extended family after the passage of Hurricane Hugo in 1989. That's when Penn-Rogers said Thomas called a meeting with members of the Thomas, Skelton and Stout clans.
"And said they had to help one another to get through this situation," her cousin said. More meetings followed, when relatives discovered which family members were contractors or had construction skills. A family-style disaster recovery plan was born, Penn-Rogers said.
Further family meetings led to graduation celebrations, an annual birthday beach party and the formation of a nonprofit organization.
"And about five years ago, we started an annual scholarship fund," Penn-Rogers said. By 2003 – several years after Thomas retired from CAHS – family collaborations prompted an interest in genealogy.
"She helped form the Thomas-Skelton-Stout group, which awards a scholarship every year. The family group has published two books," Krigger said.
Digging into the roots of the family tree between Tortola and St. Thomas became a pastime for Thomas, and produced names, dates, places and events dating back to the late 19th century. The first version of the book included a story about the loss of a family-owned merchant ship called Perseverance, resulting in the death of 12 relatives.
There was also time for social commentary. Thomas became a fixture on the daily radio spot called Sound Off, heard over WSTA-AM. Krigger said she became a Sound Off sounding board, with Thomas asking for her opinion on occasional topics or the phrasing to be used in expressing them.
Lawmakers honored the former high school principal by naming the CAHS assembly hall the Ruth E. Thomas auditorium. Her love for the school never faded. A social media post made after her death showed Thomas touring the modular classrooms placed on the school's athletic track after hurricanes Irma and Maria heavily damaged the main building.
Tributes included one from former student Vincent Abijah Henley.
"That's my PRINCIPAL," Henley said. "She ruled with an iron fist, but she was fair. When she found out I was cutting class, she made it known to mom and dad what was going on. I was placed on probation from running track, which many of you know was my love. Never missed a day after that.
"She was our mother away from home," he said.
Thomas started her higher education at the City College of New York before transferring to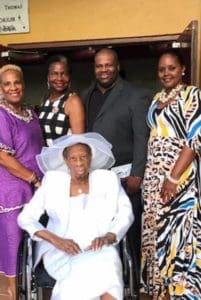 Fisk University in Nashville, Tenn. where she graduated with a Bachelor of Arts in English in 1949. Two study leaves earned her a Master's of Science in linguistics in 1957 and an Education Specialist degree in secondary school administration in 1970, both from the University of Michigan at Ann Arbor.
She returned to St. Thomas and began teaching at Charlotte Amalie High School where she served for 33 years until she retired from her post as principal in 1982.
Correction: As several sharp readers noted, Ruth Thomas was at Charlotte Amalie High School much earlier than this story initially reported.