All 21 benches, above, are now safe and provide 150 seats for learning and enjoying park information.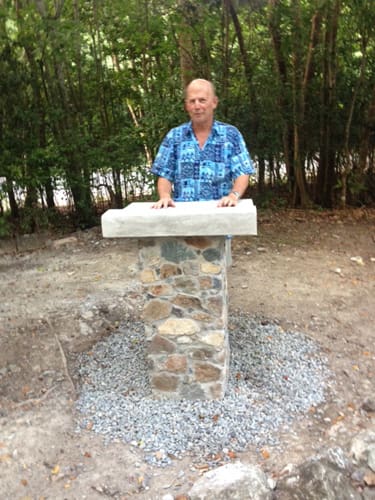 Friends President Joe Kessler is one of the first voices from the new podium.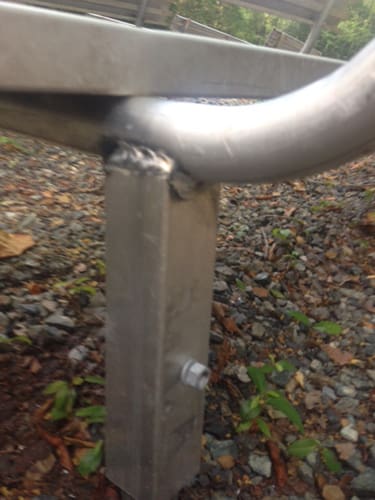 Each bench has new welded aluminum supports that will last for years.
CINNAMON BAY — The outdoor classroom of the Cinnamon Bay Amphitheater just got better, thanks to the efforts of Friends of V.I. National Park and its supporters.
The amphitheater had broken seats, a broken sound system and a dilapidated podium. Now, an amphitheater renovation includes the repair of the 150-seat bench system with new aluminum brackets and supports, a new sound system, and a stone podium for presenters.
The amphitheater is a place where national park rangers educate and entertain guests with programs on a variety of historical and natural subjects, such as island wildlife and West Indian traditions.
Thanks to caring members of Friends, funds for the project were raised by Karen Vahling, development director at Friends.
"We raised $10,000 and were able to repair all the benches, save resources and have the same effect as new benches, plus a nice stone podium and sound system," said Vahling. "Friends would like to thank the Paul M. Angell Family Foundation, Larry Gallo, John and Melanie Shain, Cheryl McDaniel and Myron Blumenfeld for making these renovations a reality with their support.
V.I. National Park Superintendent Brion Fitzgerald said he was pleased to have these renovations for park visitors.
"Many National Park visitors link their most memorable experiences when visiting parks to attending an evening programs at amphitheaters in parks nationwide," said Fitzgerald. "Thanks to the generosity of the Friends, visitors to Virgin Islands National Park now have a beautifully refurbished amphitheater here on St. John in which to enjoy these programs."
The renovations were one of the projects from an annual list of "support requests" to Friends from Virgin Islands National Park. Each year, the Friends board of directors reviews park requests and seeks funding for programs and projects such as these and others that preserve, protect and educate within the V.I. National Park. This year, Friends implemented 23 programs and projects from both park support requests and those initiated by Friends.
For more information on Friends projects and programs and how you can support them, call at 340-779-494 or email kvahling@friendsvinp.org.