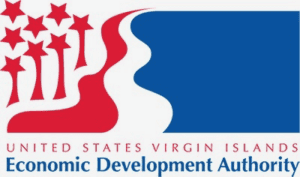 Continued efforts to attract new investment to the U.S. Virgin Islands abound this week among government officials and other economic developers from the USVI at the 2023 SelectUSA Investment Summit in National Harbor, Md., which was held May 1-4. Representatives from the Virgin Islands Economic Development Authority (VIEDA) joined USVI Gov. Albert Bryan Jr., Lt. Gov. Tregenza Roach Esq., and representatives from the University of the Virgin Islands Research and Technology Park (RTPark) to promote the USVI as a key business destination to international and domestic investors.
The SelectUSA Investment Summit, the highest-profile event in the U.S. dedicated to promoting foreign direct investment (FDI), has over 4,000 attendees from 52+ states and territories in attendance this year. Designed to connect investors, companies, economic development organizations (EDOs), public sector officials and industry experts, this summit allows these groups to harness opportunities that are available for business development through investments in the United States and its territories.
This year, SelectUSA anticipates more than 1,900 foreign investors and more than 80 markets represented at the summit.
The VIEDA is a Platinum Sponsor of the summit and is engaging with new leads at its tradeshow exhibition booth to attract prospective investors to the territory. Representatives from VIEDA, such as Josè A. Penn, secretary, VIEDA Board; Anise I. Hodge, member, VIEDA Board; Margarita Benjamin, managing director, Economic Development; Nadine T. Marchena Kean, managing director, Enterprise Zone Commission; Kyle Thomas, program manager, Marketing & Vision 2040; and Sasha Garnett, applications analyst II, will promote the U.S. Virgin Islands' tax incentive program, the South Shore Trade Zone Program, and other business opportunities to attract new investors to the USVI. They will also participate in several networking activities, general discussions and one-on-one business meetings.
On May 2, Gov. Bryan Jr. served as a panelist in the session titled, "Workforce Development: Economic Prosperity and Job Creation." On May 3, USVI Lt. Gov. Tregenza Roach Esq. participated in the panel session titled, "Investing in the U.S. Territories" along with officials from all the other U.S. territories to share information with prospective investors about the incentives offered in each territory for foreign investors.
Other U.S. territories with representatives at the summit are American Samoa, Guam, the Northern Mariana Islands and Puerto Rico.
To learn more about Select USA Summit 2023, visit the summit's website at https://www.selectusasummit.us/.  To find out more about USVI investment opportunities, visit www.investusvirginislands.com.