Special feature for St. John Tradewinds and St. John Source.
"Today, corals are in crisis," according to the Coral Reef Alliance's summer newsletter. The worldwide outlook is grim: "A startling 75 percent of our coral reefs are threatened or gone.  Rising sea temperatures and increased ocean acidity caused by climate change leave corals vulnerable."
Yet there is one spot in the Virgin Islands where corals continue to thrive.  It's the four mangrove-fringed bays that make up Hurricane Hole on the East End of St. John.
Now part of the Virgin Islands Coral Reef National Monument (established in 2001 by President Clinton the day before he left office), the area has been used for generations as a safe harbor for boats during major storms.
"Hurricane Hole is a beautiful seascape with coral reefs, mangroves, seagrass beds and a remarkable biodiversity in corals, fishes, sponges and other organisms," said Dr. Caroline Rogers, a marine biologist with the US Geological Survey who works within Virgin Islands National Park.
Thirty species of hard corals flourish in Hurricane Hole, according to Rogers, along with nearly 80 species of fish, and 60 species of sponges.  "Many other organisms live in Hurricane Hole, including, soft corals, anemones, jellyfish, crabs, shrimp, lobsters, tunicates, bryozoans, octopuses, conchs, starfish, and algae," she added.
Earlier this summer, Rogers worked with a team of experienced researchers and undergraduate students from Santa Fe College in Gainesville, Florida, to try to unlock the mysteries of the unusual resilience of the marine life at Hurricane Hole.
"The question is why are they thriving so well?" said Dylan Vega, one of eight students who were on St. John to complete a detailed survey of the corals and some of the other marine life of one of the bays.  "Is it because of genetic mutation?"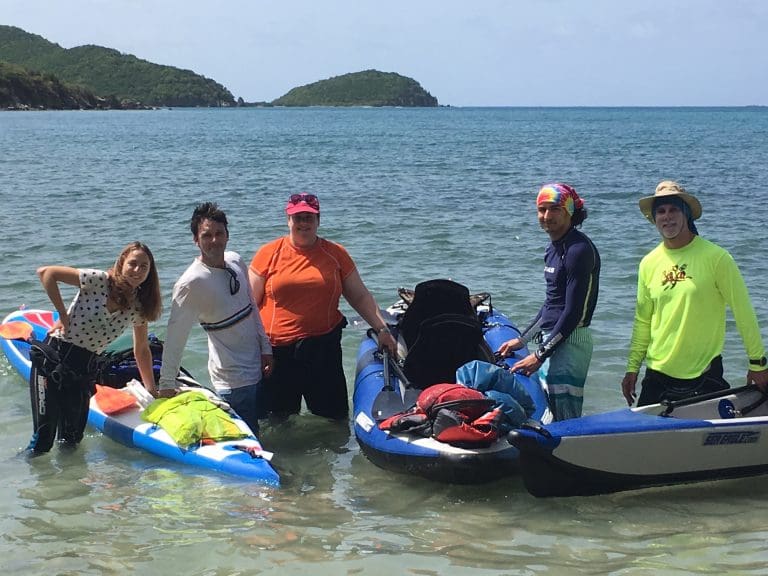 The team spent long days over a three-week period measuring off every fifth square meter within the bay's 835-meter perimeter. The laborious process involved laying down a square-meter frame of PVC pipe, counting and identifying the species within the frame, mapping the coordinates on a GPS device, and documenting their findings using digital video and still photography.  The students took samples directly under the mangroves as well as a meter out to compare the effects of shade.
"They're doing real science," said Rogers, adding the students were being funded by a three-year National Science Foundation Grant.
The process was even more challenging because the students were documenting the marine life as it exists in nature–in three dimensions–and not just what was growing on the sea floor.  Many of the corals and sponges grow on the prop roots of mangroves, that is, the branching roots of mangroves that are usually partially submerged.
Corals do not usually thrive among mangroves because of the typically turbid conditions and extremes in salinity, according to Rogers.  However, in Hurricane Hole, substantial amounts of runoff which causes turbidity only enter the bays during major rains.  Also, it appears that the shade provided by the Red Mangrove protects the corals from high levels of light that contribute to bleaching.
In the summer particularly, the sun heats the water, causing temperatures to rise and the corals to expel symbiotic algae which provide energy for the coral to grow.
"The most dramatic changes we have seen on the coral reefs around St John were associated with the highest sea water temperatures on record in the Caribbean in the late summer of 2005," said Rogers.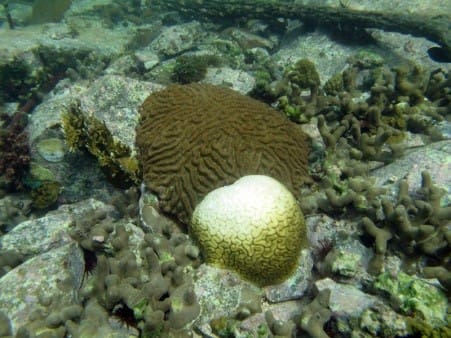 "Temperatures exceeded 29.5 degrees C [just over 85 degrees F] in August and September, resulting in over 90 percent of the coral cover becoming bleached. Bleaching occurs when corals lose their symbiotic algae ("zooxanthellae")" she explained.  "The result is a conspicuous change in color, from paling to completely white. Bleaching episodes are predicted to become more severe and more frequent in the future as sea water temperature continues to rise."
Bleaching appears to leave the coral more vulnerable to disease.  By the end of 2007, scientists studying the corals in Virgin Islands National Park documented an average decline of 60% in living coral cover, primarily from disease.
Yet the corals in Hurricane Hole appear to have survived that devastating bleaching and disease event, and another milder one in 2010.
"We're taking samples of the microbes in coral mucus [the somewhat sticky protective layer exuded by corals]," said Dr. Kristin Whalen, an assistant professor of Biology at Haverford College. Whalen joined the team on St. John to collect biological samples and store them at a temperature of -184 degrees F for later study in her lab.  "We're trying to understand the microbiome, and study the difference between healthy and unhealthy corals," she said.
Other team members include Dr. Jerry Johnston and Dr. Matthew Carrigan, who was heading up the program on St. John for the Santa Fe College students.
"We don't have a marine research program," said Carrigan, so the trip to St. John provided a valuable experience for students to learn about the scientific process.  "Educators are realizing the way to use research to educate students, and not just teach facts.  This is especially important for students who are going to transfer to a university," Carrigan said.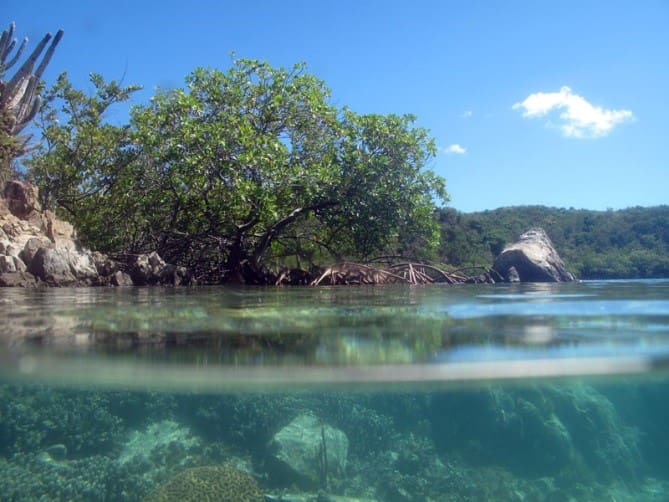 Santa Fe College, which began as a community college offering associate degrees in skill-based careers, such as accounting and heating/ventilation/cooling systems repair, is in the process of transitioning into a four-year college offering academic degrees. Students often transfer to the University of Florida in Gainesville.
Last year, three students came to the Virgin Islands, paying their own way, to begin the project by mapping the Hurricane Hole sea floor for an overview of the topography.  After receiving funding this year, these same students trained five others to continue the program.
The results of the study are still a long way off.  "It's good old-fashioned science," said Carrigan.  "You observe things, and from there come questions.  You try not to get blinded by pre-conceived ideas."