Rob and Karen Vahling explain their project to Coral Bay residents at the rezoning hearing.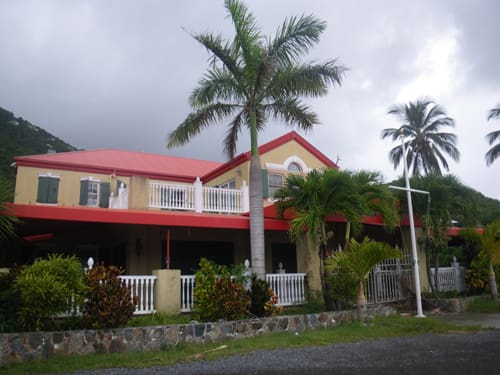 About 50 Coral Bay residents packed a small classroom at the Guy Benjamin School on Wednesday evening, September 7, to hear about a rezoning request submitted by the soon-to-be owners of 13-A and 13-B Estate Carolina.
Many residents also used the opportunity of the public hearing hosted by the Department of Planning and Natural Resources and run by DPNR's director of Comprehensive and Coastal Zone Planning Stuart Smith, to share concerns over the density of the projects and its impact on the area.
Acting as agents for owner David Witham, Karen and Rob Vahling — along with architect Rob Crane and Attorney Raf Muilenburg — shared their plans to convert the existing two-story, 26,200-square foot Voyages building into a three-story, 27 room inn. The property is located along South
Shore Road next to the Cocoloba shopping complex on a total of about .6 acres of land, once the two lots are combined as planned.
The property is currently zoned W-1 (waterfront pleasure) which allowed for the former use of the building as a restaurant and also allows for a myriad other uses like hotels and shops. The problem with the current W-1 zoning is the density requirements which stipulate at least three acres of land are needed in order to accommodate 27 rooms.
Under the current W-1 zoning, the project would only be allowed to consist of a maximum of 16 rooms. The Vahlings are requesting to change the zoning to B-2 (business secondary/neighborhood) to allow the development of 27 rooms, which is the density needed in order to make the project financially feasible, according to the developers.
"It is not financially feasible to make a hotel with less than 25 rooms," said architect Crane.
Under DPNR regulations, the developers do not have the option of requesting a zoning variance, explained Smith.
"This is a unique situation where a variance cannot be used because you can only grant a variance for a use not allowed in an existing zoning," said Smith. "Hotel zoning exists and the developers are left with very few options other than the zoning change."
The developers were, however, open to including a deed restriction or condition to ensure the land be developed for its requested use and not some other use allowed under the new zoning, Smith explained.
Plans for the hotel do not include food service, and two of the planned rooms would be used for storage and an office, putting the actual number of guest rooms at 25, according to Crane.
The planned expansion of the building would not change the current footprint and once the second lot, 13-B Carolina, is incorporated, all parking would be on that rear lot, Crane explained.
"We are combining the two parcels, so we'll have one parcel instead of two," he said. "What we want to do (build a third floor) is allowed in the current zoning, but what isn't allowed in W-1 is the number of rooms we are requesting. There have been a number of zoning changes in the area and this is not a huge change to what is going on there already."
An adjacent property owner, however, disagreed with that sentiment.
"I own three acres of property next to this project and I have respected every zoning there was," said Genevieve Rodriguez, who owns Cocoloba.
"There is a reason the area is zoned W-1, and that is low density. I think the density they are requesting is too high — it's a monstrosity."
"They want to put 27 rooms on one little quarter acre," said Rodriguez. "That is way out of control. That is over-powering the lot size."
The project would essentially be a large unchecked development on scale with Cruz Bay projects like Grande Bay, according to Rodriguez.
"You are Grande Bay on a smaller scale," she said. "Don't tell me you need 27 rooms to make a living. It's embarrassing."
While DPNR officials emphasized that changing this property's zoning would not affect nearby properties — each zoning change request is evaluated on its own merits, according to Smith — Rodriguez remained unconvinced.
"What's good for the goose is good for the gander," she said. "I have already picked up my zoning change request. I'll knock down my little development and max out too."
"The community needs to make a choice," Rodriguez said. "I'll rezone my property and no one will stop me. If you can do it, I can do it."
Other residents also questioned how changing the  property's zoning would affect other parcels along South Shore Road, all of which are zoned W-1.
"My concern is if you get the zoning change, what is to prevent everybody else from asking for it as well," said Lori Walden. "I don't see how it can't set a precedent."
The property, which has been for sale for years, is currently under contract, according to Karen Vahling, who added that the zoning change would not impact the expected September 22 closing date.
Residents at the meeting questioned whether there was a need for 25 hotel rooms in the Coral Bay area.
"My concerns are related to whether you can fill hotel rooms at $200 a night," said Bonny Corbeil. "The economy has slowed down a lot. I wonder what would happen if you get the zoning change and the business doesn't survive."
Karen Vahling, however, did not respond when questioned by the audience about what the developer would do if the zoning change was not granted or if there was another plan for the area other than a hotel.
"Let's cross one bridge at a time," she said.
DPNR will consider residents' concerns when making its recommendation on the zoning change to the V.I. Legislature, which will ultimately approve or deny the request.
"I put a lot of weight on what the community thinks," said Smith.
Smith will prepare a DPNR report either recommending the approval or denial of the request which will be sent to the V.I. Legislature. The Senate will vote on the measure at Meeting of the Whole some time in the future.