St. John residents, above, join JFLI officials in celebrating the institute's 17th anniversary on Saturday afternoon, April 6. St. John Montessori School students along with artisan Ital Anthony, below, perform for event goers during the ceremony.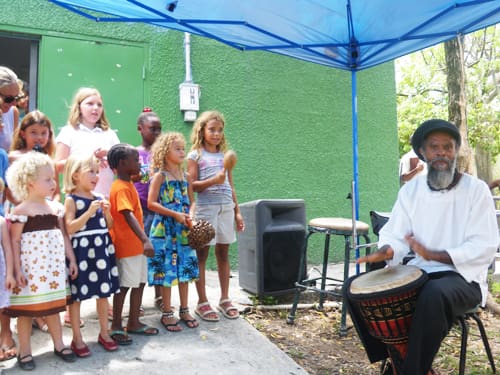 Residents old and young, including some of the territory's top brass, gathered on the grounds of the John's Folly Learning Institute on Saturday afternoon, April 6, to celebrate 17 years of education on the island's remote south shore.
[adrotate group="6"]
Invited guests included V.I. Senate Majority Leader Donald Cole, V.I. Field Officer for the Department of Interior and former V.I. Senator Basil Ottley and V.I. National Park Superintendent Robert FitzGerald along with St. John senior citizens, JFLI and St. John Montessori School students.
Guests took their seats in the shade of several tents while Carl Freeman played steel pan on the site of the former Horace Mann School, which educated south shore children on St. John until the early 1960s. The building was then used by the V.I. National Guard and Peace Corps until it fell into disrepair in the early 1970s.
When JFLI Founder and Director Alvis Christian decided to reclaim the site and create a learning institute in 1996, the building was little more than an animal shed. Seventeen years later, JFLI officials continue to provide summer camp opportunities and more while the thriving St. John Montessori School occupies the building during the school year.
The VI Senate will continue to support JFLI's financial needs, Cole told the crowd.
"I remember working in the legislature when Alvis came to us 17 years ago to get funding to open this institute," said Cole. "His dedication to the children, the culture and the island of St. John is strong. We are going to support funding for JFLI and we look forward to another 17 years."
Master of ceremonies Amos Carty reminded Cole that St. Johnians will not forget his words.
"I know St. Johnians hold people to their words and I know you will hold Senator Cole to his words of support for JFLI," Carty said.
As VINP faces budget cuts due to the federal sequestration, one thing staff refused to eliminate were educational services, park Superintendent FitzGerald explained.
"When the staff looked at what we would cut here, I was pleased and a little surprised that when it came down to services, it was the Visitors Center, not the educational programs, that would be impacted," said FitzGerald. "Keeping our children's opportunities first was put ahead of other things. We recognize that our future really is our children."
While the program has led field trips to Washington, D.C., Puerto Rico and more, an upcoming trip to Ghana next year is much more personal, explained Alvis Christian Jr., the institute's Summer Program Executive Director.
"This is not just a field trip, this is something specific to St. John," he said. "In 1733, there was a revolution here and those people, we call them St. Johnians, but they were from Ghana. Eighty percent of the medicinal plants we have here are from there."
Next year's trip to Africa is designed for JFLI students and their families to not just tour, but to "bring something there and take something home," said Alvis Christian, Jr.
Invoking the words of Crucian writer, educator and political activist Hubert Harrison, Basil Ottley explained how JFLI continues to "educate children for the business of life."
"We're here to celebrate 17 years of JFLI and for a non-profit to keep their doors open that long is a monumental task," said Ottley. "That can only be done with your commitment to shaping our children for the future. Mr. Christian has taken us back to what the business of life is all about through this institute."
While his years of dedication and tireless work has made JFLI what it is, Alvis Christian took time to thank those who came out for the anniversary celebration.
"This couldn't happen without you and we wouldn't be here without you," said Christian. "I want the younger generation to grow up learning from whence they came. They must know how hard the older generation had to work to get us what we have today."
For more information about JFLI check out the institute's new website, www.johnsfolly.org, which was set to launch this week.