COVID infections are increasing worldwide, and the spike in the Virgin Islands was expected by V.I. Health officials, Reuben Molloy, deputy commissioner of the Health Department, said Monday at the weekly Government House briefing.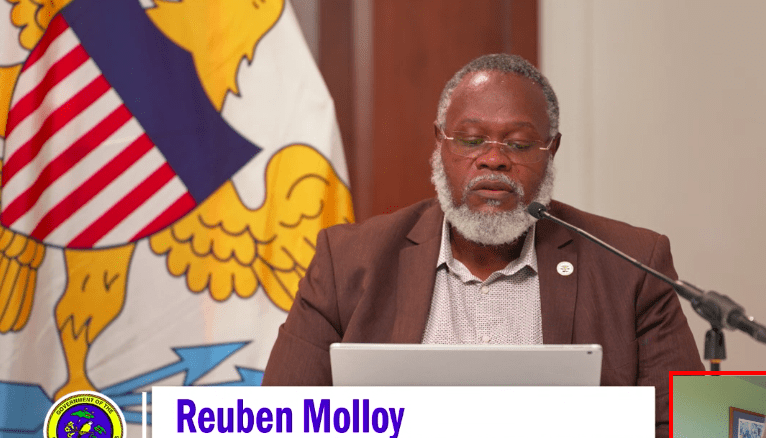 "The Department of Health expected the numbers to rise as a result of the closeness of Carnival festivities. While we are not happy with the number of infections we are seeing, we are not surprised. For this reason, I'm asking everyone who has symptoms to isolate immediately and get tested as soon as possible," Molloy said.
Molloy then pointed out that the coronavirus can be spread even by individuals with no symptoms and who have been fully vaccinated, especially to older and immune-compromised people. Everyone should "double down and take all precautions," he advised and recommended wearing masks in public.
The numbers bear out the DOH suppositions: Cases on St. Thomas jumped from 668 last week to 775, while infections fell on St. Croix from 193 to 171 and from 18 to 16 on St. John. There are 11 hospitalizations, but Molloy didn't break down the number by location. The positivity rate is 5.18 percent.
The department also had news for parents of the students who were mass-tested before returning to school the week of May 2. According to Virginia Dargan, acting communications director for DOH, 10,462 students and school staff were tested over a three-day period, with 343 positive cases detected.
Students who did not receive their results should go to the testing locations on St. Thomas at Schneider Regional Medical Center and the Charles Harwood modular unit on St. Croix for a rapid test, which will be printed while the parent waits.
Students who tested positive don't need a negative test to return to school. He instructed them to isolate for 10 days if they have not been vaccinated and seven days if they have. Then they may return to school.
People who test positive with a home test need to isolate and visit DOH to register for COVID treatments, Molloy said.
The deputy commissioner also announced an upcoming dengue project in public schools for third- through seventh-graders. To teach students about the mosquito-borne infection, there will be information, games, and giveaways. Parents can consent for their children to be tested for the dengue antigen with a finger-prick blood test.
Molloy also reminded residents to complete the COVID survey so that the Health Department can assess the social, emotional, and financial impacts of the virus. The survey can be found on the DOH Facebook page.
During the briefing, Richard Motta, the Government House communications director, announced an event for Older American's Month with Stanley and the Ten Sleepless Knights performing at the territory's senior housing on all three islands. Performances are May 14 (St. Croix), May 21 (St. Thomas), and May 22 (St. John).
The governor has requested another extension of the state of emergency to continue to implement COVID rules and regulations, according to Motta. He also reminded residents to get vaccinated.
Editor's Note: This story was updated Tuesday morning to reflect the most recent results of the Health Department's mass COVID-19 testing of students and school staff the week of May 2.