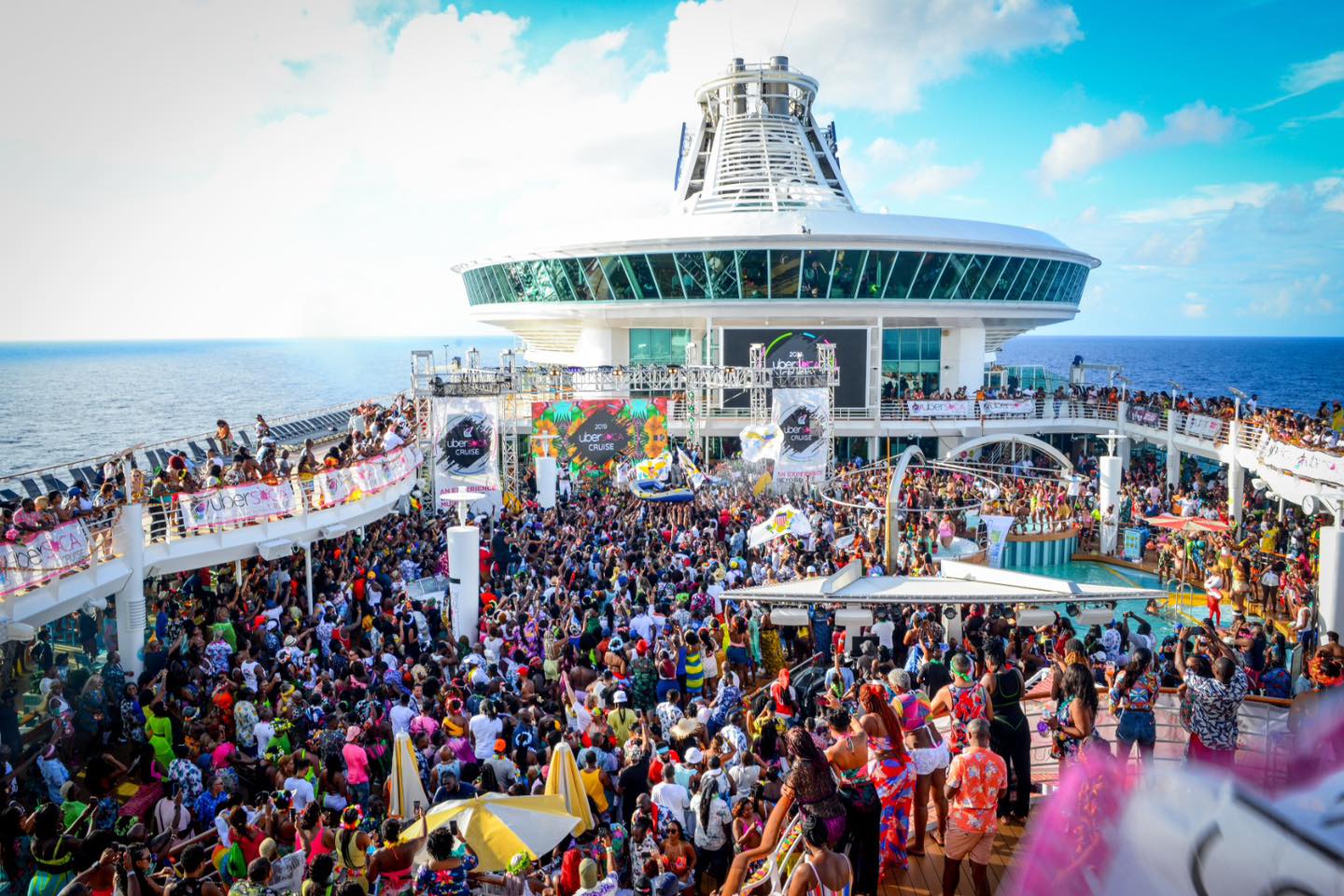 Main thoroughfares in St. Thomas will close Thursday afternoon when as many as 4,100 soca-crazed cruise passengers plan a "J'ouvert" event — a full two weeks before the traditional early-morning event, officials said Tuesday.
The event will largely shut down Mandela Circle to the Legislature from 2 p.m. to 5 p.m., police said.
A partnership between several U.S. Virgin Islands departments and party planners UberSoca Cruise brings Norwegian Cruise Line's Epic to the West Indian Company pier around 11 a.m. Thursday morning. At least 4,000 passengers on the enormous ship will be able to explore St. Thomas in the morning and then line up for a deafening road march from the WICO dock to Carnival Village, said Tourism Commissioner Joseph Boschulte.
It isn't just for cruise passengers, Boschulte said. Local people are invited to fete along too. All the usual J'ouvert trappings will be there: loudspeaker-laden trucks loaded with live bands and pre-recorded music, sweat-soaked dancing in the streets, and healthy food and drink (wink).
Three main differences from normal J'ouvert are the time, afternoon, not morning, the march direction — east to west — and the lack of roadside vendors, which officials are discouraging. When the revelers reach the parking lot Village, they'll be greeted with a concert from leading local and international soca artists: Bunki Garlin, Patrice Roberts, Pumpa, DJ Avalanche, and more.
The concert, like the road march, is free and open to the public but those wishing to partake from the official drink truck while on the road will need to buy a $55 pass. Boschulte said it comes with a T-shirt and other swag.
The concert is scheduled to end at 8 p.m., when the cruise guests will be shuttled back to the ship. The Epic is scheduled to depart at 11 p.m. and disembark in San Juan Friday morning.
UberSoca Cruise had put on two or three soca cruises a year before the COVID pandemic, Boschulte said. The one this week is the first since tourism restarted — also visiting St. Maarten and St. Lucia. The St. Thomas leg is the premier event of the cruise, he said.
"The St. Thomas J'ouvert is like the highlight of the cruise. So, our brand and our name is going to be heard. Of course, that's hard to measure but we feel really, really good about the value we get," he said. "We feel really excited about it because it's going to be 4,000 people on the ship and it clearly aligns with a big part of our culture, in terms of our festivals, our food, our local talent."
Such events are important advertisements for the territory, Boschulte said, with these sorts of tourists likely to return for Carnival or other times of year. A similar cruise is scheduled to arrive on St. Croix in 2024, he said. It's part of a plan to advertise the territory's festivals as individual products — St. Thomas Carnival, Crucian Christmas Festival, and St. John Carnival.
"They actually get to be a witness to what we have to offer in person. Arguably our biggest Carnival event is J'ouvert," he said. "We also see this as an unofficial kickoff of our Carnival."
VIPD suggested avoiding Charlotte Amalie waterfront routes Thursday afternoon, suggesting Alton Adams Drive and Valdemar Hill Sr. Drive (also known as Skyline). Traffic traveling westward from Mandela Circle will be able to continue traveling westward onto De Beltjen Road. All eastbound traffic traveling from downtown will be directed towards the Emancipation Garden and onto Norre Gade, police said.