An Underwater Universe

Dr. Caroline Rogers of the U.S. Geological Survey has long had a relationship with the ocean, and, with her photography display at Elaine I. Sprauve Library, she hopes to help others foster their own relationships with the waters that surround St. John.
Rogers, who grew up near the ocean in Rhode Island and has lived in the Caribbean for most of her life, originally became interested in underwater photography through her work, she explained.
"We started taking photos for research, mostly of the elkhorn coral, because it was a threatened species in May 2006," said Rogers.
The advent of smaller underwater cameras encouraged Rogers to turn underwater photography into a hobby.
"The cameras are very small now, and it's easy to take them snorkeling," she said. "I started having fun on the weekends, getting exercise. It's very sad what's happened with the coral reefs, and the pictures celebrate what we have left."
Common, Uncommon Sea Life
Rogers' photos depict a wide range of sea life, from the common to the not so common.
"All of them were taken while I was snorkeling," she said. "Some are of things people are likely to see, and some are of very rare fish that I've only seen once of in my whole life."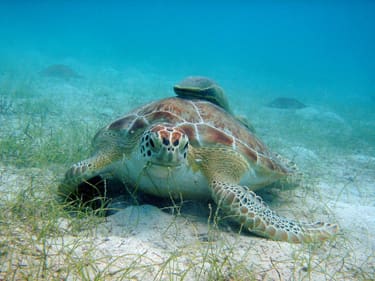 With frequent reports of the dire state of coral reefs and other underwater life, some people may believe there's nothing left worth saving, explained Rogers. Through her photographs, she hopes to show people that's not true.
"There is still a lot of beauty out there," said Rogers. "I hope these photos get people more excited about protecting the reefs."
Some of the more unique marine life which Rogers captured in her vibrant, colorful photos, include a white spotted file fish and flower cap coral. The marine ecologist has three favorite locations for underwater photography — Waterlemon, Maho and Great Lameshur Bays.
"I hope my photos allow people, especially children, to learn more about the underwater world," said Rogers. "A lot of people don't have a connection to the ocean, and I hope my photos help people understand that reefs are still worth protecting. We have more reason than ever to be careful."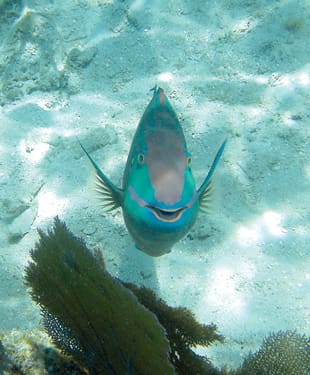 Marine life is still abundant, with several rare fish species and corals holding their own against disease and harm caused by humans, explained Rogers.
Library "Honored" To Display Photos
Rogers set up her photos at the library Wednesday morning, July 18, with the help of her good friend, local artist Kimberly Boulon.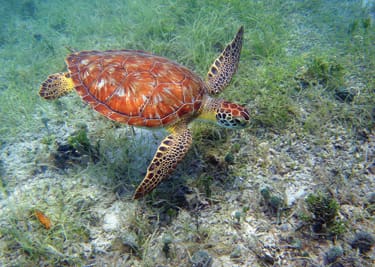 "She's a good friend and creative artist, and she's very encouraging," said Boulon. "I value her critical eye in terms of where to place them."
Sprauve librarian Carol McGuinness was excited to have Rogers' photos on display, she explained.
"We are honored," said McGuinness. "There's a lot of stuff here kids might not see snorkeling. I'm just so excited her photos are here."
Rogers' photos will be on display at the Elaine I. Sprauve Library until further notice. For more information, call the library at 776-6359.