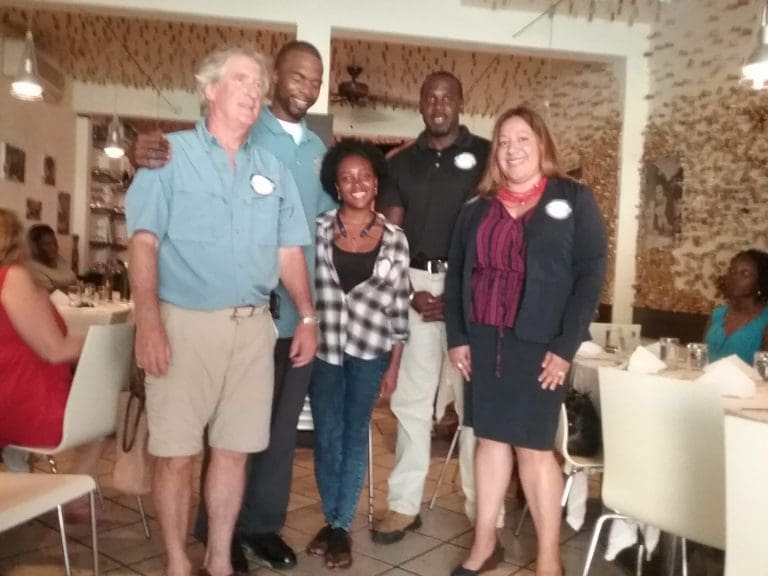 With relatives and friends looking on, a 17-year-old student accepted a scholarship check from St. John Rotary. Keziah Liburd accepted the award from a club member who taught her when she attended the Julius E. Sprauve School.
Liburd thanked those gathered on Aug. 1 at Da Livio Restaurant for their generosity. Her words were praised by former club president Alecia Wells, who handed over a check for $500.
The dining room in the modest Italian restaurant was filled for the occasion. Aug. 1 was also the day St. John Rotary welcomed four new members, Wendy Bailey, Raven Phillips-Love, Chad Prentice and Gary Ray.
For all the time she spent in class, Liburd was better known for what she didn't say. A very good student, Wells said, but also very quiet.
[adrotate group="6"]
To complete the application process, candidates had to make a speech before the scholarship panel. When Liburd spoke up, she convinced them she was the one.
At the Wednesday luncheon meeting, Liburd spoke again. "I'd like to say thank you to the Rotary Club for this contribution and to those who made this possible," she said.
She also described her ambition to study English and become an editor.
Club President Kai Frett congratulated the winner, grandmother Enid Liburd and parents Samuel and Cheliva Liburd. "It is a pleasure to see someone receive an award, especially when there's family around," Frett said.
Funds used by the club to award scholarships come from Rotary Club events on St. John, including raffles conducted at their monthly meetings.
One of the most popular events is Flavors, a social supported by popular local restaurants. Another is the recent Children's Festival Village which enjoys support from the islands' parents and volunteers serving popcorn and snow cones and operating game booths.
Because of the passage of Hurricanes Irma and Maria last September, Flavors did not take place last year. But Wells encouraged members and visitors to continue their support, allowing St. John Rotary to continue supporting the island's promising youth.