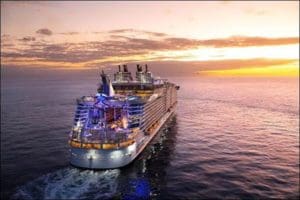 About 15-20 ships, almost half of the Royal Caribbean Group's fleet, will be deployed in the Eastern Caribbean this year, starting on July 6 with a stop on St. Thomas, according to cruise line officials.
The good news announced at Wednesday's virtual Community Business Forum was mixed with assurances and detailed plans from the cruise line to keep both passengers and residents in each port of call safe from coronavirus exposure and infection. Last week, two passengers aboard the Celebrity Millennium, operated by Royal Caribbean from St. Maarten, tested positive for the virus that causes COVID-19, but representatives said that the safety and health protocols pinpointed them early.
"Everyone on the ship was tested, and those two guests came up as COVID-positive," said Jayne Halcomb, Royal Caribbean's destination director for the Americas and the Caribbean. "We had not left the port and immediately disembarked them, then quarantined them in St. Maarten. No one else tested positive for the virus, then we were successfully able to continue sailing."
The return to summer sailing comes on approval granted by the Centers for Disease Control to sail from U.S. ports, which includes the cruise line's home ports in south Florida, Seattle, Galveston, and Bayone. Test cruises are required for ships where less than 95 percent of the passengers are vaccinated, while no test cruises are required for ships where more than 95 percent of passengers are vaccinated.
"When it comes to the Royal Caribbean brand, because we have so many children that are not eligible for the vaccine, we will actually fall below the 95 percent rate but based on the information we have, we can see already that 90 percent of our guests will be sailing with a vaccination, so we are not far from that 95 percent rate," Halcomb said.
Meanwhile, the cruise line's "Healthy Return to Service" protocols have also been approved, which Royal Caribbean representatives said look at "every touch point" from the start of the cruise to the end. The protocols also include a mandate from the CDC for port agreements between Royal Caribbean and each destination's government to "make sure we are all aligned and see eye-to-eye on how the process works."
"We are in the last stages of finalizing an agreement and will be coming back to the U.S. Virgin Islands very soon," Halcomb said.
Getting on the ship, passengers must either show their vaccination card or, for those who are unvaccinated, a negative polymerase chain reaction, or PCR, test for virus genetic material, taken five days beforehand.
Those passengers will take another test before getting on board, then will be tested again five days into the cruise. Staggered arrival times, sanitization stations and the wearing of masks by all employees were also discussed.
While onboard, unvaccinated guests over the age of two will be required to wear a mask in public outdoor areas and crowded outdoor locations, while no masks are required for vaccinated guests while on the ship. In handling COVID-19 cases that pop up during the voyage, Royal Caribbean's Elisa Shen said those passengers who are asymptomatic will be isolated onboard and have no contact with other guests while the ship's medical team conducts contact tracing. If no immediate medical attention is needed, the ship will keep sailing but if a positive passenger is exhibiting symptoms, they will disembark at the closest port. Each port agreement does include stipulations for those scenarios and the needs in case of a medical emergency.
While in port, guests may opt for an independent tour or activity or pick one offered through the cruise line but do have to comply at all times with the COVID protocols enforced by each destination.
Along with the July 6 call, other calls announced were: Allure of the Seas to St. Thomas on July 29; Celebrity Equinox to St. Croix on Aug. 18; and the Explorer to St. Croix on Sept. 28. Halcomb said the ships will be arriving with approximately 30 percent of guest capacity out of caution.
"We hope to be at 100 percent by the end of the year, but we can't guarantee that at this time," she added. "But as we evolve, and as we learn as this process unfolds, we expect that to grow."
Still, between the 15 to 20 ships cruising the eastern Caribbean this year the territory is poised to see approximately 213,000 cruise ship passengers – 48,000 for St. Croix and 165,000 for St. Thomas – generating an estimated $40 million in revenues, Halcomb said.
Speaking during the forum, Gov. Albert Bryan Jr. said the territory has "longed for those passengers who we haven't seen for over a year."
"Royal Caribbean has done the work in terms of preparing their vessels and their tourism product to reenter our shores. But, we still have a lot of battles and hurdles to get to that point," he said, mentioning a continued dialogue with Florida Gov. Ron DeSantis over his ban on vaccine passports.
"Approximately 45 million people in the Caribbean struggle every day with finding vaccines, battling COVID and finding the resources necessary to deal with this virus," he said. "We have been doing a great job, but we can't take the threat of having that undermined by having potential COVID patients coming to the Virgin Islands and other Caribbean islands."