Parade participants, from a member of Caneel Bay's Musical Extravaganza troupe, bottom far left, to towering Mocko Jumbies, above, were all smiles during the St. John Festival Parade, including this year's parade Marshal Rodney Varlack.
All Photos by Yelena Rogers Photography.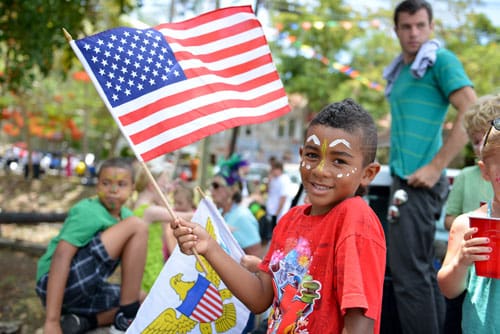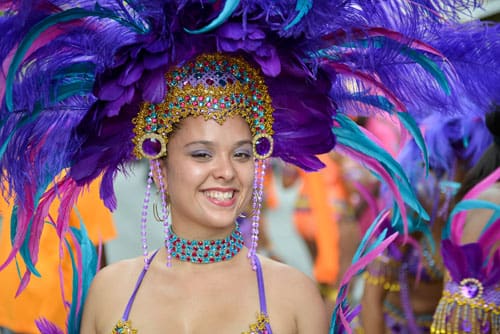 Skies above Cruz Bay darkened late in the afternoon on Wednesday, July 4, and when the rains finally fell, it was a welcome cool-down for many participants and bystanders who packed Love City for the annual St. John Fourth of July Festival Parade.
The annual fete actually began in the wee hours of Wednesday morning when huge crowds wound through the Cruz Bay streets during J'ouvert, the traditional all-night dance party which takes place in the early morning before the July Fourth Festival Parade.
Dancing behind bands aboard flat bed trucks pumping out tunes through giant speakers beginning at 4 a.m., J'ouvert 2012 was a true bacchanal in the St. John streets under a bright full moon. With both steel pans and bass lines pumping, dancers kept the streets packed through Wednesday morning's hazy sunrise.
The fun continued in Cruz Bay when Varlack Ventures patriarch Rodney Varlack, this year's St. John Festival Parade Marshal, rode down the street in a decked out golf cart just after 12 p.m. noon to kick off the annual parade.
Cruz Bay streets were lined with people, from St. John residents staked out in their favorite viewing spots to visitors from across Pillsbury Sound and across the globe.
"This is my second year coming over to the St. John parade and I love it," said St. Thomas resident Daniel Peters. "The parade is so much fun and the vibe here is great. Everyone is so friendly and just having a good time."
From towering Moko Jumbies to Royalty hailing from across the Caribbean, this year's St. John Festival Parade was one of the best, and glitch-free, parades in recent memory, according to many on-lookers.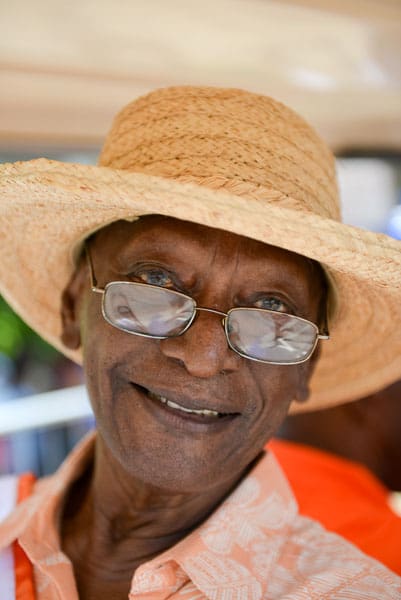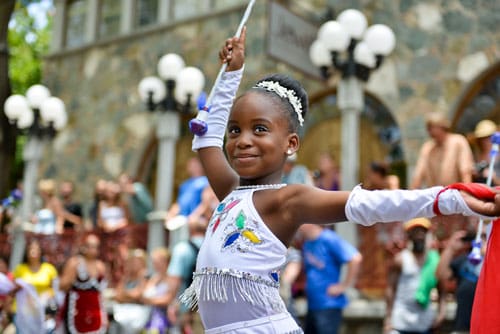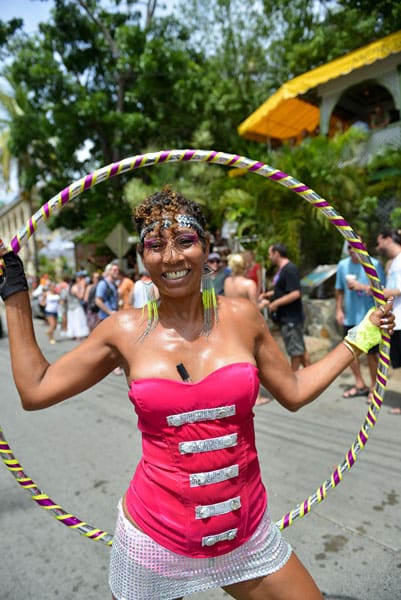 Miss St. John Festival Queen Shanell Thomas waved to her adoring fans from the back of a sleek convertible with St. John Princess Sh'Nyah Bacon following suit just a few vehicles behind.
Other crowned royalty in last week's parade included Miss World USVI Taiesa Lashley, Miss International VI Vanessa Donastorg and Miss Teen BVI Ashellica Fahie.
Julius E. Sprauve School's Marching Gulls kept the beat going with steel pans, followed by Gifft Hill School's dancing troupe which included a few adult dancers joining in the fun in fringed neon colored outfits.
As customary, both Westin Resort and Villas and Caneel Bay Resort staged impressive troupes with many participants adorned in beads, glitter and feathers.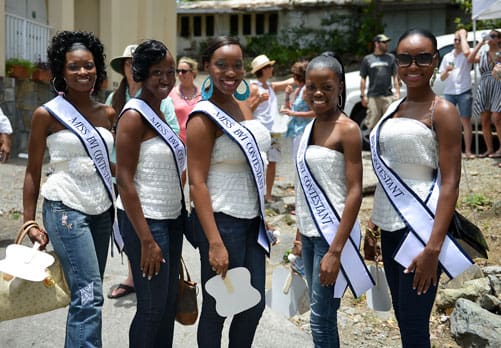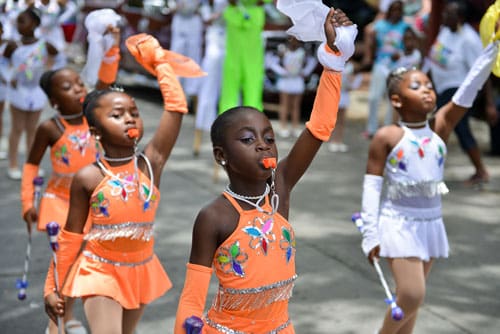 Decked out in knee-high boots and feathered head bands, the Westin transported the crowd to the Mediterranean this year with its Maltese Knights troupe. Caneel Bay officials, meanwhile, kept the beat going with musical notes and elaborate headpieces in their troupe Musical Extravaganza.
Popular St. Thomas "Caribbean Rockalypso" band West Lindy played aboard a flat bed truck and led the way for We and Dem's troupe of Mayan revellers and Moko Jumbies which included Love City's own Sarah Swan and Audrey Penn, showing off their stilt walking skills.
St. John Brewer's troupe is another perennial crowd favorite and the Tap Room group did not disappoint this year. Handing out cold beer and root beer samples while throwing beads to the audience, the St. John Brewer's embraced a Green Flash — the brewer's own energy drink — theme this year as Chirag "Cheech" Vyas kept the beat going.
With war paint and feathered headpieces, Shaka Zulu Tribe troupe kept the crowd enthralled while St. Thomas Majorettes put on an elaborate performance. The Bubblez and Tiny Treasures Troupe was another crowd favorite, along with BVI Sky Dancers Moko Jumbies and Gypsies Mexican Bacchanal.
Love City Pan Dragons were the pride of the island as the youth steel orchestra showed off their impressive skill for the crowd.
After several hours of merriment and entertainment, the skies grew dark and the light afternoon breeze picked up around 3 p.m. Several much needed rainstorms fell on the crowds in Cruz Bay, but the showers didn't affect the bright and sunny mood of the day.
Parade revelers sought shelter beneath eaves, umbrellas and overhangs, but were back on the street to watch the final troupes make their way through Cruz Bay.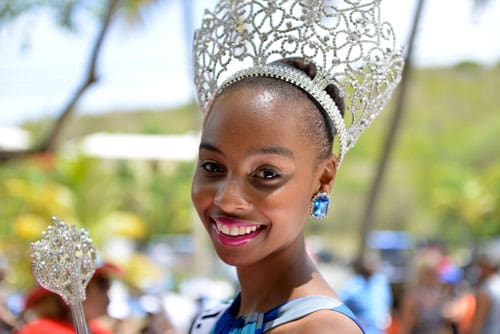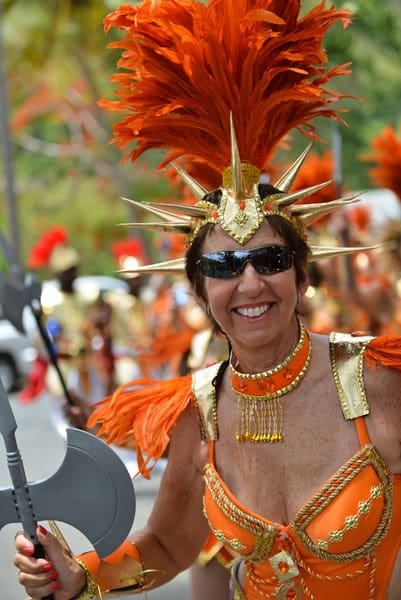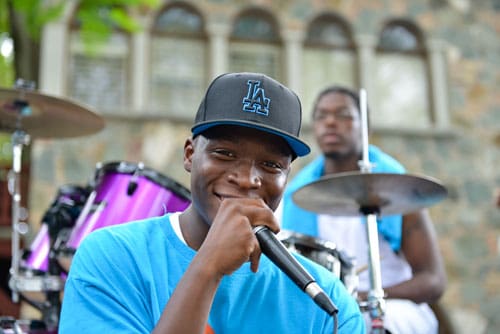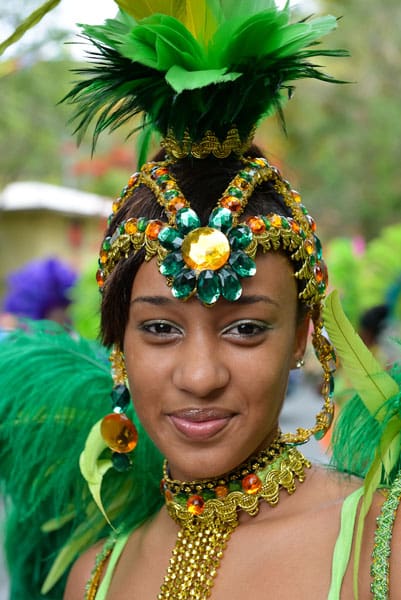 Musical groups in Festival Village kept the throngs entertained until 9 p.m. when, with the rains holding off, an impressive fireworks display lit up the sky above Cruz Bay harbor.
With the last few explosions of light during the fireworks finale, revelers returned for Festival Village for the last night of music to wrap up a full week of non-stop fun and merriment as St. John fully embraced the theme of "Jump Up, Mas and Enjoy Yourselves for Festival 2012."