The Tenth Annual Ruby Rutnik Memorial Softball Tournament was greeted with beautiful weather and went off without a hitch Friday and Saturday, April 7 and 8.
"We're so glad that we were, once again, blessed with fine weather," said Janet Cook-Rutnik.
The Tortola Panthers walked away as the tournament winners, a distinction which earned them a $2,500 one-year scholarship for their school.
"The trophy is the scholarship," said Cook-Rutnik.
The tournament began 10 years ago in honor of Cook-Rutnik and Andy Rutnik's daughter, Ruby, who was killed in a car crash on Dec. 4, 1996, in Washington, D.C. She was a senior in college, and was due to return home to St. John just two weeks later for Christmas vacation.
"She had been an award-winning championship windmill-style softball pitcher when she was in high school at Antilles," said Cook-Rutnik. "The community wanted to have a scholarship in her honor, and thought that a softball tournament for high school girls would be the most fitting way to raise funds for it."
Each year, the tournament falls on or around Ruby's birthday, April 9.
Funds are raised at the softball tournament through the sale of innings to sponsors, which are announced during the inning that they purchased.
A renewable $2,500 annual scholarship is given to a female who has resided on St. John for five years or longer, and a one-year $2,500 scholarship is awarded to a St. John resident who is attending the University of the Virgin Islands.
The tournament was a success, said Cook-Rutnik.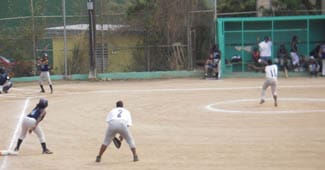 "It went fabulous," she said. "We had a team from each island, and Tortola, who played in the tournament for the first time, came and went with the championship. Now we're sort of international."
The tournament enjoyed a good turn-out, Cook-Rutnik added.
"It seems like we did pretty good," she said. "We're still receiving donations. People continue to donate, because they know that the scholarship is an ongoing thing."
"The response was very good," she continued. "We were pleased, and the games were really exciting."
Each year, in addition to raising funds for the scholarship program, the Rutniks beautify the Winston Wells ball field, where the tournament is held.
This year, the couple's contribution was a new scoreboard. They also spent much of the tournament picking up trash around the bleachers.
"We're very happy to have put in the new scoreboard," said Cook-Rutnik. "We had everybody picking up trash, including our 16-month old granddaughter, who was trying to do it too. It was a lot of fun."
Several people supported the tournament, including Alice O'Connor, who was presented with a bouquet of flowers at the fund raiser.
"She was one of the original Royal Sisters, a St. John traditional womens softball team that goes back at least 40 years," said Cook-Rutnik. "One summer, they asked Ruby to pitch for them at a championship game on St. Croix. She did, and they won the game."
David Mugar of Starfish Market was also a big help to the tournament.
"David Mugar was instrumental in helping with the tournament," said Cook-Rutnik. "We thank Starfish for being a major supporter each year. We really just want to thank all of the businesses and friends who have contributed year after year after year – we really do appreciate it."
Applications for the scholarships offered by the Ruby Rutnik Scholarship Fund are now available for the 2006-2007 school year at Connections in Cruz Bay or Coral Bay, and are due on May 15.
Scholarship recipients will be announced by June 5. For more information, contact the Rutniks at 693-8069.