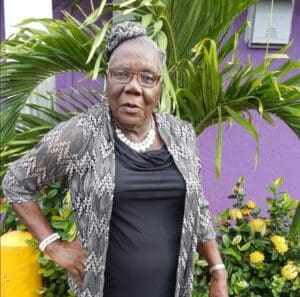 Ruth Glover Petersen died on April 12 at her residence. She died at the age of 95.
Ruth Glover Petersen is survived by her daughters: Lucia Francis and Maria Francis; sons: Ted "Midnight" Rabsatt, Erall "Mickey" Rabsatt and Louis "Doc" Frett; daughters-in-law: Marilyn Rabsatt and Lena Frett; and grandchildren: Juliet Niles, Tameeka Rabsatt, Kwamme Rabsatt, Jahtara Francis Vigilante, Kishma Francis, Karima Browne, Kimberly, Browne, Kevin Browne, Ihesha Rabsatt, Ineesha Rabsatt-Richardson, Jahmal Rabsatt, Makeda Petersem-Turnbull, Makia Petersen-Harris, Jahmeka Petersen, Raheem Petersen, Roy Petersen, Akil Petersen, Roan Petersen, Lucina Petersen, Jamaala Petersen, Lakisha Frett, Lakia Frett, Ilamsha Lambertis-Todman and Jamaal Petersen.
She is also survived by great-grandchildren: Ilesha Francis, Akyjiah Philips, Inaejah Rabsatt, De'Jah Vigilante, Da'Jah Vigilante, Dante Vigilante, Jay'NAe Johnson, Jai'Koi Johnson, Jay'Den Johnson, Jay'Nel Johnson, Jay'Nye Johnson, Jay'Nya Johnson, Se'Quoi Tonge, Malik Freeman, Mailika Freeman, Kamoy Petersen, Keshoy Petersen, Kamejah Petersen, Akijah Petersen, Jahkeema Petersen, Jahleem Petersen, I'lejah Reed, K'hani Turnbull, Amani Turnbull, Amaya Turnbull, Azarie Guirty, Naheim Guirty, Anya Guirty, Hailey Frett Lloyd, Harper Frett Lloyd, Hezekiah Stephenson, Amaya Santiago, Jahnaija Rabsatt, De Ashia Rabsatt, Danviel Rabsatt, David Rabsatt, Ezekiel Rabsatt, Zaliah Rabsatt, Ajahri Franklyn, Jahyir Petersen, Ce'Quana Smith, Ce'Quan Browne, C'Koi Serrano, Samiya Serrano and Je'Quan Gumbs.
Other survivors include great-great-grandchildren: Se'lea Moore, Se'Nier Moore, Se'Miah Moore, Se'Noreah Moore, Angelique Freeman and Journee Cillia Jasmine Gumbs; special nieces: Adina Penn, Alecia M. Wells, Florinell Joseph and Myrtle Freeman; adopted daughters: Ophelia Hector, Sandy Christensen and Cynthia Christensen; adopted son, Otis "Biggo" Martin; close friends: Dwight Hinks and Heather Henry-Lambertis; as well as many other relatives and friends too numerous to mention, including the Thomas, Skelton, Stout and Frett family reunion.
Relatives and friends are respectfully invited to attend the first viewing from 5-7 p.m., Friday, May 6, at Celestial Chapel of Dan Hurley Home for Funerals. A second viewing will take place at 8 a.m. followed by a funeral service at 9 a.m., Saturday, May 7, at Christ Church Methodist (Market Square). Interment will be at Western Cemetery No. 3.
Funeral arrangements are under the care of Dan Hurley Home for Funerals and Cremation Center of St. Thomas, St. John and St. Croix.
For online directions or to share a special memory, please visit the website at www.hurleydavisfuneralhome.com