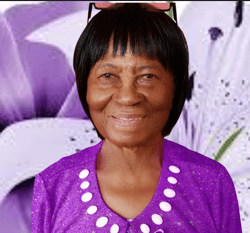 It is with profound sadness and breaking hearts that we, the family of Sara Underwood, announce her departure to glory as she transitioned on Sept. 16.   This native of Harris Village, Montserrat, departed this earth at age of 85 after a brief hospitalization in Florida.
Her parents: Rose Underwood and Ben Molyneaux of Montserrat; her son, Orville Underwood; and her son-in-law, Dr. Paul Maynard preceded her in death.
Her dearly beloved daughter, Patricia H. Maynard survives her, along with her three loving sons: Keithly and Anthony Underwood in Miami and Lawrence Stott on Anguilla. She also leaves to mourn, her brother, Desmond Molyneaux on St. Kitts.
She will be lovingly remembered by her grandchildren: Dwight and Dwayne Isaac on St. Thomas, Paul Maynard Jr. in Miami, Ke'Shyra Underwood in Georgia, Tasha Camel in Tennessee, Precious Chapell in Virginia, Asher Wharton on St. Kitts, Jarez Underwood in Orlando and Larry, Anisha, Rianna, Reba and Yanique Stott on Anguilla.
She will be missed by her two great-grandchildren: Lori and Kya Isaac; her special nieces and nephews:  Mary Williams, Joycelyn Daniel, Joan Phillip and Dora Molyneaux, Tyrone Molyneaux, Darril Thompson, Sean Harris Franklyn Bramble and Franklyn Dorset.  Also left to mourn her are daughters-in-law: Angela Underwood and Esther Ralph-Underwood; her granddaughters-in-law: Tyler and Anita Isaac, and Tracena Maynard.
Her extended family and close friends include Doris Archibald, Pansy Marsham and Pastor Cyrus Richardson, the First Wesleyan Holiness family on St. Thomas, Pastor Brian and Jason Glasford and members of the New Life Missionary Baptist Church in Florida' as well as other friends and relatives too numerous to mention
Funeral arrangements are being handled by Turnbull's Funeral Home. The only viewing will be from 10-11 a.m., Saturday, Oct. 1. at First Wesleyan Holiness Church in Contant. The service celebrating her life will immediately follow the viewing. Interment will be at Eastern Cemetery in Smith Bay.
Family and friends may send tributes to adliburd10@hotmail.com by Monday, Sept. 26.