A simple little bumper sticker — in a somber black — helping to raise awareness and funds to support efforts to oppose the mega-yacht marina development in Coral Harbor are showing up around the world from Nashville, Tennessee, to Sandpoint, Idaho, and Italy and around Europe – and fueling a successful fund-raising for a legal challenge to the development.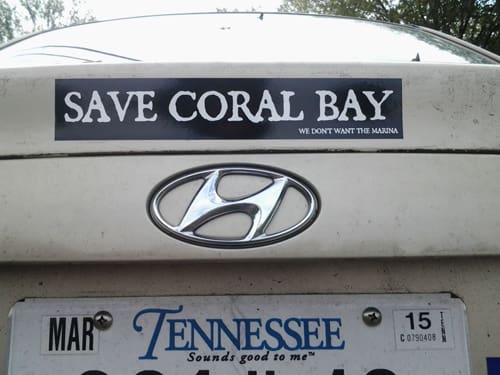 "Save Coral Bay" bumper stickers are showing up all over the world, including this one in Tennessee.
CORAL BAY — Support for a grassroots legal fund to fight the proposed Coral Bay mega-yacht marina, which only began on Friday, October 10, on the internet site gofundme.com is growing faster than even its founders imagined.
In its first two days seeking to raise $50,000 on the internet site "gofundme.com" $7,266 had been raised from 73 people by Sunday afternoon.
"(W)hat a GREAT start to our funding campaign to SAVE CORAL BAY thank you to all of our contributors — we received over $5,000 — over 10% of our goal — in just ONE DAY!!!," the first internet posting reported. "(t)here's no harm in re-sharing the campaign tomorrow if you shared it today, keep getting the word out to friends and friends of friends… everyone knows a favorite blue bay teeming with wildlife and wants to shelter it from destructive development… today the threat is to CORAL BAY in St John … tomorrow it might be in your home town… we need the world to be aware that we will not tolerate environmental destruction in the name of greed, ANYWHERE… "
"Feeling All the Love"
"I'm feeling all the love from these wonderful people who are contributing to our legal defense fund to SAVE CORAL BAY… ," posted community activist David Silverman. "(e)ach time I see a contribution it lifts my spirit and makes me feel that our cause is getting stronger… thank you EVERYONE for sharing, for contributing, for spreading the word… we have an amazing community, don't we?"
"Today Coral Bay Harbor is under attack from outside investors who only see it as a destination for mega yachts and luxury stores," the web site reported. "They want to take over the harbor, destroy its natural habitat, and replace all of that natural beauty with a massive, over-built, environmental disaster of a marina. Our campaign's mission is to protect and rehabilitate the environment of Coral Bay for future generations."
Funds for Legal Fight
"Our immediate need is for funds to pursue legal appeals in order to fight the permits that were given to the developers from local authorities in the Virgin Islands," the fundraising web site explained. "Lacking proper environmental considerations and with other flaws, these permits now need to be appealed. We will also be fighting our defense campaign at the federal level, since this project will need to be approved by the Army Corps of Engineers, the EPA, NOAA, and NFWS."
"All of this takes money, which we don't yet have," the posting continued. "Once we have defeated the immediate threat, our next task is to plan the small sustainable improvements to Coral Bay that will ensure its health for future generations."
"Every dollar of your contribution received by us will go to the fight to preserve, protect, and enhance Coral Bay," the gofundme.com site states. "Funds for these purposes will be managed by the Coral Bay Community Council, a trusted local nonprofit organization."