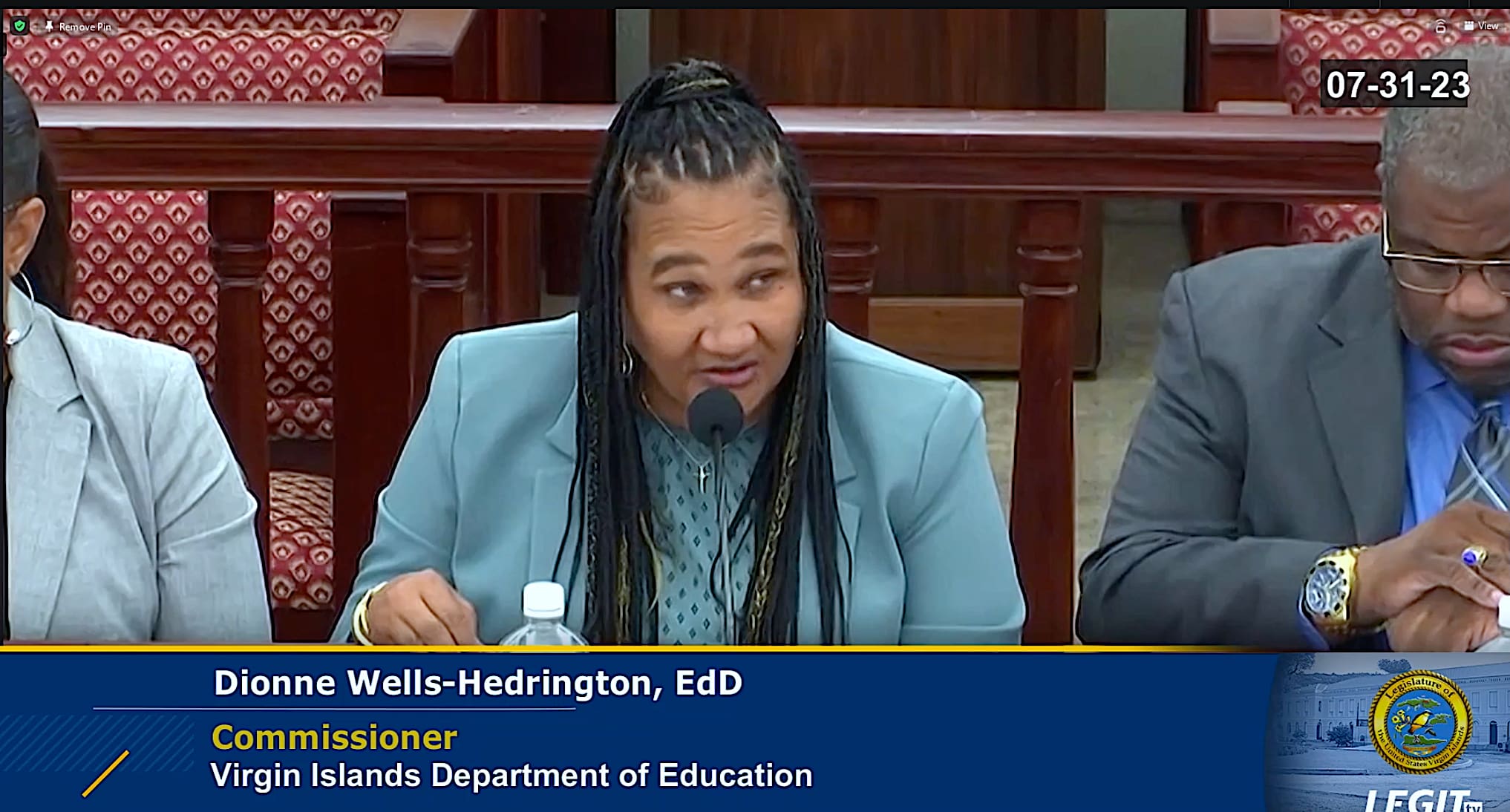 U.S. Virgin Islands public education experts presented a deep dive on the state of the territory's schools on Monday before the V.I. Senate — detailing critical teacher shortages, infrastructure needs, long-term and short-term plans, and an urgent need for funding in various programs.
When the prepared testimony ended, more than two hours later, Sen. Marise C. James, chairwoman of the Committee on Education and Workforce Development, said her head was spinning.
"I feel like I was on a rollercoaster of highs, lows, ghuts, hills, mountains, valleys, all of that in your presentation," James said.
For two years, the Education Department has worked to create territory-wide standard operating procedures, digitize records, and identify ways to streamline bureaucracy to the benefit of educators, administrators, parents, and students, said Commissioner Dionne Wells-Hedrington. By the end of the 2023-2024 school year, all those systems should be codified, she said.
One of the changes came from a 2021-2022 task force that recommended schools be individually held to greater accountability, she said.
"Each school has developed targeted goals for their campuses, and that will be used to determine their success. This year is the first in many years that we will be evaluating schools individually based on their academic performance," Wells-Hedrington said.
The goal isn't to shame underperforming schools but to ensure each school and its students are receiving equitable support. Each school will be graded on four indicators: achievement, growth and graduation, English language proficiency, and absenteeism rates for all students and each student group, she said.
"In addition to the current support that the department has in resources and human capital, we are designing a structured program to support our educators in those low-performing schools intensively. We recognize that student success really depends on all of us being committed to teaching and learning. It means ensuring that there is training, coaching, modeling, and consistent support in our buildings," Wells-Hedrington said.
The Virgin Islands, like many school districts on the mainland, continued to have trouble attracting and retaining skilled educators and support staff, she said.
Of the 1,094 Education employees on St. Croix, for example, 272 are currently eligible for retirement, Wells-Hedrington said.
From the beginning of the 2022 school year to July 21 this year, 181 administrators, librarians, nurses, teachers, counselors, and other school staff left the department. Of those, one was fired, five died, 26 were stop-gap international teachers whose temporary appointments ended, 64 retired, and 85 simply resigned, she said. To make matters worse, occasionally, school employees quit within a week or two of classes starting.
Of the 26 international teachers, some filled positions the department finds difficult to recruit for. Seven were math teachers, seven were special education teachers.
A series of recent job fairs helped fill 103 open positions, including 15 math teachers and 10 special education teachers.
Board of Education Vice Chairwoman Emmanuella Perez-Cassius said staffing shortages needed to be addressed.
"Pre-existing staff shortages made worse by the pandemic pushed the Virgin Islands Public School System to its limit. Teacher relocation, retirement, and career change forced paraprofessionals to lead classrooms, often leaving some students needing more critical services," Perez-Cassius said.
Educators needed higher pay, better working conditions, and consistent curriculum mandates, she said.
Vocational programs were especially hard hit by lack of specific personnel, she said. But even where staff was on hand, they often lacked proper certification, she said.
"The percentage of certified teachers at each school was highly concerning. Some teachers needed to have the introductory required courses to meet certification standards. The overall number of certified professionals working in the Virgin Islands public schools during the 2022-2023 school year is 228, while the number of non-certified professionals is 610," Perez-Cassius said.
Schools lacked formal mental health and trauma alert systems for students who needed assistance with "monumental issues," she said.
She called for direct communication between "Department of Health, Department of Human Services, Department of Education, Board of Education, and other service organizations concerning awareness, treatments, and school services for students with increasing mental health challenges."
Schools need to screen for students suffering from anxiety, stress, suicidal thoughts, trauma, and other socio-emotional challenges. Guidance counselors, school monitors, and other student-facing employees need training on interventions and trauma-based approaches, Perez-Cassius said.
"Some schools showed limited or reduced visual reminders and contact information for administrators, teachers, nurses, counselors, and social workers regarding mandatory reporting of child abuse, neglect, and other unsafe and threatening behaviors toward children and juveniles," she said.
Wells-Hedrington stressed the importance of proper school leadership from principals and other administrators as tone-setting for the entire school system.
"Great leaders have the ability to model expectations, create effective communities of practice, and support teachers as they provide high-quality instructional opportunities," she said. "By providing training and coaching support, leaders will be able to improve the instructional strategies of teachers, which will, in turn, increase the learning potential of their students."
The district contracted the services of Boston-based International Center for Leadership Education to provide training and job-embedded coaching support to all district leaders during the 2023-2024 school year, she said
"During these intentional sessions, leaders will focus on key elements for creating a collaborative approach to supporting teachers as they increase their instructional effectiveness. Leaders will identify powerful teaching strategies, engage in the collaborative instructional review process, and, ultimately, support teachers in improving student outcomes," Wells-Hedrington said.
It was one of many enrichment programs underway to improve education and administration in the two districts. Another was a two-day workshop in June for school monitors meant to improve emergency medical services and violence mitigation, including de-escalation techniques, incident reporting, self-defense, and what to do in an incident of mass violence and other active threats.
Perez-Cassius said maintenance needed more money.
"Approximately one million dollars is allotted to each district to purchase materials, pay for contracted services, and address problems related to kitchen upgrades, sewage, termites, removal of non-functional equipment, and other maintenance expenses. However, the department is still in grave need of funding to complete maintenance," Perez-Cassius said.
She also pleaded for Gov. Albert Bryan Jr. to fill the vacancy of the at-large Board of Education member. She also asked Bryan to hire an executive director of the Bureau of School Construction and Maintenance.
Sens. Marise C. James, Donna A. Frett-Gregory, Marvin A. Blyden, Diane T. Capehart, Samuel Carrion, Dwane M. DeGraff, Kenneth L. Gittens, Javan E. James, Sr., Franklin D. Johnson, Carla J. Joseph, and Milton E. Potter attended Monday's committee meeting.