While local coral reefs have taken a serious hit over the past few years, there is still an impressive amount of sea life to see and enjoy in the waters around St. John.
Packed with about 100 amazing underwater images, Dr. Caroline Roger's new book "Coral Reef Stars" makes that point abundantly clear.
"It has been very distressing to see the deterioration of the coral reefs here," said Rogers, a marine ecologist with the U.S. Geological Survey Caribbean Field Station. "USGS and National Park Service scientists have found over half the coral here died since the 2005 bleaching and subsequent disease outbreak, which also happened in Puerto Rico and the British Virgin Islands."
[adrotate group="6"]
"But there is still hope and the waters around St. John are still full of life," said Rogers. "There are still many beautiful animals to see — sea turtles, eagle rays, queen trigger fish, rare species of coral and fish and more. Also some bays like Mary Creek and Hawksnest Bay have a lot of healthy coral reefs."
Since she started documenting her weekly snorkeling trips in 2005, Rogers amassed about 1,000 images of the awe-inspiring underwater life which surrounds St. John.
Rogers has been selling notecards with some of her images at several shops on island for years, but decided to compile a book at the urging of family and friends, she explained.
"Several people — even some who are not related to me — encouraged me to produce a book," said Rogers. "I specialize in research on coral reefs and I think that my photos combine my scientific expertise with my deep appreciation for the ocean."
Although "Coral Reef Stars" includes images of the diverse underwater life, from sea turtles to anemones, most of the photos were taken in water easily accessible by the average snorkeler, explained Rogers.
"Most of the photos in the book are from within the V.I. National Park and the V.I. Coral Reef National Monument," she said. "All of the images were taken in shallow water close to shore — so anyone can see what I saw. St. John is actually one of the best places in the Caribbean to go snorkeling."
"Reefs and seagrass beds are very close to shore, are easy to get to and few places have currents," said Rogers. "You don't have to rent a boat to go out and enjoy the water here."
Rogers spent about eight months putting "Coral Reef Stars" together with the help of a few collaborators — her sister Helene Smart, former VINP chief of Interpretation Chuck Weikert, friend Mary Louis Fye and St. John Tradewinds publisher MaLinda Nelson.
"I was thrilled when MaLinda offered to be the graphic designer for the book," said Rogers. "MaLinda was meticulous and I think she earned a master's degree in marine biology. She really put in a huge amount of effort into the book as did my sister and friends who helped out."
Rogers also received support from Island Resources Foundation, V.I. Audubon Society, St. John Community Foundation, Elaine I. Sprauve Library, SeaTurtle.org and Friends of VINP. The backing fit in perfectly with Roger's dedication to showcasing both the beauty and science of the local sea life.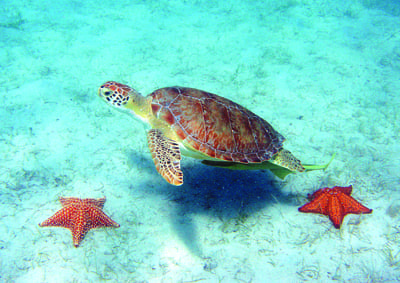 "I decided that the book would emphasize aesthetics primarily and be educational as well," she said.
Rogers definitely achieved both goals with "Coral Reef Stars." From the book's cover of a school of squid to the photos of sea turtles, alien looking anemones and majestic eagle rays, the images are beautiful. With its extensive index identifying the animals in the pictures, the book is also a trove of information.
The inside back cover features a photo mosaic of St. John created by William Stelzer, which illustrates where the photographs were taken, which Rogers was thankful to be able to use, she explained.
Everything adds up to one impressive first publication by Rogers and a testament to the diversity of underwater life.
"The book really is a celebration of the life in the water around St. John," said Rogers.
After months of hard work, Roger is enjoying the reception the book has gotten so far.
"I'm thrilled," said the marine ecologist. "I really feel good about the quality of the book and I really enjoyed doing it. People seem to be enjoying it and what gives me a lot of pleasure is seeing a child smiling at one of the photos."
"It's been fascinating to see different people react to different photos and seeing which ones people like the most," Rogers said.
"Coral Reef Stars" will be available within the next few weeks at Every T'ing, Bajo el Sol, Caneel Bay Resort Gift Shop, Friends of VINP store and other locations. Rogers is also planning a book signing at Every T'ing which is where she first sold her notecards, she added.
"I still remember in 2005 when Every T'ing agreed to carry my note cards and I was really appreciative of that," said Rogers. "Now I'll be doing a book signing there, so it's just perfect."