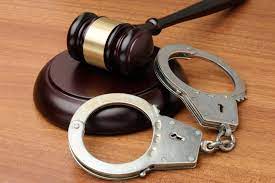 On Friday, March 4, 2022, 22-year-old Jarius Penn turned himself in to detectives of the Criminal Investigation Bureau.
Penn was wanted for a robbery that occurred on Tuesday, Feb. 22, at the Bovoni Housing Community. The victim of the robbery positively identified both individuals involved in the robbery. One of the individuals pulled a firearm and robbed the victim of over three thousand dollars of jewelry.
Penn could not post the $150,000 bail and therefore was remanded to the BOC pending advice of rights hearing.
This case is presently under investigation by the Criminal Investigation Bureau. Any persons having information regarding this incident are asked to contact the Criminal Investigation Bureau at 340-774-2211 ex. 5576/5572. They can also contact 911, Crime stoppers VI., the Chief's office at 340-715-5548, or the Commissioner's Office at 340-715-5506.