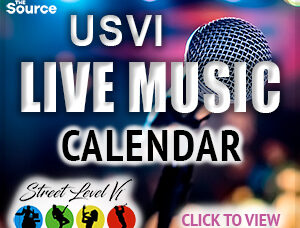 The Source is pleased to announce a new collaboration with Street Level VI, a local organization that promotes musicians and bands in the U.S. Virgin Islands by providing a one-stop source for upcoming live music entertainment. Founded in 2018 by longtime St. Thomas resident Priscilla Lynn, Street Level VI keeps a comprehensive, updated list of music events that is accessible to the public via the organization's Facebook page and now on Source sites.
On Source sites, the music calendar can be accessed by clicking the above poster ad that appears on the Source's home pages, or via the navigation menu under the A&E section.
To learn more about Street Level VI, visit the Live Music Calendar page where you can scroll through the 'BIG LIST' and access Street Level VI's Facebook page for schedule updates, details and videos of live music events in the USVI. Street Level VI also supports island youth musicians and youth music education programs with donations and scholarships through its Youth Music Education Fund.
Link to: Source Music Calendar page.
Link to: Street Level VI Facebook page.