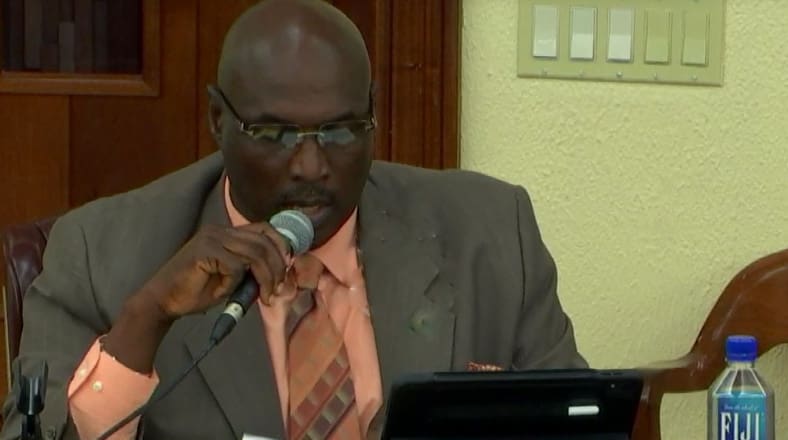 Sen. Novelle Francis Jr. said on Thursday that the Committee on Rules and Judiciary served as a "clearinghouse for legislation" and an opportunity to "self-correct."
As the committee considered several bills concerning medical policy, attempts at fine-tuning were evident via modifications and amendments.
Two of the bills had gone through the legislative process previously only to be vetoed by the governor.
Senate President Donna Frett-Gregory, who attended the meeting though not a committee member, urged the governor to sign all five bills when they reached his desk. All were forwarded with favorable recommendations to the full body.
One bill concerning medical education requirements for permanent and institutional licensees is likely to be signed by the governor. The bill would allow the commissioner of Health to issue licenses to radiology technologists, reinstitute the Good Samaritan Law and modify penalties for malpractice. Francis, who introduced the bill, said he was doing so at the request of Gov. Albert Bryan Jr.
"This is the type of legislation that is critical," said Sen. Carla Joseph.
She said it would allow more medical technologists to get certified in the territory and, as more technology became available in the Virgin Islands, fewer residents would be compelled to go to the States for medical services.
Another bill aims to create a multistate nursing license compact. Sen. Kenneth Gittens said that bill would allow more nurses to come to the territory without having to go through a cumbersome certification process. He said the territory is desperate for more nurses.
Sen. Steven Payne Sr. said the legislation would bring "serious relief to the nursing shortage."
Francis also introduced a bill that targets the Boards of Examiners for Medicine, Surgery, Dentistry, Pharmacy, Nursing, Optometry, Physical Therapy, Chiropractic and Podiatry. The bill would re-establish the respective boards so that a quorum can be more easily obtained.
The bill that appeared to spark the most feelings among senators was one that would allow registered nurses and certified registered nurse practitioners employed by a certified home health agency, hospice or nursing home to determine and pronounce death under certain specified conditions.
Payne said the bill would alleviate situations in which families have to wait as long as 14 hours to have a loved one declared dead. He said the bill is long overdue.
Sen. Milton Potter, chairman of the committee, said it is a "sensible bill" that adds "a level of compassion" to certain situations.
A bill with the aim of re-establishing the Public Services Commission as a semi-autonomous agency and subjecting waste management service to its regulation was pulled from the agenda.
The bill would also provide for the appointment and duties of an executive director of the Public Services Commission and require additional qualifications for the executive director of the Water and Power Authority.
The bill also set many other specific requirements of WAPA and PSC.