The Legislature on Monday approved Gov. Albert Bryan Jr.'s request to extend the COVID-19 state of emergency through October, during a special session.
The territory has been in a state of emergency since March 13. V.I. law gives extraordinary power to governors during an emergency. Most of the law's provisions deal with mobilizing the National Guard, activating disaster response plans, ordering evacuations and other measures clearly helpful in a disaster.
But under V.I. law, the governor may, for example, "[s]uspend the provisions of any statute prescribing the procedures for the conduct of territorial business, or the orders, rules or regulations of any territorial agency," "[u]tilize all available resources of the territory" and "[t]ake any other action he deems necessary."
During an emergency, the governor can also move government employees around at will, without regard to the territory's civil service laws for classified employees. And he can freeze prices.
[adrotate group="6"]
The statute giving the governor power to declare a state of emergency also says, "[a]ll proclamations issued under this subsection shall indicate the nature of the emergency or major disaster, the area or areas threatened, the conditions which have brought it about or which make possible termination of the state of emergency."
The Legislature added a requirement that the executive branch must come before the Legislature and get approval. This came after Gov. Kenneth Mapp repeatedly renewed the state of emergency instituted due to the 2017 hurricanes without following the statutory requirements.
V.I. Territorial Emergency Management Agency Director Daryl Jaschen told senators on Monday that if the state of emergency is ended "there are internal government factors that will change and create hardships for the territory."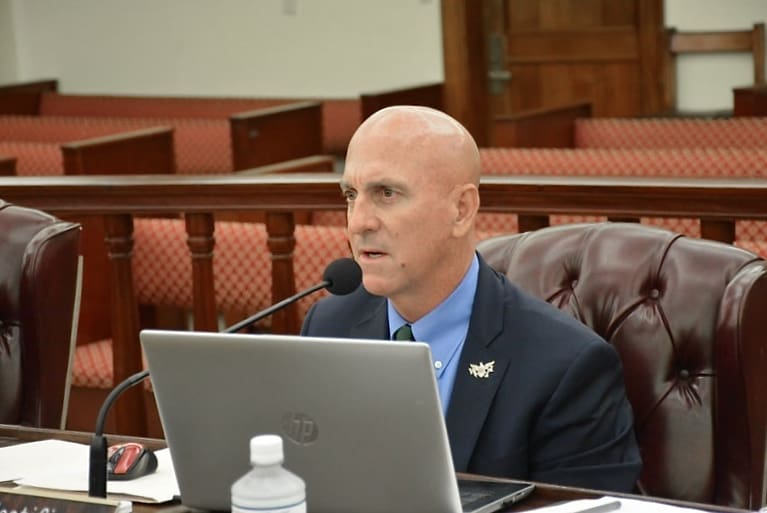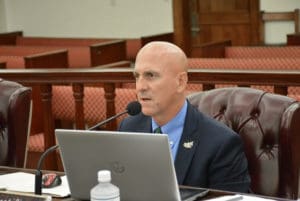 The state of emergency lets the government request resources from the federal government and receive technical support and other resources available to use during this emergency, he said. Also, the ability to control prices is important.
"During an event like a worldwide pandemic, the supply chain for goods and services are limited. We must keep the USVI territory included in the national stockpile to receive goods," and "control how, and which business can operate," Jaschen continued.
According to Jaschen, the current data shows that of Virgin Islanders tested for COVID-19, 5.7 percent are currently testing positive. As of Aug. 9, of the 547 people who tested positive, nine have died.
He said they have not tested all medical personnel and do not know if any medical personnel might be infecting families or others. Visitors need testing too, so he said the territory "must safeguard our limited medical professional resources."
"We anticipate a wave of new cases based on the trends, and we must be prepared to address the wave accordingly. The anticipated increased activity at the seaports and airports in the coming months will reintroduce the U.S. Virgin Islands population to COVID-19," he said.
While the territory "cannot predict when it will reach its peak," he said, "levels have begun to rise and are expected to continue to do so for a period of time as we progress through the Open Door Phase of the plan. Extending the state of emergency for an additional 60 days provides the staffing coverage and control measures to continue in mitigating the risk."
Jaschen cited some of the measures the territory's government agencies had taken as well as areas that still needed attention.
While lots of personal protective equipment has been ordered, the agencies cannot be sure they have enough in case of a major surge in infections or a hurricane disaster. Also, the "facilities and staffing being prepared for inpatient overflow sites are not yet fully in place," he said. More needs to be done to protect those in senior facilities and jails, as well as workplaces. And more needs to be done to prepare sufficient shelter options if a hurricane strikes.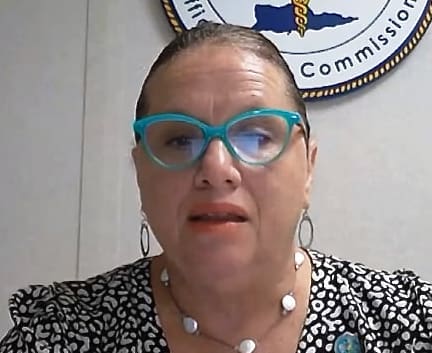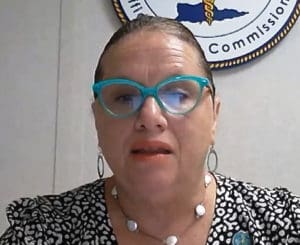 Health Commissioner Justa Encarnacion testified the extension was needed in part because the number of infections increased from 72 on June 9 to 475 on Aug. 9, and there has been "significant community spread within the St. Thomas-St. John District."
She said testing has expanded, with "pop-up" testing locations. And the territory now has 11 Abbott Now testing machines strategically placed around the territory. Although they may not be as accurate as other tests, those machines can provide results while you wait, avoiding the problem of tests coming back a week or more later, after dozens or hundreds more have been infected. (See: NYT "It's Kitchen Sink Time': Fast, Less-Accurate Coronavirus Tests May Be Good Enough.")
Encarnacion also said they have hired 18 local staff to perform manual contact tracing, collect specimens and conduct registration checks.
There was no opposition to extending the state of emergency. Voting to approve the measure were Sens. Oakland Benta, Marvin Blyden, Alison DeGazon, Dwayne DeGraff, Novelle Francis Jr., Donna Frett-Gregory, Kenneth Gittens, Myron Jackson, Javan James Sr., Janelle Sarauw, Athniel "Bobby" Thomas and Kurt Vialet. Absent at the time of the vote were Sens. Oakland Benta, Stedmann Hodge Jr. and Steven Payne Sr.