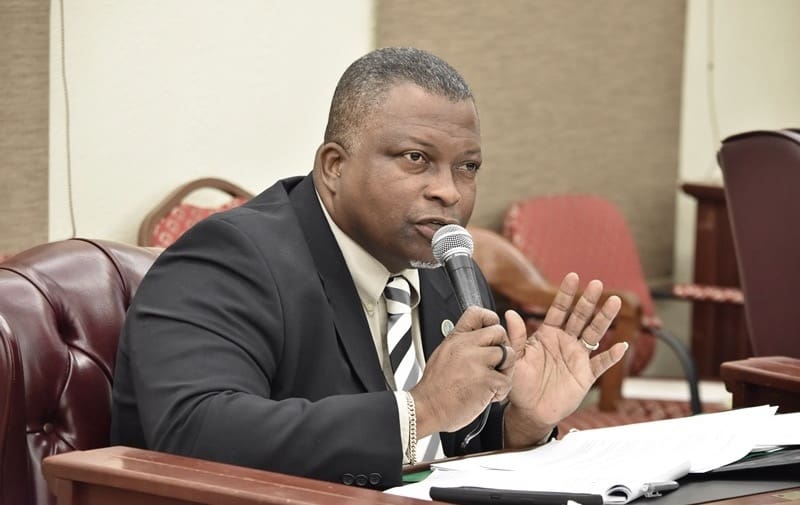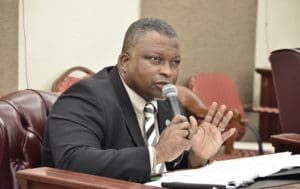 A bill to offer a two-year amnesty to homeowners who have enclosed useable space under their houses without the proper permits was passed by the Senate Committee on Housing, Transportation, Infrastructure and Communications on Friday – with qualified support from the Department of Planning and Natural Resources.
In considering Bill 33-0315, committee members touted the economic benefits to the territory of additional housing not just for renters, but also homeowners who can derive extra income from their properties.
"These are not the million-dollar homes … These are homes where homeowners either expanded for their family or expanded to make sure that they get more income," said Sen. Athneil "Bobby" Thomas, who sponsored the bill with Sen. Marvin Blyden, chairman of the committee.
"These are local grassroots Virgin Islanders. They are now able to assist their children, the economy," Thomas said. "Hey, if I fill in the downstairs and make an apartment, I have additional income, the value of my property goes up and it's a benefit to the economy," Thomas said. "Construction sparks the economy. Those are jobs, those are materials being purchased, that's gross receipts fees being paid, etc."
Nobody disputed the benefits, including DPNR Commissioner Jean-Pierre Oriol, but he cautioned that amendments are essential before the bill, which will now be forwarded for further consideration to the Rules and Judiciary Committee, becomes law.
"The department acknowledges the key underlying issue that causes property owners to enclose the usable space under their homes – the lack of affordable housing in the territory – and allows a homeowner to capitalize on the investment of a rental unit," said Oriol, putting aside his concerns that amnesties are inherently unfair to those who do follow the rules.
"The bill as written, however, creates concerns due to the lack of any oversight for the amnesty. The very first line of the bill states that 'An amnesty is GRANTED…' This is technically inconsistent with 'Section (b)' of the bill, which states that a property owner must 'QUALIFY' for the amnesty. If there is to be some review process performed by DPNR, then the first line of the bill must be amended to state that amnesty 'may be granted' or 'is available' to owners that have filled in the usable open space without prior authorization," Oriol said.
Chief among his concerns was that the bill have provisions added that would allow DPNR to set up a review program with criteria for the amnesty – especially stipulations for parking and septic system compliance – Oriol said.
"The bill as written makes no considerations regarding off-street parking requirements or septic capacity; in fact, there are no requirements other than to submit a building permit application and plans to the department," Oriol said. "It is important for the department to preserve some review, particularly as it applies to the parking and septic systems. If a home is situated on a substandard lot and they are increasing the person count for that lot, the public roadway is the default parking area for that unit. We see this in our older communities like Anna's Retreat and Estate Nazareth."
"These older communities are also not on any municipal septic system, which means that wastewater is likely going into a septic system with a leach field. If you increase the person count on a parcel, but do not adequately address wastewater treatment, this results in overflows, that in many cases go on to the neighboring property," Oriol said.
Additionally, unlike an amnesty program that ran from 2011 to 2016, the bill also must contain provisions for DPNR to grant a certificate of non-conforming use or homeowners will face hurdles when they try to sell or refinance their properties, said Oriol. With such a provision in place, when his office issues a certificate of occupancy, it could in tandem issue a certificate of non-compliance that refers back to the act that created the law, he said.
And while it is not illegal for someone to build beneath their existing home, issues arise when the building exceeds residential zoning, which allows for two families, and creates three and four rental units and thereby becomes a commercial entity, so legislators may need to revisit zoning laws for these properties to be legal, Oriol said.
"Sometimes you want to help on one hand, but you hurt on the other hand," said Sen. Donna Frett-Gregory, acknowledging along with her fellow committee members the quandary illegal building presents.
Sen. Alicia Barnes, who was DPNR commissioner when the 2011 amnesty was passed, noted that the fact the committee was considering the bill at all points to the need for comprehensive planning to ensure "we don't have negative unintended consequences."
In the end, the senators supported the intent of the bill and Thomas agreed to work on the amendments with DPNR.
Voting to advance the bill to the Rules and Judiciary Committee were Senators Allison DeGazon, Stedmann Hodge Jr., Myron Jackson, Javan James Sr., Blyden, Barnes and Frett-Gregory.