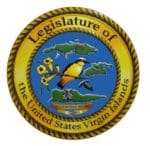 Senator Milton E. Potter, chairman of the Committee on Rules and the Judiciary, has announced a Constituency Engagement Initiative, which will begin on St. John. Clinton Stapleton, legislative assistant, will be in the office and available to meet with members of the St. John Community between 9 a.m. and 3:30 p.m., Tuesday, Feb. 23.
"Constituents are encouraged to call or visit the office in order to communicate ideas, issues and recommendations," said the senator.
"My commitment to the people of the Virgin Islands is unyielding," Potter said. "What better way to keep my finger on the pulse of what our community needs, their issues and ideas than to have regularly scheduled office hours specifically dedicated to meeting with members of the public."
Potter will announce additional upcoming dates for his Constituency Engagement Initiatives; dates when he will be available for in-person meetings throughout the territory. He also invites the community to email his office about his engagement efforts at cstapleton@legvi.org or to call 693-3583.