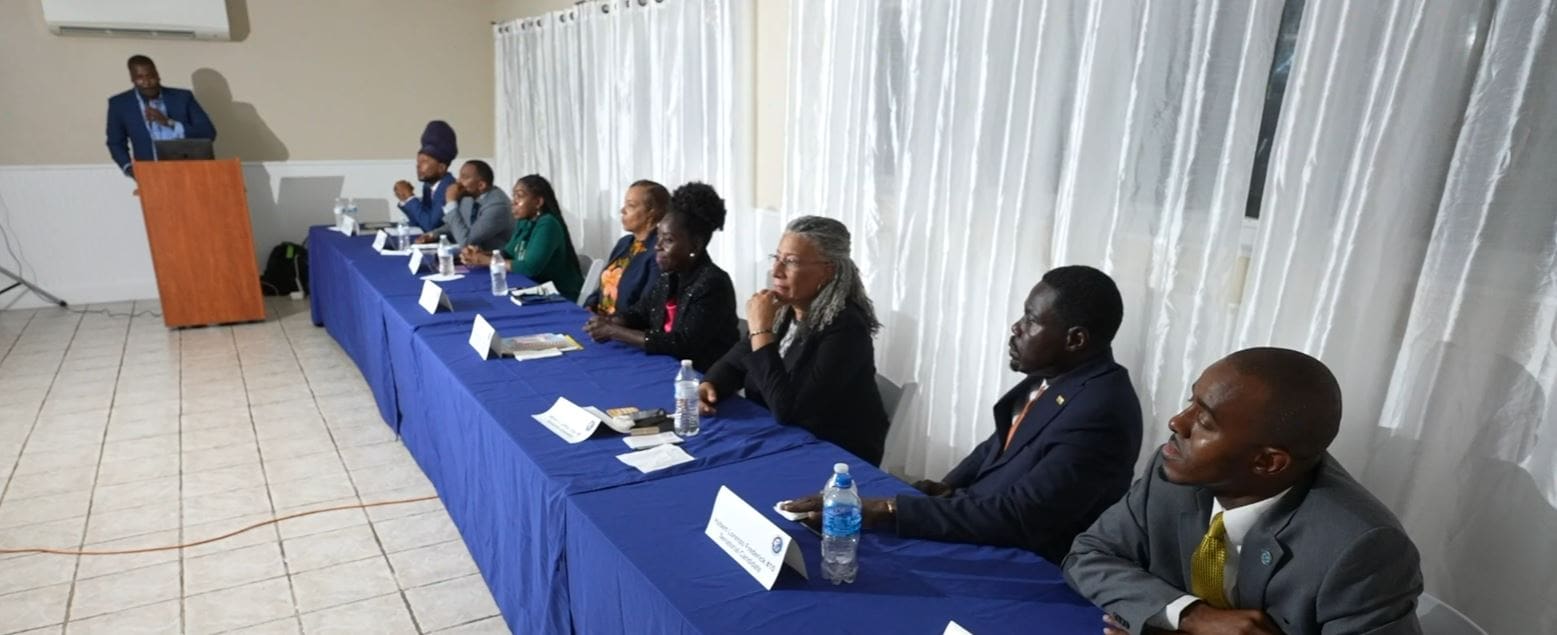 Nine of 11 senatorial candidates attended Thursday's Democratic Party forum on St. Croix. (Source photo by Diana Dias)
From education and crime to health care, this year's senatorial candidates offered up their views on a range of public topics and concerns at a recent forum hosted at the Palms at Pelican Cove by the St. Croix District's Democratic Party.
About 20 in-person attendees and nine of 11 senatorial Democratic candidates attended the event, which was also livestreamed for the public. On site, teams of supporters could be seen in the crowd wearing their shirts in support of their candidate of choice.
"As per our charter, we Democrats are the oldest political party in America and the youngest in spirit. We will remain so because we enjoy the challenge of government," said Ashley Scotland, who provided opening comments and rules for the forum.
Moderator Jed JohnHope asked a series of questions consisting of three blocks of categories on topics including promoting economic prosperity and providing safe, affordable housing options to include home ownership for all, achieving and nurturing youth by delivering an equitable 21st-century healthcare system for all, a wildcard section and an opportunity for the audience to ask questions.
Senators Genevieve Whitaker and Javan James, who attended the forum, currently serve in the 34th Legislature.
James, who currently also serves on the Senate's Finance Committee, was asked about the challenges on maintenance issues at schools.
"We appropriated $5 million to fix the schools, but we were told that they no longer need to use that money, so we still have funds there untapped. We are waiting on the executive branch to pass on a new mandate as far as what they want to do with the $5 million," he said.
James said daily operations are controlled by the commissioner of Education and the governor.
"I hope we take advantage this summer with the dollars we have appropriated to implement and execute and fix our schools," he added.
Whitaker, who chairs the Senate's Committee on Education and Workforce Development, said that the bill she's most proud of is the gender equity bill.
"One of the things I believe if our boards were more balanced, we will see a difference in how our boards are administrated," she said.
Candidate Hubert Frederick said his years of banking experience and time as an insurance broker will prove a great asset to the 35th Legislature.
"I'm hoping to bring my years of economic, and also my background in the private sector to the government," he said. Frederick also served as deputy commissioner at the V.I. Health Department and was asked about what he proposed for the health care system.
Frederick shared, "The policies I left in place in 2006 it became completely undone when I left. We don't have consistency in the application of policies."  Frederick used mental health as an example, pointing out that there is still no designated residential area for patients seeking care. Frederick said he will work on rallying his colleagues to push for sustainable policies to be able to see it through.
Angel Bolques, who was sworn in Monday as Senator-at-Large and is looking to retain the seat in the General Election, was asked by JohnHope for his views on reopening the refinery. Bolques responded, "If we are able to work with the government, the refinery, the environmental protection agencies, along with any other agency that is affiliated with the refinery, it can still reopen."
Candidate Troy Williams was asked about his views to improve the health care system.  Williams said, "First thing that I would do with our health care systems is advocating for the staff of our hospitals to get better support. The first problem we run into is a lack of morale. A lot of employees at our hospital, feel like they are underserved, they are not really getting the accolades they need."
"Our public-school systems have struggled on standardized tests for some time. What solution do you propose [so they] are able to compete globally on a test-taking perspective?" JohnHope asked candidate Marise James.
"Education is more than a test score. It is what happens in a classroom. One of the things we do not look at is non-school factors. I have found in my research that the socioeconomic status of parents is the biggest factor in terms of school readiness. I would make sure that all the children have access to comprehensive, early childhood programs," James responded.
Candidate Diane Capehart, who is no stranger to serving in the Legislature, took a question from the audience about the increase in taxi tariffs that have not been seen in 17 years.
"I'm going to say this, with unity there is strength. All the taxi men and women need to get together and demand their increase," said Capehart.
Nemmy Jackson who also took a question from the audience about plans to decrease crime in the territory, said, "Crime is a behavioral problem and I believe we need to start with our school system."
She said, "We need to teach them conflict resolution skills. We have to make sure we are teaching them the skills necessary to live a productive life as good citizens in this community."
Senators Kenneth Gittens and Novelle Francis, who were said to have had other prior arrangements, were both absent from the event.
To view the forum in its entirety, visit the St. Croix District of the V.I. Democratic Party Facebook page.