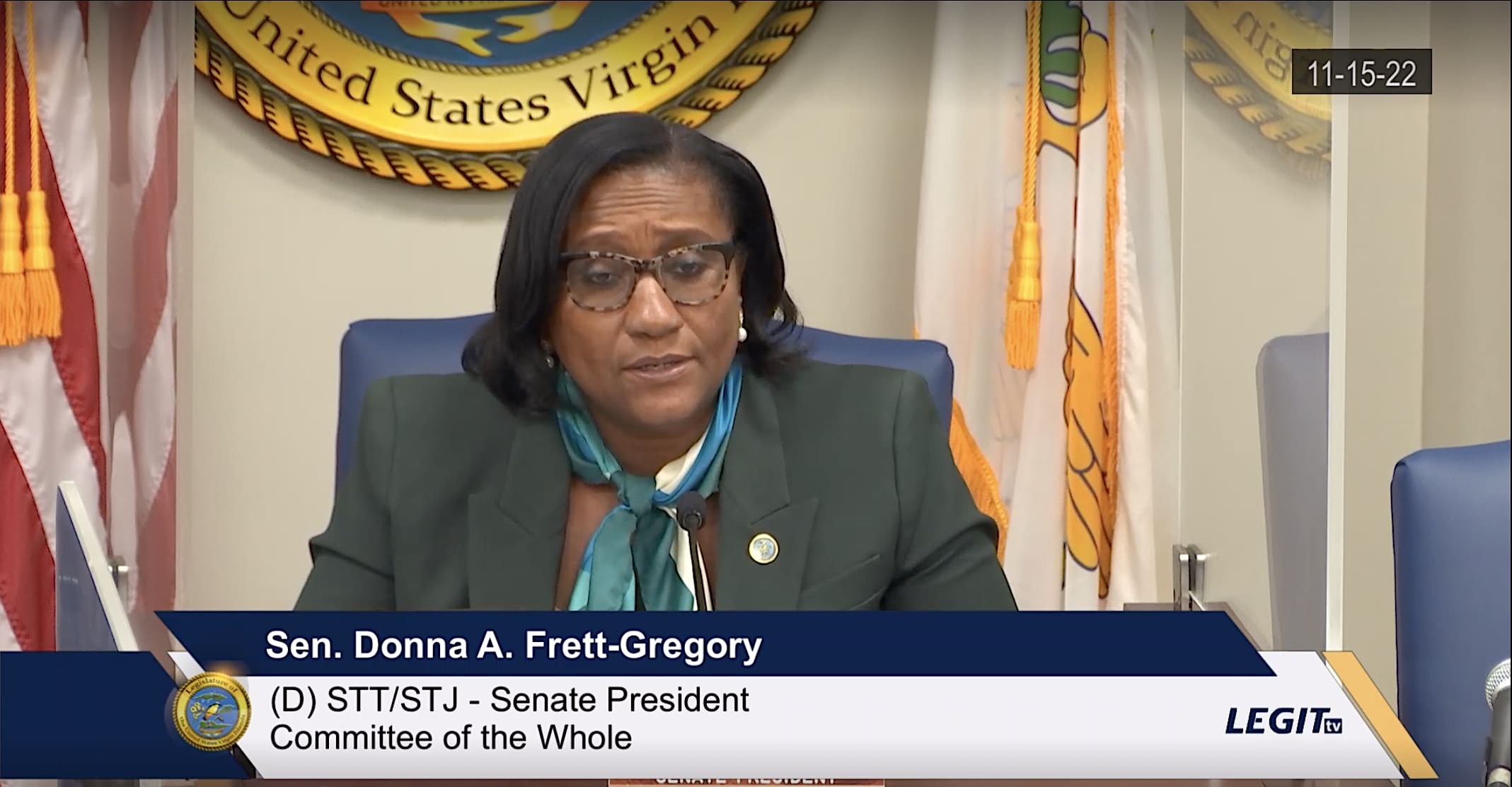 Things got chippy at a legislative session Tuesday, with St. Croix representatives accusing part-time residents of killing development projects and the Senate president telling her St. Thomas colleagues to "stay in their lane."
At issue was a proposed zoning change that would allow St. Croix brothers Atta and Jihad Misbeh to build 24 condo units and a shopping center on nearly 16 acres of land currently zoned for just two homes.
People living near the Estate Beeston Hill site did not like the idea and lodged 31 complaints about the proposed project with the Department of Planning and Natural Resources.
Neighbors worried loss of green space would displace wildlife, reduce privacy, increase traffic congestion, and result in flooding during storms. They also thought the complex would be loud, ugly, and smelly. They thought the area needed a comprehensive land use plan, and traffic and water drainage studies before development.
One of their concerns was that there were already similar business centers across the island that were underutilized or vacant.
Atta Misbeh said those vacancies were in very large, expensive spaces outside the reach of local small business owners. He wanted to build small, inexpensive spaces as well as meet the territory's housing struggles with middle-income rentals and a senior-centered facility. He hoped to keep construction prices under $8 million because he also owns concrete and trucking enterprises, he said.
Hearing the neighbor's concerns, Misbeh altered his plans but did not resubmit them to DPNR for evaluation and public comment. The process could take two years, said Frett-Gregory, and Misbeh didn't want to wait so long.
Misbeh removed the private medical center he'd initially wanted to put on the property, offered to share his parking lot with a nearby church, and agreed not to add traffic to an adjacent private road. He also promised no nightclubs, bars, gas stations, or industrial uses for the site.
Alvin Canalii, an advisor to Misbeh, said the neighbors were part-time residents invested in no-growth as a way to protect their serene rental properties.
"When we do what is being done to Mr. Misbeth, it allows people from outside with large purses. When was the last time we had a local embarking on such a significant development for the Virgin Islands?" Canalii said. "We have a lot of land, right, but people are not selling land. One of the reasons I'm here is because Mr. Misbeth has an interest in the socio-economic development of the Virgin Islands."
The St. Croix senators were incensed.
Sen. Kurt Vialet read through the objections and laughed at one that said no development should take place until climate change and the Virgin Islands' future economy were better understood.
"I pulled up the map and it's like six homes that abut the property — six homes — and like a little condo complex there," Vialet said. "St. Croix need to move. St. Croix need to develop."
Sen. Kenneth Gittens called out the neighbors more directly. "Let's not let people who don't reside in our community or are considered snowbirds to dictate what transpires here in this territory."
Sen. Novelle Francis agreed. "I'm offended by some of the comments that have been made here today. We have this saying, NIMBY: not in my backyard. Nobody wants developments in their backyard. We have a bunch of folks that have decided to turn these properties into Airbnb and now they don't want nobody else to develop around them. It's unfair. It's unfair."
Frett-Gregory said people who live in the Virgin Islands part-time seem to have the largest voice in deciding what happens in the territory. "This is a big project for St. Croix. I'm going to urge my St. Thomas delegates to stay in their lane on this one."
Sen. Alma Francis Heyliger — who had pointed out Misbeh knew the property was not zoned as he wanted when he bought it and suggested he was disregarding DPNR's report in hopes of swaying the Senate — took offense.
"Madam Chair, I'm also requesting for you to taper some of your snide remarks. Making statements like St. Thomas senators need to stay in their lane is not appreciated by me as a St. Thomas/St. John senator. I'm a firm believer that I represent the territory and with the same passion I have for the district of St. Thomas and St. John, I'm going to question what's happening in the district of St. Croix. So let us do our job just like we're allowing you to do yours," said Francis Heyliger, who represents St. Thomas and St. John.
Later in the hearing, when Sen. Novelle Francis replaced Frett-Gregory as chair of the meeting because she had to catch a flight back to St. Thomas, Sen. Carla Joseph of the St. Thomas/St. John district said he was a breath of fresh air.