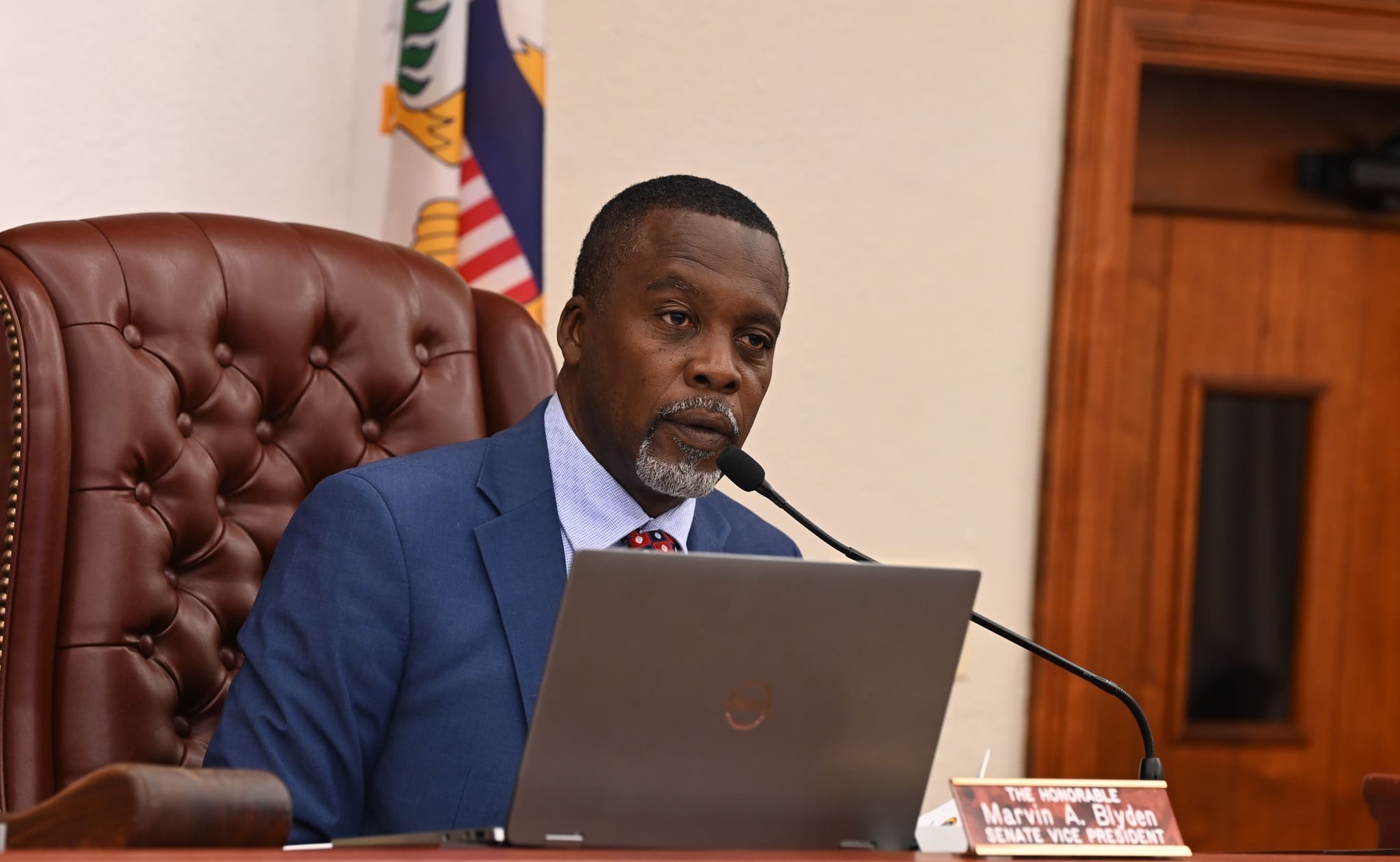 The Senate Committee on Housing, Transportation, and Telecommunications on Monday pressed various officials for answers about the state of critical government programs to house the homeless and help those in need of assistance through the Supplemental Nutrition Assistance Program and Medicaid.  
Human Services Commissioner Kimberley Causey-Gomez testified before the committee, chaired by Sen. Marvin Blyden, that currently, "DHS provides oversight and monitoring of 38 GVI-funded programs totaling $3,129,000. Twenty-one percent, or $649,000, funds nine homeless programs territorially."
"In terms of what we are seeing with lack of access for housing, affordable healthcare, jobs, and health services, what is the priority for the [department] in respect to the government addressing some of those issues?" Sen. Novelle Francis Jr. asked Causey-Gomez.
The commissioner said issues are addressed on a case-by-case basis to determine the best course of action. DHS works directly with the V.I. Housing Authority and V.I. Housing Finance Authority on client referrals. 
Concerning the SNAP program that helps families put food on the table, Francis noted that an additional emergency allotment implemented during the pandemic ended in February. "What is the gap going to be, and how does the government of the V.I. begin to address that gap, especially when there is currently a high-risk community? How do we address those people in the bubble who have been lost with the emergency SNAP begin curtailed?" he asked.
"The emergency allotment was supposed to end six months ago and, through my authority as commissioner, I requested through [the Food and Nutrition Service] if we could extend it as much as we could. That ended this month," said Causey-Gomez.  
"Have you had any conversation with moving the threshold of income for SNAP benefits?" asked Blyden.
Causey-Gomez said conversations are taking place but that roadblocks remain since changes are implemented at the federal level, not just with SNAP but also with Medicaid.
Sen. Donna Frett-Gregory, noting that a federal report is required to be submitted at some point annually, asked "when was the last time the report regarding the cap for these programs was submitted, and is the information being used to calculate the total required income cap current?"
Causey-Gomez said eligibility is calculated using federal household poverty limits. "Regardless of housing status, program eligibility requirements are determined based on the household size and monthly gross income," she said. "The V.I. uses the 175 percent maximum poverty income limit household to determine benefit eligibility. However, for households that include an elderly or disabled member, 200 percent federal poverty level is used."
Homeless households may qualify for expedited services if their gross monthly income is less than $150 and liquid resources are less than $100, said Causey-Gomez, or if monthly income and liquid resources are less than their shelter and utilities expenses. 
According to the testimony, the territory's preliminary fiscal 2023 "Point-In-Time" homeless count — mandated by the Department of Housing and Urban Development and organized by the USVI Continuum of Care Council on Homelessness — puts the number of homeless at 318 currently. Of that total, 207 are on St. Thomas, 90 on St. Croix, and 90 on St. John, said Causey-Gomez. 
Regarding questions from Sen. Carla Joseph about access to SNAP benefits by the homeless, permanent housing status is not a requirement for SNAP eligibility, the commissioner said. Program eligibility requirements are determined based on the household size and monthly gross income. 
According to Causey-Gomez, there are more than 11,031 SNAP households, totaling $7,772,291 in benefits, throughout the territory. There are more than 37,637 Medicaid beneficiaries, with 380 being newly eligible, she said.
Sen. Diane Capehart asked if the SNAP and Medicaid programs have been integrated, noting that millions in federal funds have been utilized since 2017 for that purpose, and had that work been completed, data regarding the number of homeless individuals would be more easily accessible to the legislators. 
Frett-Gregory noted that in fiscal 2022, the Senate appropriated over $1 million for miscellaneous funds to DHS, and asked if they were aware of how much they had spent.
Kendall Tutein, director of Non-Profit and Support Services, said that $699,000 of the funds had been expended, leaving Frett-Gregory to question the remaining balance and if the agency is looking at the bigger picture. Causey-Gomez said the remaining funds would be broken down into sub-grants to assist nonprofits.
Richard Bourne-Vanneck, chairman of the board of directors for Catholic Charities of the Virgin Islands, testified regarding that agency's efforts and reported that development is now underway for the Light of Christ Shelter for the Homeless, a new 40-bed facility in Frederiksted, St. Croix. 
While the charity's St. Thomas Shelter in Hospital Ground was damaged in the hurricanes of September 2017, it remained suitable for occupancy and has since been restored to full operational status. However, the St. Croix Shelter, located in a part of the Herbert Grigg Complex, was destroyed. 
According to the testimony, the charity has a Notice to Proceed with survey work from the Housing Finance Authority, which administers Community Development Block Grant funding in the territory, to determine the specific boundaries for the land and existing buildings that were donated to Catholic Charities V.I. by the Roman Catholic Diocese under former Bishop Herbert Bevard. 
"We are currently developing the architectural designs that will reconfigure and refurbish the existing buildings on the site and expect to issue an RFP for construction in the near future. CDBG funding has already been approved for $230,000 of the total projected construction budget of $871,000. God willing, we hope to have the new shelter in operation for the beginning of 2024," said Bourne-Vanneck
Sen. Angel Bolques, concerned about the process of transporting people with mental health and substance abuse issues, noted that there are no emergency shelters or mental health treatment facilities on St. John. He asked Bourne-Vanneck "what methods are used" on St. Croix.
Bourne-Vanneck said they depend heavily on support from the DHS and Luis Hospital on St. Croix and Schneider Regional Medical Center on St. Thomas.
However, with the assistance of the Catholic Diocese, development of an emergency shelter is underway in Coral Bay on St. John, he said. The land is secured and an application for CDBG funding to construct the facility is forthcoming. 
"There are some zoning issues affecting the Coral Bay site that need to be worked through, and we are optimistic that this project can move forward later this year," said Bourne-Vanneck. 
Additionally, the charity is in the process of relocating the Bethlehem House facility to its nearby property in Hospital Ground on St. Thomas. "Catholic Charities has received architectural drawings to construct a new 12-unit emergency shelter facility in Hospital Ground. This facility is being designed with separate rooms that will provide a total of 40 beds over three facility wings, along with kitchen, common area, and administration offices. We are optimistic that construction will begin later this year," he said.
"The relocation of our St. Thomas emergency shelter to a new facility does not mean abandonment of the existing Bethlehem House site. Although the structures are close to the end of their useful life Catholic Charities plans to replace them with a new 12-unit transitional housing facility on the current site, similar to the new St. Theresa of Calcutta House of Hope in Christiansted," said Bourne-Vanneck, referring to the St. Croix transitional housing facility comprising 11 efficiency apartments.
According to Monday's hearing, services for the homeless funded by the government of the Virgin Islands include:  
One soup kitchen, My Brother's Table on St. Croix.

One shelter-based program, Bethlehem House on St. Thomas.

Two transitional housing programs: Project Hope Outreach Ministries and Catholic Charities of the V.I. — House of Hope on St. Croix.

Four street outreach and feeding programs: Ten Thousand Helpers and Collective Collaborations on St. Croix; and Catholic Charities territorial programs that include mobile outreach and family education

One homelessness prevention program: St. Croix Mission Outreach  
DHS also collaborates with other homeless service programs in the Virgin Islands community that ensure that persons experiencing homelessness or at risk for homelessness are referred for the appropriate services, according to Monday's testimony. 
Senators attending the committee hearing were Marvin Blyden, Angel Bolques Jr., Novelle Francis Jr., Marise C. James, Carla Joseph, Donna Frett-Gregory, Ray Fonseca, Diane Capehart, Samuel Carrion, and Dwane DeGraff.