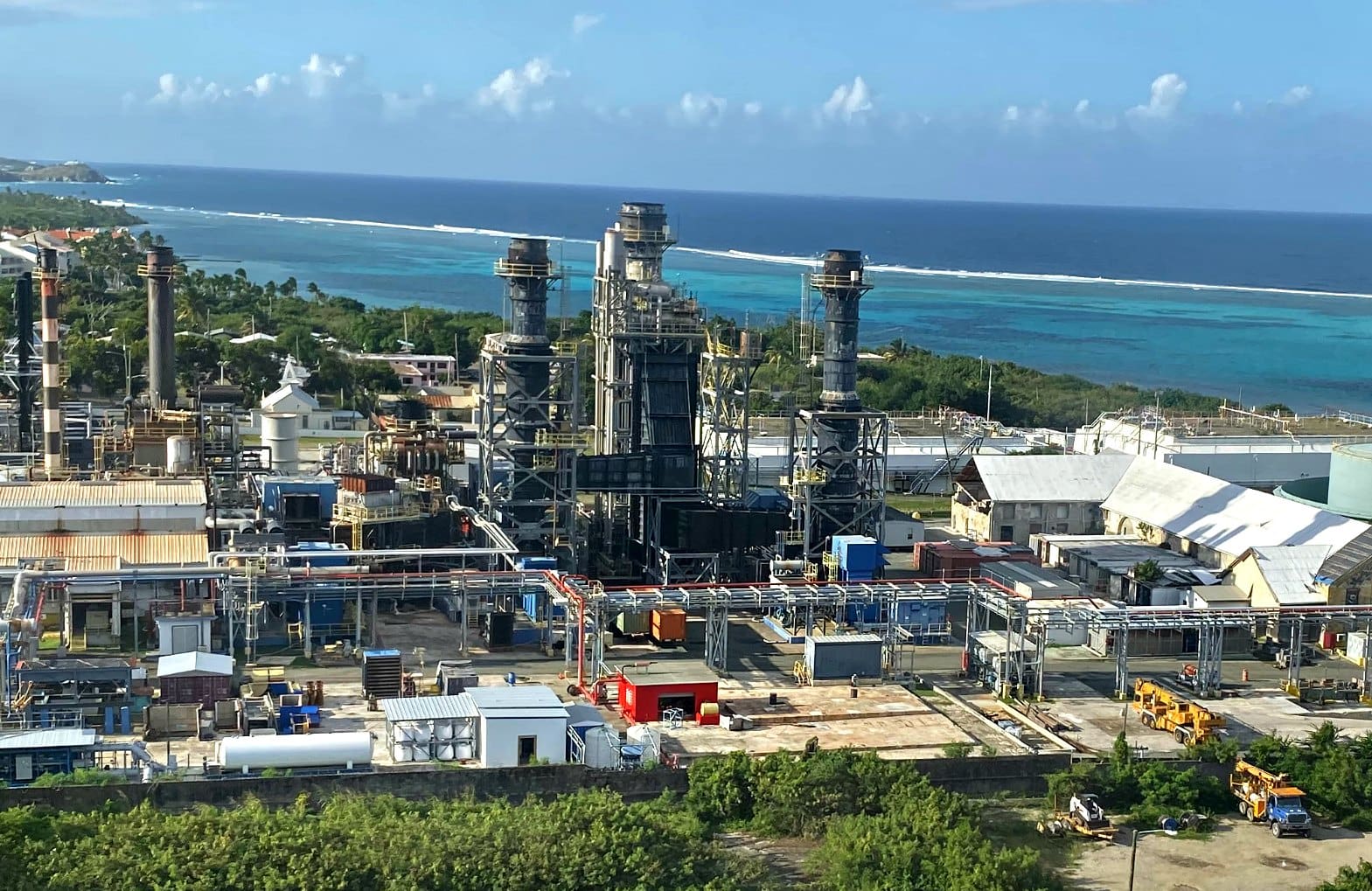 The 35th Legislature will consider the governor's request for a $150 million line of credit to help the V.I. Water and Power Authority pay down its debt to propane supplier Vitol when it convenes in regular session on Friday — the same day the payment is due — Senate President Novelle Francis Jr. confirmed on Thursday.
The issue was last discussed during a Special Session on April 5, when senators said they had not been given enough time to properly consider the legislation and tabled the bill for further consideration. It will now be added to Friday's packed agenda.
"My only comment is that the legislative body will continue to exercise due diligence in review of this very important and far-reaching matter on the behalf of the People of the Virgin Islands," Francis said when contacted via email Thursday.
WAPA needs about $45 million to make a good faith payment to Vitol by Friday's deadline for the storage facilities it built under a 2014 contract that allowed the utility to convert to a predominantly propane operation versus diesel, which is about two times more costly than liquefied petroleum gas, or LPG. The latter is also a cleaner-burning fuel.
The contract, which ballooned in cost from about $87 million to more than $200 million, later came under scrutiny, with lingering disputes between Vitol and WAPA as to how much was still owed. However, a report by the V.I. Inspector General's Office in November 2021 found irregularities in the utility's rush to complete the project, but no criminal intent.
Vitol has proposed a buyout of $145 million, in addition to the almost $80 million WAPA has paid for the capital lease, over $40 million for operation of the propane system through a maintenance fee it pays Vitol, and almost $400 million for fuel, WAPA CEO Andrew Smith said in November.
The matter of the debt came to a head in December, when Vitol temporarily suspended propane deliveries to WAPA, which forced the utility to make spot-market or short-term propane purchases. Meanwhile, the V.I. government has been subsidizing WAPA to the tune of about $4 million a month in a bid to avoid raising electric rates, which are already among the highest in the United States, according to the U.S. Energy Information Administration.
The territory's history with Vitol — which has suspended propane supplies in years past for lack of payment — clearly was top of mind for senators considering the request at the April 5 session.
"This is another bailout for WAPA that is going to rest on the back of the ratepayers," Sen. Kenneth Gittens said. "At the heart of all WAPA's problems, financial and otherwise, is mismanagement and a lack of accountability. That is the reason for WAPA's tremendous debt to VITOL in the first place."
However, Gov. Albert Bryan Jr. warned this week that customers could face rolling blackouts without the line of credit, which will come from the General Fund and which the Office of Management and Budget testified April 5 would be secured by a combination of sources including interest, gross receipts and income tax collections, and federal grant funds.
At the weekly Government House press briefing on Tuesday, Bryan said "the deal definitely is imperiled" if funding is not approved.
"It may make the whole thing fall apart. Hopefully not. If the Legislature chooses not to cooperate with us, we don't have much choices, and I don't hear anything being offered as solutions by the Legislature. I don't want to have to be the bearer of bad news, but we gotta figure this out fast, otherwise WAPA is going to run out of money," he said.
Indeed, WAPA — which major credit ratings agency FitchRatings downgraded to a CC in December, meaning default is a strong probability, referencing its Vitol debt — is in no position to borrow money itself.
"We haven't paid Vitol for a year and a half. … On year one when they came in here, WAPA was delinquent in the payment. And they have gotten in a worse and worse situation, because they just didn't have the money. Yeah, it's good to be diligent in terms of Vitol, but the reality is, Vitol has been a good partner to the Virgin Islands in terms of keeping the propane flowing, even though we owe them money," Bryan said.
"Only one thing is going to fix WAPA is money. … Anybody has any solutions — if there are any electrical engineers or power generation experts in the Legislature, I'm happy to listen to you. I'm not one. I have to listen to what the experts are telling me, and I have to provide the financial support to get WAPA out of the problem," the governor said.
"Money talk and BS walk. So if you have a solution to fix WAPA that don't include money, I'm your guy, because I don't want to spend any money either. I would much rather be paving the roads of the Virgin Islands or doing something else," Bryan said.
WAPA officials did not respond to a request for comment on Thursday. However, Smith said in a statement April 7 that the buyout is critical to WAPA's future, and lower rates for customers.
"This buyout of WAPA's debt to Vitol is part of WAPA's strategic plan and is a critical path to sustainability for WAPA because WAPA's debt to Vitol represents its single largest debt and operating cost. The Authority has on several occasions reviewed the strategic plan that will not only reduce the debt of WAPA, but also get us closer towards reducing the customer rate," said Smith.
"Given how critical the resolution of the debt to Vitol is to WAPA, we are hopeful that the line of credit can be established timely to support the upcoming first payment due to Vitol in mid-April," he said.