"And the winner is….." emcee Julien Baa prolonged the anticipation, leaving audience members on the edge of their seats during the final moments of the St. John Festival Princess show on Sunday evening, June 17, at the Winston Wells Ball Field.
While 8-year-old Shadiyah Boynes was crowned the St. John Princess 2007-2008, all of the girls were victorious in winning the hearts of the crowd.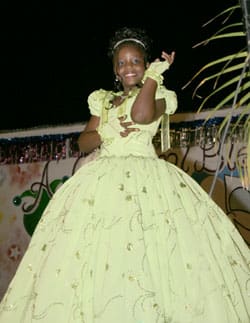 Kimisa Smith, 9, a third grader at Julius E. Sprauve School made her parents Shikima Jones-Esprit and Steve Smith proud as she finished as the second runner up.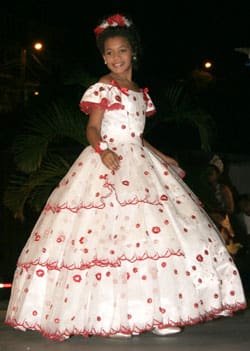 Yalfri Santana-Reyes, 9, daughter of Emiliana Reyes, who made her second bid for the tiara, was neck in neck with Boynes the whole show, making it impossible to foretell the winner.
From the beginning notes of the Latino-flavored opening number, which featured the three contestants along with last year's princess, Aisha Clendinen, and first runner-up, Mirisa Clendinen, the audience was enraptured. The music and dancing stayed true to this year's Festival theme: A Cultural Blen' For Festival 2007.
Decked out in one-shoulder red, white and blue ensembles, the girls set the energy level high and described their hobbies. Each of them enjoyed singing and dancing, but Boynes had a special skill as well.
Red, White and Blue Introduction
"I enjoy dancing and singing and teaching my younger brothers how to be cool," said Boynes.
Setting a standard for the night, Smith dazzled the crowd and Santana-Reyes surely impressed the judges with her bi-lingual speech.
The swimsuit segment of the show saw close competition among the contestants.
Smith strutted her stuff in a shimmery multi-colored one piece with off-the-shoulder ruffles and a matching sarong skirt and shorts, while Boynes' hot pink one-piece and pareo were show stoppers. Santana-Reyes was charming in her pink flowery tankini with ruffled white detail.
Motorcycles, Boats and Football
The evening's competition continued to be close through the sportswear segment when Smith climbed down from a beautiful black motorcycle.
Smith's shiny black pants and jacket suit, which she wore with a black and white polka dotted shirt underneath, were adorable and even allowed her to strike a pose as an equestrian rider as well.
For her sportswear segment, Boynes paid tribute to Joseph "Tash" Allen, who recently died in a boating accident aboard "Bad News Travels Fast." In a painted replica of the well-known local Scarab, Boynes was adorable in a satin sailor jumpsuit.
Prancing around with yellow pom-poms, Santana-Reyes delighted the crowd in her cheerleading outfit and even showed her flexibility by performing a spilt. Surprising the crowd, Santana-Reyes pulled a few tabs on her shorts transforming them into pants and the cheerleader became a football player.
One of the most anticipated segments of the show is always the storybook/cartoon character and the contestants did not disappoint this year.
Embodying the main character in one of the most beloved Hans Christian Anderson tales, Smith rode on stage atop a black ugly duckling decked out in a wild haired wig and black outfit. Smith ducked off-stage momentarily and re-emerged as the beautiful swan with a flowing white feathered boa and satiny white ensemble.
Sponge Bob Is Big Hit
Electrifying the crowd, Boynes brought down the house as the lovable Sponge Bob Square Pants. The stage was complete with replicas of Sponge Bob's pineapple house and a pate from Hurcules Pate Delight, which was even better than a Crabby Pattie.
The crowd joined the fun singing along to a number of familiar songs from the popular cartoon show.
It was carnival time for Minnie Mouse as Santana-Reyes strutted her stuff as the famous Walt Disney character. Donning an elaborate shoulder piece, Minnie was ready to compete for Queen of the Band.
Following the excitement of the storybook/cartoon character segment, the crowd was ready for the slower paced evening wear portion of the competition.
An audible hush spread through the crowd as Smith emerged in a sparkling lime green Cinderella style gown with ruffled shoulders and matching fingerless gloves. Her father, Steve Smith — who was debonair himself in a white tux with tails and matching green cummerbund and bow tie — looked on proudly as Smith made her way across the stage.
Honoring her father, who passed away a few years ago, Boynes released three balloons as she entered the stage in an aqua blue gown with a sparkled bodice, spaghetti straps and a dropped waist.
Santana-Reyes was a picture of elegance in her white ruffled gown with red polka dots and a tiered lace overlay.
Remaining in their gowns, the young ladies fielded the question "Why did you choose to run for St. John Festival Princess 2007-2008?"
"To show my talent, get experience and have a lot of fun," said Smith.
"I want to make my Mom proud and I love the shiny tiaras," Boynes said.
"Because I believe a person should have a shiny personality and a beautiful smile," said Santana-Reyes.
Before the winners were announced, Aisha Clendinen took her final walk as Festival 2006-2007 Princess and the time had come.
Smith, second runner up, won honors as the most photogenic.
Santana-Reyes, first runner up, won for Miss Congeniality, most cooperative, best sportswear and best intellect.
Boynes won for best storybook character, best evening wear and is the St. John Festival Princess 2007-2008.