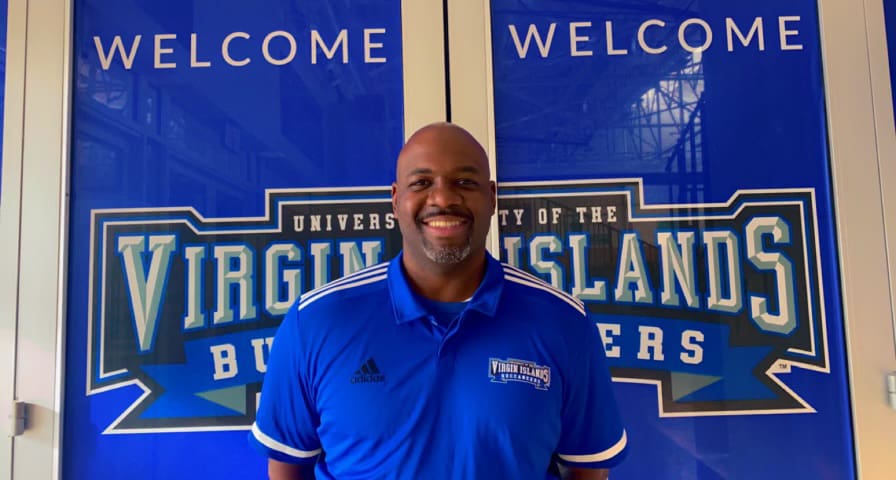 The University of the Virgin Islands Athletics Department has selected Shannon Taylor to serve as head coach of its men's basketball team, the school announced Tuesday. 
Taylor joins UVI after his tenure as men's head assistant basketball coach at Riverside City College in Riverside, California. He will also assume the university's Wellness coordinator role, managing the Wellness Center and other related activities, the school said.
Taylor's college coaching highlights include leading the RCC Tigers to four consecutive appearances in the California Community College Athletic Association Southern Regional playoffs, four "Sweet 16" appearances, and one Final 8 appearance. Taylor's Tigers also boasted one Orange Empire Conference Championship and 12 All Orange Empire Conference selections, and one Offensive Player of the Year. 
"We are tremendously excited that Coach Taylor is bringing his impressive skills and talents to bear on our men's basketball team. His coaching, recruiting, accountability, and mentoring philosophies align perfectly with our commitment to encouraging the holistic development of our student-athletes both on and off the court," said Dr. Jerel Drew, UVI's director of athletics. 
Taylor coached at the secondary education level before coaching at the college level in California with Kerman High School, Edison High School, and Roosevelt High School, where he focused on helping student-athletes achieve their goals. 
"I am grateful to Dr. Drew, President David Hall, and the entire UVI community for extending this opportunity for me to contribute to the success of the University's exceptional student-athletes. Education is extremely important to me. Playing basketball can provide many opportunities, but the most important is to understand the value of education and how it can maximize their success in life," Taylor stated. 
Taylor played basketball professionally from 2000 to 2007 and was inducted into the Fresno City & County All-Star Hall of Fame in 2013. 
As a player, his statistics include two State Championships at Ventura College (1994-1996), first-team All-Conference at Eastern Washington University (1999), setting a Big Sky Conference record for 3-point shots made (1999), Bullard High School Valley Champions and Team Captain (1994), and Central Section Player of the Year and Most Valuable Player (1994). 
Taylor earned a Bachelor of Arts in Interdisciplinary Studies from Eastern Washington University and a Master of Arts in Kinesiology-Physical Education from Fresno Pacific University. He taught kinesiology at the collegiate level for eight years at Riverside City College. 
For more information, contact pr@uvi.edu.