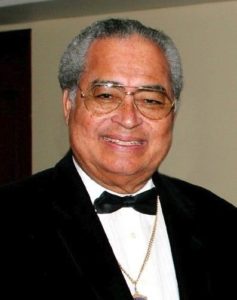 Sir Clive E.C. Banfield, 88, of St. Thomas, U.S. Virgin Islands, a much loved and well respected "citizen of the world," passed away on Dec. 26, 2021.
Born in Port of Spain, Trinidad in 1933, Clive attended high school and St. Mary's College of the Immaculate Conception on government scholarships. Upon graduation, he spent six months in a Benedictine monastery under a vow of silence in preparation for the priesthood before changing paths and accepting a government position at the Trinidad and Tobago Electricity Commission.
During this time, Clive became involved in many social organizations and was invited to be in Geoffrey Holder's Dance Group; his first visit to St. Thomas was in 1952 as the Dance Group was invited to perform at the first St. Thomas Carnival to be held since the end of World War II. 
In 1955, Clive married Helen Hay of St. Thomas in New York where she was studying hospital administration at Columbia University. When the couple moved back to the Virgin Islands, Clive accepted a position under acting governor Louis B. Shulterbrandt, whose business consultancy represented British Overseas Airways Corporation, thus beginning a long career in the airline industry.
In 1964, Clive became the assistant to CARIBAIRʻs president Dionisio Trigo in Puerto Rico, and after a merger between CARIBAIR and Easter Airlines in 1970, he became Caribbean Sales Manager for Delta Airlines. Clive worked for Delta for the next 25 years in the Legal Department on route expansion throughout the Caribbean region before retiring in 1995. 
During this time, Helen passed away in 1992 to the great sadness of Clive and the St. Thomas community whom she had served for so many years. After much mourning, Clive met his second wife, Lise Cole of St. Thomas. They married in 1993 and raised their daughter, Zoë Doreen Banfield, on St. Thomas. 
Clive maintained a busy life full of travel and civic engagement. In the 1960s, he founded the Virgin Islands Chamber of Commerce, served on the board of the University of the Virgin Islands, and founded a scholarship program for students from newly independent nations in West Africa.
In 2004, he became Sir Clive E.C. Banfield when he was invested into the Sovereign Order of St. John Jerusalem, Knights Hospitaller, for service to the Caribbean community. He traveled voraciously, most often by cruise ship in his later years, and by 2005 he had visited 203 countries on every continent. He continued to cruise until 2020 and maintained correspondence from "Cliveden 1811" with his many friends and correspondence until the end of his life. 
He is survived by his wife, Lise, his daughter Zoë, niece Natasha Questel and her son Dylan of Vancouver, B.C.; cousins Lynette Morong and family of Ft. Lauderdale, Dilsa Capdeville and family of St. Thomas, and close friends Michelle, Elizabeth, Zachary and Ian Shulterbrandt, Katina Coulianous, Doris Todman, Nick and Karen Pourzal, Louis DeLyrot, Roy and Barbara Schnieder and other dear friends and extended family too numerous to mention.  
A memorial service will be held for him at 11 a.m. on Saturday, Jan. 22 at the St. Thomas Reformed Church for family and friends to celebrate and honor his life and legacy. For more information, please email Zoë at zoedbanfield@gmail.com. In lieu of flowers please consider making a donation to My Brother's Workshop, UVI's Office of Institutional Advancement, or another Virgin Islands-based charitable organization of your choice.