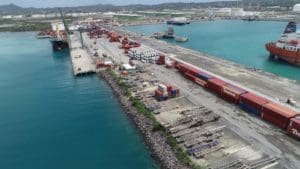 Because the U.S. Virgin Islands (USVI) continues to resonate high interest among entrepreneurs living abroad as a location for business investment, the V.I. Economic Development Authority (VIEDA) continues to keep its eyes on opportunities to reach — and attract — more prospective business investors to USVI shores from around the world.
Featured recently in an editorial titled, "A Blueprint for Prosperity Beyond Tourism," an editorial secured by the VIEDA and published in the November issue of Site Selection Magazine, the USVI is highlighted as an ideal destination for business investment. This economic development magazine highlights the targeted sectors and aspirational goals of Vision 2040, a 20-year transformational economic plan for the USVI, training programs for workforce development, and the VI Economic Development Commission's Economic Development Tax Incentive Program.
This editorial is one of several initiatives undertaken by the VIEDA to attract business investment to the USVI.
The editorial, which is also featured in Site Selection's e-newsletter, "Investor Watch," also highlights USVI business owners who are clients of economic development programs under the VIEDA.  "For a startup like Universal Concrete, the financial benefits are essential as they ensure we are able to create a cost structure that allows us to be competitive," said Eric Castro, president of Universal Concrete.
For more information, contact Shanell Petersen, managing director, VIEDA Marketing and Vision 2040, at 714-1700, ext. 1511; or email marketing@usvieda.org.