While feeding every school child on St. John is no small task, for the six women in the kitchens at the island's two public schools it's simply business as usual.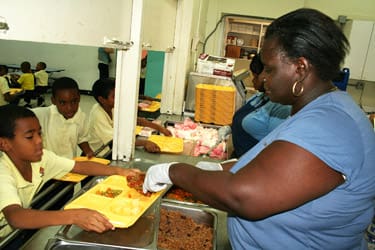 A typical weekday for Gwenda Dagou and Justina Titre at Guy Benjamin School and Deverell Alfred, Clementine Matthias, Calixta Hendricks and Mary Joseph at Julius E. Sprauve School, starts around 6 a.m. in order to have breakfast ready for students to enjoy by 7:30 a.m.
Dagou makes her way down to the 91-student strong Coral Bay elementary school GBS from her home on Gift Hill on the 5:30 a.m. VITRAN.
Despite the early mornings, after 13 years on the job, Dagou still loves cooking and remains full of smiles.
"Cooking is my favorite thing to do," she said. "I wake up early every day for my daily devotional anyway, so the time doesn't bother me."
Cooking Is Way of Life
Cooking is more than just a job — or two jobs as Dagou also runs a catering business — for the veteran GBS cafeteria manager.
"I learned to cook from my mother," she said. "Before here I cooked at Fred's in Cruz Bay. I also cook for myself and my family. And every Saturday, I make a big meal and sell it to my catering customers."
The Anguilla native also serves her popular local dishes during the St. John July Fourth Celebration.
"I've had a Carnival booth for the past eight years," said Dagou. "My son helps out — I taught him to cook. And my sister comes over from Tortola to help too."
Dagou has been showing Titre the ropes in the GBS kitchen for the past five years, and it shows.
"Since working here with Ms. Gwen I've learned a whole lot about cooking," said Titre. "I love cooking. I learn something new everyday."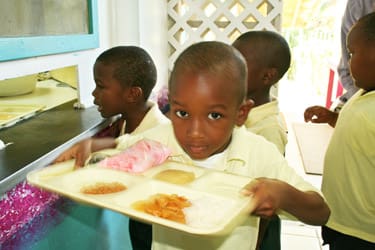 Community support has made all the difference in the GBS kitchen, explained Dagou.
"We got a new freezer which was donated by Skinny Legs," she said. "The firemen next door come whenever we need them and the guys at the Agriculture Station are always giving us fruit. They'll bring me limes or carambola or whatever they have."
"We get a lot of community support out here," Dagou said.
While their jobs are about cooking, neither Titre nor Dagou ever forget about the kids.
"I try to cook what the kids like," said Dagou. "We served them a Thanksgiving dinner a week early and everyone loved it. It's nice to see them smile."
"I have seven kids of my own so I must love children," said Titre. "And I love cooking, so it's perfect."
Must Love Work
While the work can be difficult and at times thankless, there is one key to being successful, Titre explained.
"You have to love what you're doing," said Titre. "If you want to do good, you have to love your job."
The four women in the kitchen at JESS not only feed students at their school but make sure students at Gifft Hill School and the St. John Christian Academy get fed daily as well.
Hendricks has been cooking at JESS for the past six years, but has been working for the government for much longer.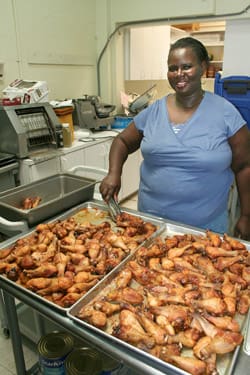 "I cooked at the clinic for 17 years before I came here," said Hendricks. "I like it better because of the kids. I do this for the kids."
In addition to breakfast and lunch, the JESS cooks also prepare a snack for the 70 students in the after school program at the Cruz Bay school.
All About Kids
It's also the students whom Alfred cites as her motivation for going to work every day.
"We're here for the kids," said Alfred. "I love the kids. When I went away and came back, they all missed me and I like that."
The five and a half years Matthias has been cooking at JESS has been a time of learning.
"I love to cook," said Matthias. "I learn more everyday as I go on. I really like almost everything about the job."
Joseph has been in the JESS kitchen the longest and pointed out that it was time for some improvements.
New appliances and equipment are necessary and it wouldn't hurt to get air conditioning either, the ladies agreed.
Despite the tight quarters and outdated equipment, the staff at JESS makes work a pleasure, Matthias added.
"I like being at JESS because of the people you work with," said Matthias. "It's just fun here. The people are good."