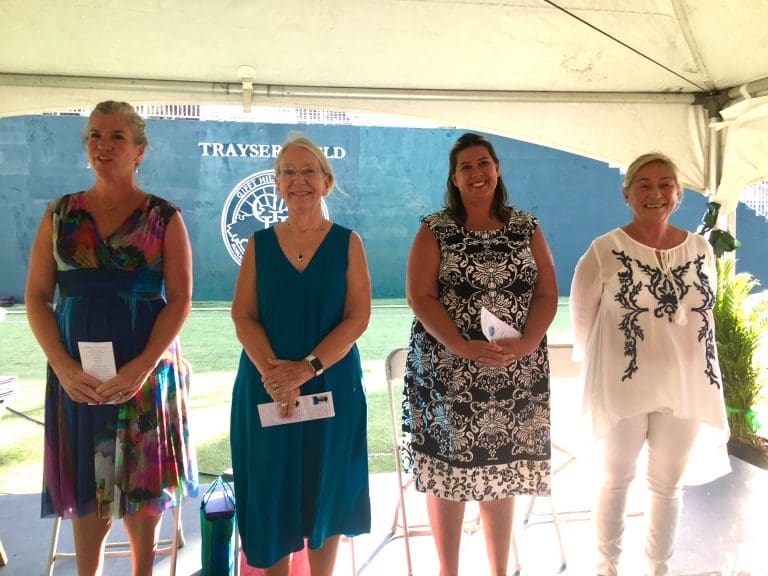 The six high school seniors from Gifft Hill School who received their high school diplomas Friday evening have evolved into leaders this past year, said Head of School Laurie Bottiger in her opening remarks at the graduation ceremony Friday evening.
"Mother Nature gave us the greatest opportunity in true experiential learning," said Bottiger, referring to the devastation of Hurricane Irma. "Our basic lives were scrambled almost beyond recognition, and you were jettisoned into adulthood," she told the students.
This year's graduating class included three "lifers" –students who spent their entire school lives at Gifft Hill School, which began as a pre-school 40 years ago and has been educating students through grade 12 for the past 15 years.
Despite significant damage, GHS opened its doors two weeks after Hurricane Maria passed on September 19. Thanks to the generous support of anonymous benefactors, the school invited all students from throughout the island to attend GHS tuition-free for the year. Students pre-K through grade 12 attended classes at the Lower School campus until January when repairs were completed at the Upper School classroom building.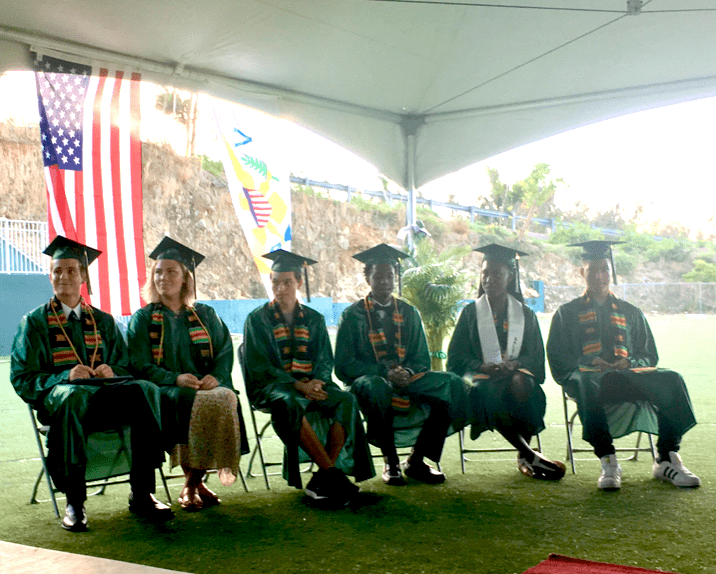 In this most challenging year, "You had the gift of watching community members support each other, reassuring us of what humanity is capable of," Bottiger told graduates Tomas del Olmo, Soleil Gessner, Jack Jones, Ty Massaquoi, Rashida Powell, and Zohar Sofer-Greer.
All graduations have their bittersweet moments, and Friday's ceremony included one such moment as Bottiger recognized four students who left the island to complete their educations elsewhere.
Keeping up the tradition of this close-knit community school, faculty members took turns introducing individual students before awarding them their diplomas–praising them, teasing them, and recounting details of moments that marked their ongoing maturity.  The tales included perpetually lost shoes, struggling through lessons that didn't include hands-on learning, gradual mastery of athletic and academic skills, and high-level conversations with faculty members that you'd expect to find at a first-rate college.
The school declined to designate a valedictorian because the student with the highest grade point average had to leave the island after the hurricanes and completed her studies while she was away.
In her address as the salutatorian, Rashida Powell thanked each of the faculty members for the many ways they had helped her grow since she came to the school in 6th grade.  Although she was accepted at all five colleges she applied to, Powell has chosen to attend the University of the Virgin Islands in the fall.   Other graduates plan to pursue their education in colleges including the University of North Carolina at Asheville, Siena College in New York, Warren Wilson College in North Carolina, and Valencia College in Florida.
After the hurricanes, the school ran for many weeks without electricity, taking advantage of natural light and breezes which blew up from valleys on both sides.  Although there were modifications in the curriculum, students continued in their academic subjects as well as culinary arts, agriculture, fine arts, and athletics.
As part of the school's Education and Resiliency through Horticulture (EARTH) Program, students rebuilt one of their gardens destroyed by the hurricane and grew fresh produce which was distributed to senior citizens and to Catholic Charities as part of their Feed the Hungry Program.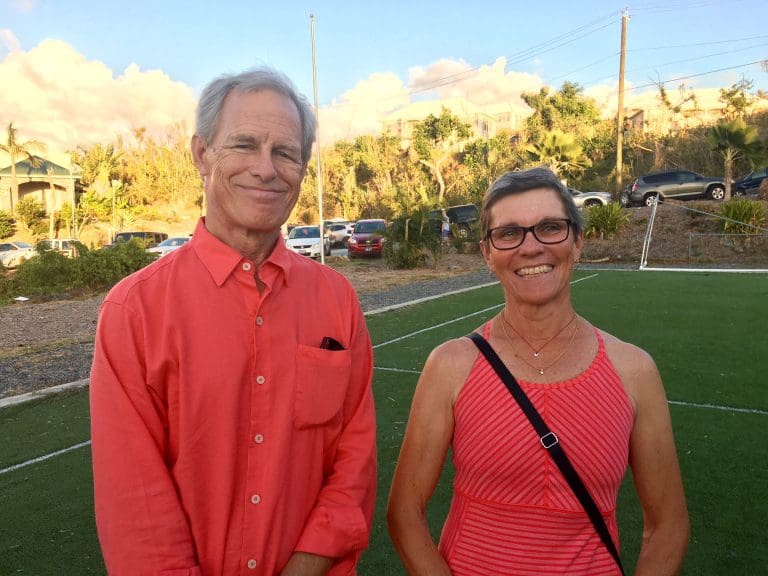 "This year, there were a lot of people dedicated to making the school come back piece by piece," said Dave Minner, EARTH Program director.  "Physically, it will get even better.  [Board member] Terry Bertolino has plans for the summer starting tomorrow.  She has been phenomenal. She'd find a problem with a fence, a toilet, a gutter; she gets a grasp of the problem and finds a way to fix it."
"We were so surprised and pleased by the support after the storm," said board member Terry Bertolino. "People came in from everywhere.  People I'd never seen before hauled pieces of the roof away and cut steel."
Ruth Doan, who took over as president of the board of directors, gave a gift to Miles Stair, the retiring president of the board.  Stair will continue to serve as a member of the board.
Doan also gave a gift to Bottiger, who is leaving as head of school to return to her business as a consultant specializing in experiential learning and leadership development.   "In 2014, I was working with two schools, one in Connecticut and one in South Africa before I came here," said Bottiger.  She's bought a lakeside cottage in Chautauqua, N.Y., but she expects to do a fair amount of travel as she continues her consultant work.  "I'll always come back to St. John," she added.
The GHS board has hired Fred Wesson of Carney Sandoe and Associates, a Boston-based firm, to find an interim head of school for the forthcoming year.  Wesson has a personal reason for seeing the school continue to thrive.  His family has been coming to St. John for nearly 50 years.