A student at the St. John School on Gifft Hill (SJSOGH) is living the dream made famous by the Subway chain of fast-food stores spokesman Jared—starring in local television commercials after having lost more than 100 pounds due in part to Subway's healthy meals.
"I was just sick of being so big," said Tyler Bradley, a senior at SJSOGH. "I'm really into sports. I really like basketball, but I was never small enough to play, so I had to slim down."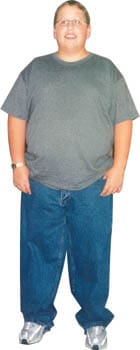 258 Pounds Before Diet
Bradley, who moved to St. Thomas from New York in 2003 when he was in the tenth grade, tipped the scales at 258 pounds before starting the Subway diet in March 2005.
"I would eat breakfast at home but Subway was my main meal," said Bradley. "I would usually eat the wraps without cheese. I avoided extra calories like cheese and dressings."
[adrotate group="6"]
In addition to eating low-calorie lunches, Bradley incorporated physical fitness into his regimen.
"I worked out at the gym and played a lot of sports," he said.
After packing on pounds for football, Bradley had a hard time shedding the extra weight.
"I moved to New York from Ohio when I was in the fourth grade and that is where I gained most of the weight," he said. "I played football and the coaches always told me to gain weight to be a lineman. But the weight never came off."
Other Diets Failed
Bradley turned to the Subway diet after other diets failed.
"I tried the low-carbohydrate diet—my whole family did," said Bradley. "It worked for my dad, but eating all that meat and cheese made me sick. It actually made me gain weight."
"The Subway diet is healthy and actually tastes good," he continued.
Once he started losing the weight, Bradley said the diet became easier and easier.
"I made a total lifestyle change," he said. "I had a certain goal in mind and just stuck with it. It was easy because I liked the food and my family supported me."
A Family Affair
The Bradley family made a commitment to health as well, according to Tyler's mother Joy Bradley.
"The whole family came together," she said. "We have all changed our eating habits and have healthier lifestyles now. It's like a trickle-down effect that has helped us all."
The Bradley family stopped buying junk food and kept more fruits and vegetables in the house for healthy snacking.
Commercial Opportunity
Now weighing in at around 150 pounds, Bradley caught the attention of local Subway owner Allie-Allison Petrus, according to Joy Bradley.
"Tyler went to a lot of Subways," she said. "He goes to school in St. John so he would be there, but we live close to Red Hook, so he was there a lot too."
"We were in the Havensight Subway when Mr. Petrus approached us and remarked about how much weight Tyler had lost," Joy Bradley continued. "He had been watching Tyler's progress and we told him that it was really due to eating at Subway. He asked if we would be interested in filming a commercial."
Subway Owner Impressed
The owner of St. Thomas Subways couldn't believe Tyler Bradley's weight loss.
"I knew him when we used to own the store in St. John and he used to come in every day for lunch," said Petrus, who owns five Subways on St. Thomas. "I knew his face, but I knew him as a bigger kid. When I saw him in Havensight, I couldn't believe how much weight he had lost."
"He told me about his diet and I just thought he would make a good person to promote the Subway diet from a health perspective," Petrus continued.
Bradley's discipline sets him apart from others, Petrus added.
"What strikes me the most about Tyler is the strict discipline he imposes on himself," he said. "He is different in terms of his discipline. He is my hero."
Inspiration as Motivation
Tyler Bradley was hesitant about the publicity at first.
"I really didn't want to do it at first," he said. "But I thought that it might be something that could inspire other people. When you see someone on TV, it's hard believe them."
"People can believe me, because I'm here," Bradley continued. "People can talk to me and know that it really worked."
Although his new-found fame hasn't gone to his head, Bradley said that he is recognized from the commercials.
"I was just at the Cold Stone Creamery and these two girls there were freaking out," he said. "They saw me on the commercial and wanted to meet me. I don't mind the attention though —it's kind of fun."
There is more publicity ahead for Bradley. He will be featured in radio commercials, and pictures showing his weight loss will be placed in Subway windows across St. Thomas.
More Energy, Confidence
Since transforming his body, Bradley said that he feels like a different person.
"I feel a lot different—I have so much more energy now," he said. "I get up at 4:50 a.m. for school and usually have sports afterwards. I feel great."
Bradley's mother has also noticed the difference in her son.
"His confidence level is much higher now," said Joy Bradley. "He is the captain of the basketball team, president of the student council, a member of the journalism staff and a member of the National Honor Society. As a mother, I'm so proud of him."
Impressive 8 Tuff Miles Finish
Bradley also won first place in his age group in the 8 Tuff Miles road race in February which earned him a $1,000 scholarship.
Bradley will graduate from SJSOGH this spring and has already been accepted to college. He is waiting to hear from other schools before deciding which university he will attend. The ambitious senior does know what he will study—photography and digital imaging.
Before heading off to university, Bradley had some advice for other people struggling with their weight.
"I would definitely recommend the Subway diet," he said. "The food is fresh and good. You aren't starving all the time and you will actually see a difference."