Dignitaries gather to celebrate the opening night of festival village Friday night, June 27 in Cruz Bay. Above (L to R): Senator-At-Large Craig Barshinger, Delegate to Congress Donna Christensen, Senate President Shawn-Michael Malone, Grand Parade Marshal Elsie Thomas-Trotman, Food Fair honoree Avelino Samuel, Festival Village honoree Leona Smith, Village Committee Chairwoman Jane Johannes, and Lt. Governor Gregory Francis.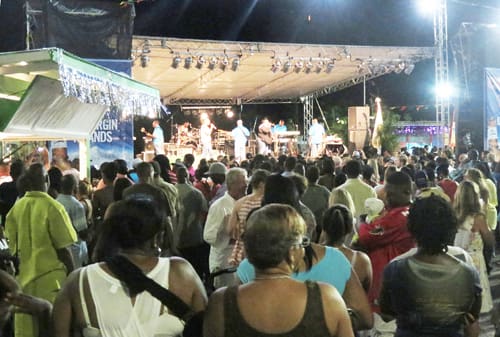 Cool Sessions Brass entertains a large crowd of festival goers on June 27 at the St. John Festival Village opening.
[adrotate group="6"]
CRUZ BAY — The 60th anniversary opening of St. John Festival Village began with a tribute to the woman who has kept the party going for more than 10 years.
Leona Smith, Chairwoman of the St. John Festival and Cultural Organization, sat front row-center as the village was named Smithsville in her honor. Usually Smith sits in the last seat in the last row while royalty, dignitaries and honorees share the spotlight.
Smith has led the festival committee since around 1998. In the eyes of her fellow committee members, she is best known for her hard work and organizational skills.
"It was such a pleasure to work with Leona throughout the years. We work together but we party together too," said Mistress of Ceremonies Alecia Wells.
Smith, who also serves as the St. John Administrator, said she has been involved in festival activities for many years and it gave her a thrill to see the banner proclaiming the 2014 village in her name.
"I'm also thankful to my family, my friends, and my staff for making sure I have all the tools I need to have a grand celebration every year," Smith said.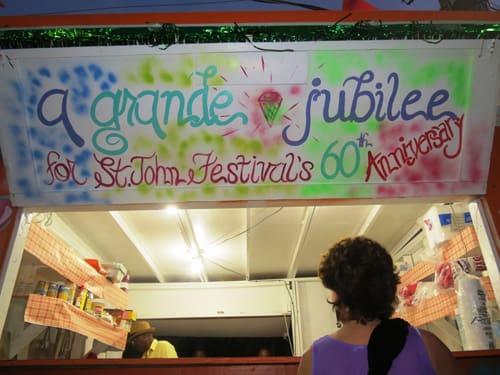 Festival Village Booth No. 3 bears the theme for the 60th Anniversary in Smithsville.
Fellow 2014 honorees Avelino Samuel and Elsie Thomas-Trotman joined Smith on stage. Samuel, the Food Fair honoree, was away on the day he was honored. Thomas-Trotman, the first Miss St. John festival queen, has been chosen as the 2014 grand parade marshal.
Lieutenant Governor Gregory Francis, a former administrator for St. Croix, praised Smith for her service to government. Delegate to Congress Donna Christensen and Senate President Shawn-Michael Malone congratulated her on preserving St. John's cultural traditions, like the annual festival.
A robust crowd of old and young, families, singles, islanders and visitors filled the village in anticipation of a festive night. Cool Sessions Brass, St. John's best known dance band, and the popular Small Axe Band delivered the atmosphere.
The festival music committee, headed by Camille JuJu Paris, has built up the annual lineup, along with the July 4th fête's reputation as the place for music fans in summer.
This year's line up (as of Monday, June 30) includes: Stylee Band, Volume International, Daddy Jones and the Crew, Crosfyah, Rudy, Spectrum Band, Bunji Garland and Fay Ann Lyons, Kore Band (from Nevis), Calypso Monarch De Soljah, Machel Montano with Patrice Roberts and Darryl Henry (Farmer Nappy).
On July 4, Smithville presents Ah We Band, Cool Sessions Brass and Triple K with King Dice.
And on July 5, a bonus night for the 60th anniversary, the last lap scheduled performance features Otta Limtz, Imagination Brass and Roy Cape with Denise Belfon.