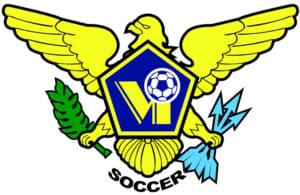 The U.S. Virgin Islands Soccer Association's (USVISA) Lady Dashing Eagles traveled to Guatemala for the first leg of Round 1 of CONCACAF W qualifiers on Monday, Feb. 14. The USVISA senior women team is optimistic as they begin their campaign to represent the CONCACAF region at the ninth edition of the FIFA Women's World Cup, which will be jointly hosted by Australia and New Zealand in 2023.
The Lady Dashing Eagles will return to St. Croix and play Costa Rica at 5 p.m., Feb. 20, at the Bethlehem Soccer Complex. Tickets to the match are free. Register at the EventBrite.com website to get a ticket. https://www.eventbrite.com/e/fifa-womens-world-cup-qualifiers-2022-usvi-vs-costa-rica-tickets-261997019137
USVISA will not have tickets available at the venue. USVI Department of Health Covid Guidelines for attending sporting events will be enforced. Attendees should be vaccinated or present a negative COVID-19 test, wear masks always and practice appropriate social distancing.
The Guatemala Game time is 3 p.m. AST.  Catch all the action on Paramount+ or on the CONCACAF App.
The USVISA Senior Women National Team:
GOALKEEPERS:  REANNA STIEHLER ● MIKENZI GLOVER
DEFENDERS:  JORDAN CRAWFORD ● JAYDA BROWNE ● TAYLOR CRAWFORD ● BETHANY MILLER ● ELYSE ILLER ●KENDRA CALPANO-BUTLER ● MAGEN FREEMAN
MIDFIELDERS:  MAIA TOLUD ● AUSET GIBBS ● LEAH RAPUANO ● TANIA WEYLAND
SOLVANA CALPANO-BUTLER ● ISIS COLLIER ● KATHRYN TURNER
FORWARDS:  SOEMILI PEREZ ● JADA NEWTON ● ARIEL STOLZ
STAFF:
Head Coach – Jorge Zavala
Assistant Coach – Izler Browne
Goalkeeper Coach – Sergio Rapuano
Match Analyst – Anthony Suarez
Fitness Coach – Stefan Theophilus
Team Doctor – Dr. Gina Johnson
Team Physio – Maria Jose of Guatemala  Equipment Manager – Zoraida Martin
Team Manager – Corinthia Carbon
For more information on USVI Soccer Association programs, contact the USVI Soccer Association office at 719-9707 or email usvisoccer@gmail.com. Follow USVISA on Facebook at: USVI Soccer Association.