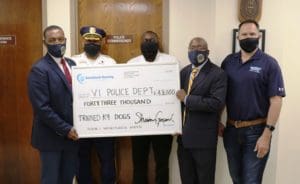 The Virgin Islands Police Department received a monetary donation from Southland Gaming toward the purchase of dogs to be used as K9 officers. The donation of $43,000 will be used to purchase and train three dogs to be added to VIPD's K9 Unit.
Shaine Gaspard, CEO of Southland Gaming, said that as a former law enforcement officer, he knew how important it is for Southland Gaming to put resources back into the Virgin Islands community, particularly in law enforcement. Gaspard added that he is ready to see the K9 officers at work on the streets in support of the community.
Jason Charles, community outreach director at Southland Gaming, stated that the process to get the funds to VIPD took about a year and a half, due to the obstacles presented by the coronavirus pandemic.
Charles said that Southland Gaming supports the men and women of VIPD, and they are glad to support the department.
Police Commissioner Trevor A. Velinor, in accepting the donation for VIPD, thanked Southland Gaming for coming through for the department with its donation. He said that the donation allows the department to increase the K9 capacity in the St. Thomas/St. John District and the addition of the dogs enhance the VIPD's mission of crime-fighting across the territory.
St. Thomas/Water Island Deputy Chief of Police Richard Velazquez added that K9 officers provide an invaluable function to law enforcement, and the donation allows VIPD to provide greater services to the community with the addition of the dogs.